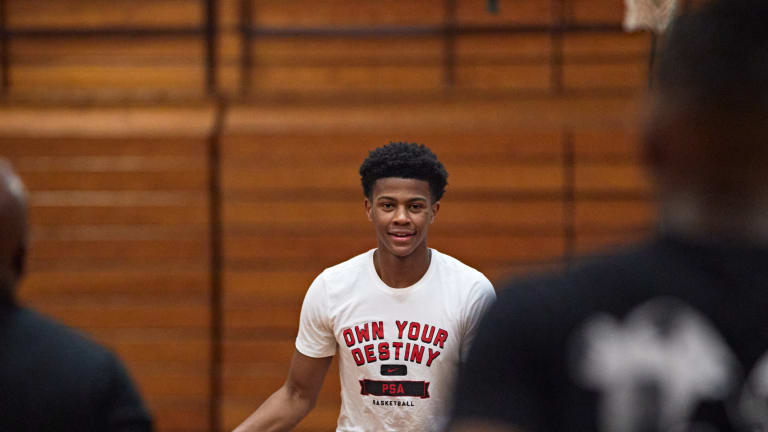 The Simeon Wilcher Blog: Back on the Court, Leadership Role, Grey's Anatomy and More
Top point guard in the 2023 class blogs about recruitment, starting his season and more.
Roselle (N.J.) Catholic point guard Simeon Wilcher is arguably the floor general in the 2023 class with a who's who list of potential college suitors all giving spirited chase. Now, Wilcher has agreed to give Sports Illustrated exclusive access into his world by chronicling everything from intimate details about his recruitment to his everyday life in a blog.
What's up world, it's Simeon Wilcher back to give you another update on my blog!
Right now, we're back on the court, so that's definitely the best news for me.
We're all happy to be back out there competing and right now we're 9-1.
We're playing well.
We had a loss and that really taught us some things that we need to work on. Those kinds of lessons are really important during a season.
As long as you learn you never really lose.
Individually, I feel like I've been playing really well, but I know that I can always play more aggressive. I want to assert myself more on the offensive end. On the defensive end I'm already there.
Right now, I'm averaging 13 points, eight assists, six rebounds and three steals a game.
I definitely feel like there's a bigger bull's-eye on me this year because I'm one of the main leaders now. Last year we had nine seniors, so I had that protection layer.
Now, I have to use what they taught me to lead this team and put us into the best position, so that's what I'm focusing on.
The recruitment is pretty much the same, I'm not hearing from a lot of teams through my coach with their seasons going on.
I still have Kansas, UConn, Iowa, Illinois, Oregon State, Wake Forest, Oregon, Syracuse, Georgia Tech, Xavier, St. John's, Auburn, Miami and a couple others.
I'm looking for that to pickup more this spring and summer.
School for me is all virtual so that's been cool. I've had to adjust to it, of course, but I'm used to it now. My favorite subject right now is History. I love seeing how everything from the past is basically impacting us today. It's just interesting.
OK, so right now I'm listening to a lot of my friends' music. They're rappers and they're doing their thing! I love it. I'm just trying to help them promote their stuff because it's really good.
I actually started watching Grey's Anatomy and I'm watching the new season of All-American too.
Both are great shows!
I watch a good amount of college basketball, and Cade Cunningham is doing his thing. I love the way he plays.
OK guys, that's it for this one, but thanks for reading and check back soon for my next blog.
Don't forget to follow Simeon Wilcher:
Twitter: @SimeonWilcher