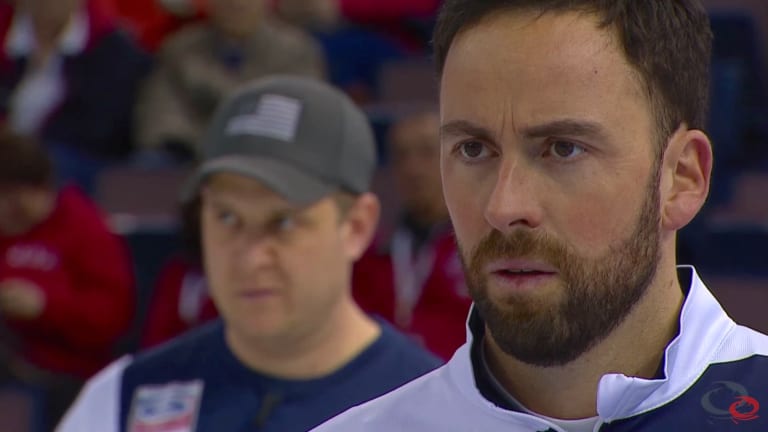 Classic "Go Or No" Situation
Apollo, you are go for lift-off.
Here's a situation I put to our Facebook group, the Daily Curling Puzzle, a few weeks ago. 
Nobody likes to take on a legend, especially one who is on his last legs but still has game. And that's where you find yourself, battling hard against a guy who's (almost) done it all. Still, you could have your best days in front of you, especially if you win this one. But how? Here's the situation:
Seventh of 10 ends
You're red
You're down one
You have the hammer
It's your second's second shot
About 4.5 to five feet of swing
Four-rock rule.
C'mon skip, give us a shot that ushers in the new era. What's your Pro Call and Club Call–and why?
Our puzzler quote of the day was "It's the seventh end ... what are all those rocks doing behind the tee line? Doesn't the team know draw weight yet?"
Great point. John Shuster's lead threw a hair heavy twice in a row and drifted behind the tee line. Scotland's Michael Goodfellow and Scott Andrews, playing front end for David Murdoch, world champion and Olympic silver medallist–and the Legend in our puzzle–stepped up and welded on a few beauties to put America under pressure. Team USA had to start bailing and two shots later–in an odd, unpredictable way–they start thinking that maybe they're back on for a deuce.
Looking ahead, a puzzler asked the big question: "Starting the eighth end, would you rather be one down with hammer? Tied without? One up without?" And that's the crux of the issue here: What should John Shuster be playing for?
Here are the stats, as compiled by CurlingZone:
Blanking to be one-down with hammer: 40% chance of victory
Scoring one to be tied without: 36% chance
Scoring two to be 1-up without: 60% chance
These are four-rock rule stats but I don't think they've changed that much under the five-rock rule. Scoring a deuce here still gives Shuster a big advantage. And is being in the lead ever bad?
So we're at a decision point. In the video, you'll hear U.S. third Tyler George suggest playing onto the back yellows so "the blank comes into play." John Shuster, Legend-To-Be (PyeongChang was a mere 10 months away) disagrees: "I feel like we have like a pretty low-risk chance of scoring two here."
One puzzler declared: "This is a classic go-or-no situation. You have one, maybe two, rocks to play before you have to bail hard! You could also decide right now that you want to go for the blank and take hammer into the eighth."
Former world champion and Puzzler Gerry Richard likes go. "Lots of good chances here to create offence," he commented. "Only so many opportunities in a curling game so don't waste them." And as Shuster says, it's a pretty risk-free opportunity to get two.
But what's he mean by that? To me, I think he's looking at a pretty uncluttered front and thinking 'If I go and it doesn't work out, I can probably draw to get my single and not give up a steal.' A steal here is the big risk, dropping his team to an 18.5% chance of victory.
Another puzzler thinks the centre guard helps the go decision, saying "R1 acting as a centre guard doesn't bother us too much right now because of the amount of curl on the ice and it can be run back later to get us out of trouble if things go sideways."
So as many puzzlers suggest, this looks good for an 'Apollo, you are go for lift-off' moment. Let's set boosters to full and give it a bash. But how?
Gerry, like many, many puzzlers likes the come-around draw: "I like the draw around R1 stopping top eight-foot. Even leave a piece showing is fine. Forces them to move it and creates an angle onto any of the rocks back of the house. Makes them play a tough shot instead of an easy one."
Why the eight-foot and not closer to the button? I think there's two reasons. First, it makes it harder for yellow to get around the guard and chip you out, if that's what they choose to do. And second, if you get too deep, it helps them achieve their objective, the force. Get to the four-foot or button, and they're going to freeze and cut your scoring area to almost zero, which, in this case, is exactly what Scotland's Greg Drummond did. And then did again. Shuster ended up shooting at a square inch to not get forced.
A significant minority liked the freeze tap on Y2. I'd be concerned that they freeze back, but this is what a puzzler said they were playing for. "If we make the freeze, yellow's next shot will be our deciding factor. If they get worried and hit then we're bailing as well and playing for the blank depending on what goes. If they follow our freeze, game on." 
I guess at this point, you're playing for superior angles to move a few of theirs with your last and score a few. If you don't get those angles, then you have the open draw.
So that's the case for 'Go Apollo.' But what about the 'Houston, we have a problem' call, where you decide to blank and keep hammer?
Many liked the hit Y1 and roll over to create a bunch. "If you want to push for the blank, kill Y1 and roll over to the pile. Then you can hit it hard later," said one.
Gerry, when asked what he thought curling great Kevin Martin would do for the blank, said "I wouldn't be surprised to see him run the guard through and go for the blank. He had a different tool box than most."
I personally don't see a nailed-on certainty for the blank. Group 'em at the back and Scotland freeze to that pocket and they're going to be tough to remove. Or maybe they go around to top-eight to lie first and second. Peel the guard and they might just replace it. Or split the rings. It feels that it would easier to score a deuce from here than get a blank.
And that's what Shuster goes for. Sadly for him–and happily for Murdoch–Scotland makes four great shots to hold the Americans to just one. Scotland gets hammer, uses it to score five in the eighth end and it's an early bath for both the Legend and the Legend-To-Be.