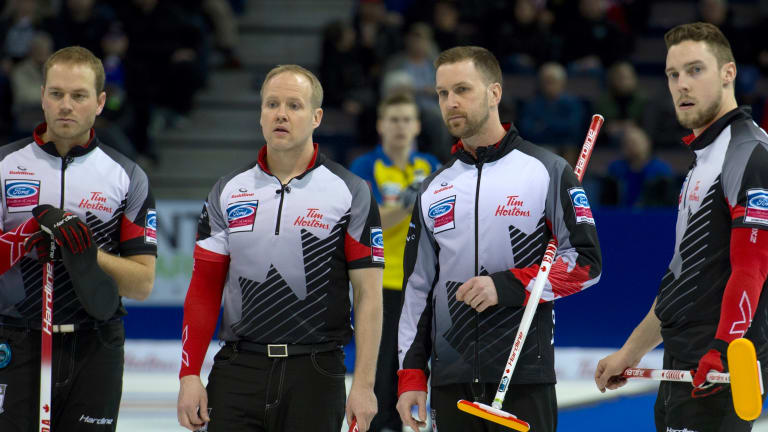 World Final, 10th End Revisited
Here's a deep dive into the CSI debut scenario.
This strategic conundrum was recently analyzed in the excellent debut episode of the new Rock Logic: CSI podcast, for which I was privileged to be a guest. This column goes deeper in listing out the various strategic options in my Daily Curling Puzzle Facebook group; after reading below, check out the podcast here.
My wife has been urging me to include a few less complicated situations in the group so that everyone–top strategists and curling newbies alike–can get involved. I think this puzzle met the challenge.
You're here in one of the biggest games of your life, and you're widely regarded as one of the top two teams of your generation. Sadly, your opposition is the other one. But you've managed to carve out a lead of two in the 10th end and now you just need to close it out. But how? Here's the situation:
10th and final end
You're red
You're up by two
Yellow has hammer
It's your third's second shot
He can see an inch of the buried yellow from the hack
Five-foot swing in all directions and speed is holding. No fudging or frosting.
C'mon skip, give us a shot that proves we're the best of our era. What's your call ... and why?
As you may know, I started the Daily Curling Puzzle pretty much for myself–trying to figure out the art of skipping. I wanted to figure out some principles that I could use out on the ice. So here, in this seemingly simple situation at the 2017 world men's final between Niklas Edin of Sweden and Brad Gushue of Canada, I'll go through all of the various calls our Puzzlers made, and pick out what they taught me.
With only one or two rocks in play, I expected only one or two pearls of wisdom. Er, no. Strap yourself into your seats folks–here they come!
Principle #1: Play the scoreboard.
Every Puzzler saw that giving up three was bad, very bad. And everyone agreed that giving up two here wasn't the end of the world since we'd have the hammer in the extra end. However, that scenario brings another principle into play ...
Principle #2: Is now the time to be aggressive or cautious?
Wielding the hammer in the extra is not the same as winning in the extra, especially against Nik, Oskar and their sweepers, who just wrapped Y2 (Yellow 2) around the guard to leave it on a dime. These guys are seriously, seriously good. The stats say that, on average, teams without hammer with one end to play win 25% of the time. Do we think Team Edin is above average? I think we do!
So, given the situation (known ice, known rocks, relatively simple set-up), is now the time to put the foot on the gas and win this in the 10th? Most Puzzlers were going for it now. But which shot?
That brings us to ...
Principle #3: Play to your team strengths and comfort levels.
In the video below, you'll hear Brad Gushue say to Mark Nichols "Whatever you like." A lot of Puzzlers echoed that idea. "I'm new to skipping and only a third year curler with teammates of similar experience," said Katelyn Schramke. "I'd probably try to guard R1 (Red 1) with a rock in the 12-foot rather than try for an outside hit. I've learned that it's really important to know the shots your teammates can make and call the best shot for them."
And here's Brandon Wolfe: "The only other shot you can reasonably call is to double out Y1 and Y2, but that's a much harder shot and the upside of removing the guard probably isn't worth it. However, there are definitely some thirds at this level that will make it almost every time. If you have one of those you might as well go for it, but for most teams I wouldn't call it."
Play with your player/team's strengths at the forefront of your mind. Nice one guys!
So on to Principle #4: The joy of lying two.
In calling for the tap out of that wide Y2 in the rings, many of you noted that a rub off the guard and a roll into the rings leaves you lying two and leaves them needing to remove both of yours to bring that wide yellow into play.
So, lie two and they've got big problems. Some of you–plus Russ Howard in the commentator's booth–called for the open draw to lie two and "make them work for it." Puzzler Joseph Brown agreed: "Hit the guard and roll to almost anywhere in the rings for second shot is choice one. Draw to right side full 12/top eight to make a tough angle for a flat double or roll out for a slash double would be cheeky." Great point Joseph!
Principle #5: Rocks behind the tee line help the offensive team.
"One thing here is that you don't necessarily want a roll that leaves your shooter behind the tee line," remarked one Steve Ours. "Unless you get it almost perfectly buried under R1, leaving something in as backing is just going to give your opponent another place they could try to hide a stone." Don't help them by getting behind tee line. A great point well made.
Principle #6: The right way to miss.
Here's Puzzler Jamie Sexton calling for the quiet weight tap on Y2: "If you rub the guard you make the peel, roll into the top 12, tight guard your own (ideal position for a short run-through or tap if needed) and expose Y2 for easy removal. The secret is to take slightly tight ice to avoid the flash." So, play for the pro-side miss. Thanks Jamie!
Principle #7: Play the right weight.
Here's Puzzler Felix Asselin, heading to the Calgary Brier with Quebec's Team Fournier, taking on all comers and betting his children's inheritance to boot: "Therefore I'm very strongly confident the call is to tap out Y2. Now the thing is what weight? Obviously, it's not a big weight as you only see one inch. To me, the perfect weight is something like hack weight where if you rub on the guard you spill in as second shot. This way, even with a miss, odds are you win in the 10th as they then have to play in the rings and get very fancy. I'll even take the $1 bets on this one!" So, don't play anymore weight than you have to. Control that shooter. Cheers Felix!
And finally, a double-whammy from the always excellent Mickey Pendergast, who gives us Principle #8 (have a Plan B) and Principle #9: Play the percentage shot. Here's Mickey calling for the freeze and Felix, debating that call:
Felix: Mickey, if your freeze is six inches too deep and slightly rolls off of Y2 -or- if you are slightly wide, they hit it and roll a second one behind that guard and you are looking at giving up three.
Mickey: I agree there is a bit of risk, but the make percentage on a simple draw is much higher than a quiet tap on an all-but-buried stone, especially out in the weeds. And the draw has options; it doesn't have to be dead-frozen to do the job. Partly buried, anywhere above Y2 for second shot works. And if we're a foot or two heavy, we sit two and still force them to make something really good to get their deuce. The one bad result you mention should be avoidable with good communication as the rock crosses the hog line; if it's bouncing a little, we make a Plan B depending on line. Six inches heavy is just fine if the line is good. If it's hanging, we sweep it to bounce deep enough so there's no roll.
The upshot? This is not a game of perfect. Play the percentage shot and have a backup plan if it's not made perfectly. Importantly, make sure your team knows what it is.
So how about that! From the most innocuous situation with just three rocks in play comes nine great lessons from our Puzzlers. And for that, I say to all of them ... thank you.
And now, behold the setup, the great debate, and the result. And another reminder to hit up the Rock Logic: CSI episode after watching ...