Bo Knows Biking: Riding with Bo Jackson for Charity
The football divide in the state of Alabama will be as stark as ever on Saturday, as the Alabama Crimson Tide and the Auburn Tigers each hold their annual spring game. A total of more than 160,000 people are expected to gather in the two stadiums—located approximately 150 miles apart—for what are nothing more than elaborate scrimmages. But even though the games don't count, the passion these teams generate will be real, along with the animosity the two fan bases often feel toward each other.
As probably the most famous athlete ever to play for Auburn, there is no doubt which side of the divide Bo Jackson is on. The 1985 Heisman Trophy winner remains a strong supporter of the Tigers, and he plans to be at Jordan-Hare Stadium for Saturday's spring game. On this occasion, however, Jackson's primary goal will be to bring the state together through his third annual Bo Bikes Bama charity bicycle ride.
A native of the Birmingham suburb of Bessemer, Jackson began Bo Bikes Bama in 2012 in response to the devastating tornadoes that hit Alabama the year before. More than 250 people were killed state-wide—including 53 in Tuscaloosa, where the University of Alabama is located—and thousands more had their homes and businesses damaged or destroyed. Determined to do something to help his home state, Jackson created Bo Bikes Bama as a way to raise money for the Governor's Emergency Relief Fund.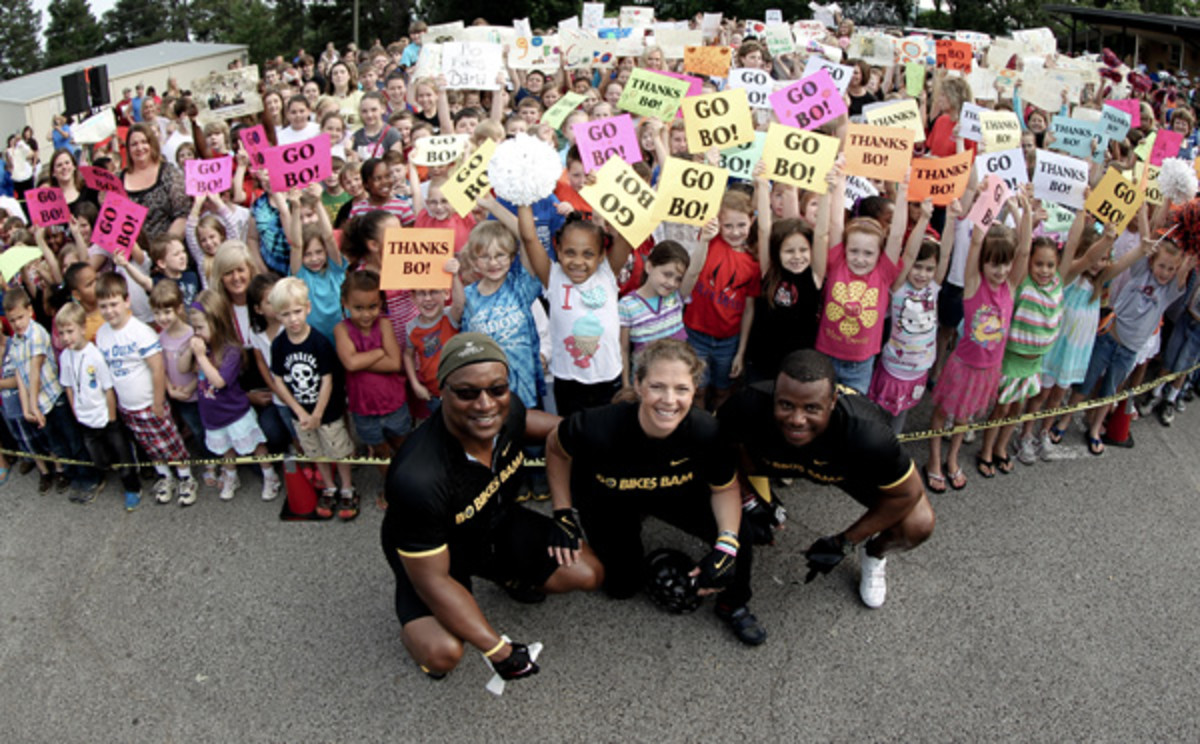 "It doesn't matter if you yell 'War Eagle' or 'Roll Tide' or cheer for anybody else out there. All that stuff is thrown out the window when it comes to trying to save somebody's life," Jackson said earlier this week. "Everybody can get together for one cause for the state, to raise funds for future disaster relief. Because there will always be storms and tornadoes and disasters that we have no control over. But we do have control over how we handle things after those events have taken place. The way we do that is by lending a helping hand."
Jackson, who played in both the NFL and Major League Baseball after leaving Auburn, said he began bicycling as a form of exercise following his retirement from professional sports in 1995. The hip-replacement surgery he had in 1992 made it more difficult for him to run regularly, and Jackson said he "would rather get root canals" than work out in the basement of his Chicago home. So he turned to bicycling, riding 20 to 30 miles a day whenever the weather and his schedule allows it.
As a result, when Jackson was trying to come up with a way to help raise funds for the state of Alabama following the 2011 tornadoes, he quickly decided that bicycling was the perfect vehicle for the cause.
"Everybody always does a golf outing, but you can only get so many people involved in that because not everybody plays. And I wanted everybody to be able to participate," Jackson said. "And what does everybody know how to do? Ride a bicycle. It's fun and it's good exercise. A lot of times when people are riding a bike, they don't even realize that they're exercising. So doing that was a no-brainer to me."
Street.
That inaugural event raised a total of $413,000. Riders paid $200 each day to participate, while others simply contributed to the cause through donations. Jackson scaled the ride down to a single day last year, yet still raised nearly $300,000. This year, participants can ride for 62 or 22 miles. Both routes will end at Jordan-Hare Stadium in time for the 2 p.m. kickoff of the spring football game.
"My main goal is to put the message out there in front of as many people as I can and to ask them to donate to the cause," Jackson said. "And finishing up at Jordan-Hare Stadium, where they'll have more than 80,000 there to watch the game, seems like a good way to get people involved."
Jackson was in the Alabama town of Clanton on Tuesday for a close-up look at how Bo Bikes Bama has helped the state. He joined Gov. Robert Bentley to tour a new community storm shelter that was built partly with money raised from the charity ride.
"It all goes back to how the route the tornados took [in 2011] could have very easily gone through my neighborhood," Jackson said. "Bo Bikes Bama is strictly from the heart. It's my way of saying thank-you to the state for backing me in everything that I've done. As they say, we are our brother's keeper. This is the right thing for me to do, and I plan to keep doing it every year."