SURF ALERT: Previewing the 2014 Vans US Open of Surfing
The stage is set for the Vans US Open Of Surfing, which kicks off July 27 in surfing's birthplace in Huntington Beach, California. This competition is a crucial stop for the men on the ASP Qualification Series Tour and for the women on the World Championship Tour. A win at the US Open will gain points towards a prestigious Top 10 QS Ranking for the men, and for the women, it's a another chance to compete for the prestigious ASP World title.
Women's Preview
On the women's side, 2013 US Open champion Carissa Moore will be looking to repeat that outcome, while Australia's Sally Fitzgibbons is not far behind. The two are going to be the favorites heading into the competition.
Moore has had a great year so far, capturing back-to-back titles this year on the WCT. The first at the Drug Aware Margaret River Pro in Western Australia followed by the Rip Curl Women's Pro at Bells Beach in Australia.
Fitzgibbons, had equally impressive back-to-back wins this year capturing the Rio Women's Pro title in Rio de Janeiro, followed by the Fiji Women's Pro in Namotu, Tavarua, Fiji.
Scenes from the 2014 J-Bay Open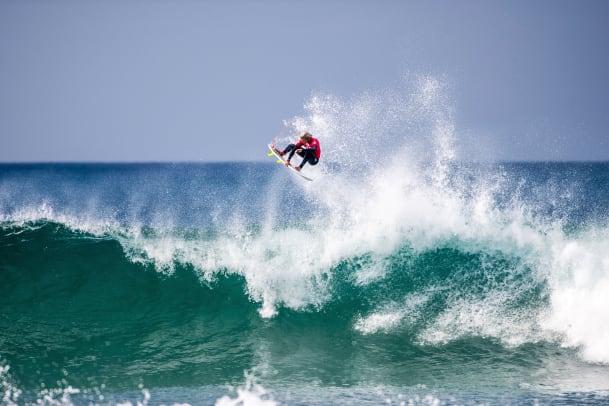 "It was challenging both Brazil and Fiji. The conditions were extremely tough heat by heat," said Fitzgibbons.
Fitzgibbons will be set on making the US open her third consecutive win on the tour this year.
"It would be huge for sure," said Fitzgibbons. "To go three in a row would be spectacular, and I think I'm just chasing feelings from last year and trying to emulate that this year."
Despite Moore and Fitzgibbons being the top favorites, there are a few other contestants to look out for in this year's competition. Australian surfer Stephanie Gilmore has one WCT victory early in March at the Roxy Pro Gold Coast in Queensland, Australia, despite some declining performances throughout 2014.
"I started off the year really strong and my results have sort of gone down hill a little bit since then, but in the last event, Fiji, I got second so I was happy to get back into the finals there," said Gilmore. "The US Open has not been really one of my favorite events just cause the waves are not my favorite conditions to perform in, but I'm looking forward to it. It's always a fun event."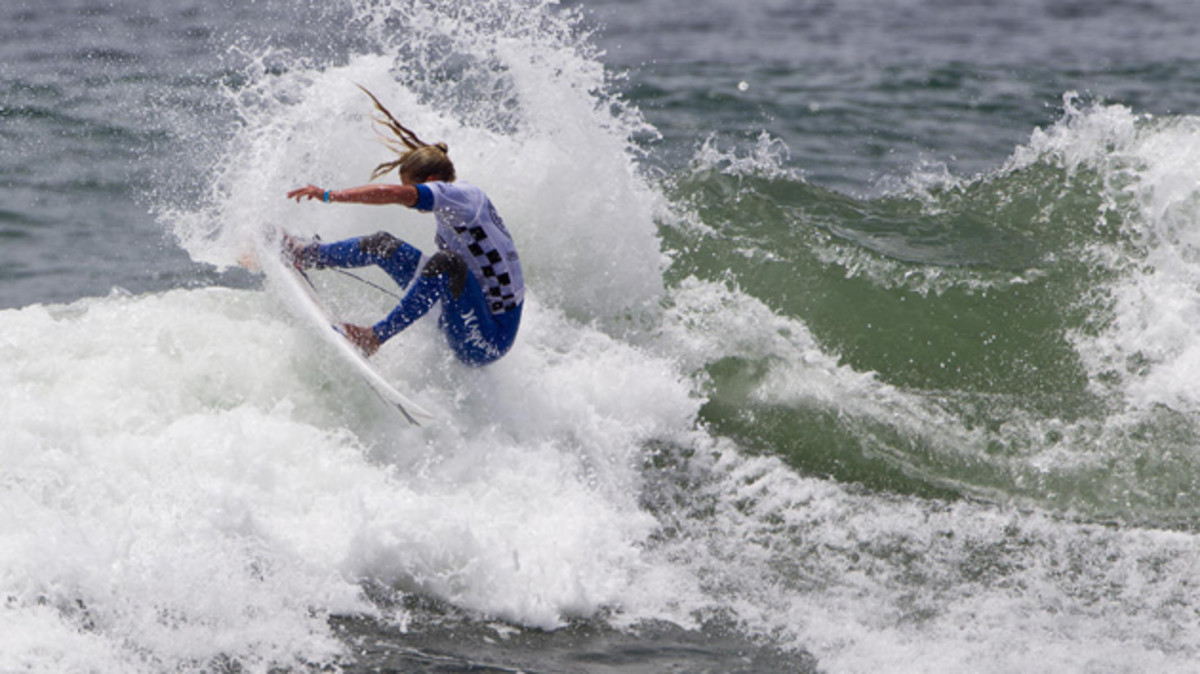 Though Lakey Peterson didn't have any WCT titles in 2013 and 2014, the 19-year-old does have a 2012 US Open title under her belt and will look to add another this year.
"This year I'm looking forward to it," said Peterson. "I have a new mentality and just enjoy myself and enjoy surfing 100% every second and every moment of it."
Rounding off the women's field is Hawaiian surfer Coco Ho, who is coming off a big win in June at the Los Cabos Open of Surf.
"I think going into the US Open is exciting for everyone, they have the biggest crowds and the most passionate fans in North America, so it's exciting to be back on some home soil," said Ho. "The US Open is unique in a way that we know exactly when we're surfing, so you can kind of know what to expect and just really be on [your] game and perform well and ignore all the distractions because it is a crazy event and can get overwhelming, but I'm going to put my all into surfing and let it be."
The US Open will conclude on August 3, you can catch all the action via Live Surf Webcast starting on July 28.
Men's Preview
The all-star lineup on the men's side highlights 2013 Champion AlejoMuniz, Kelly Slater, Julian Wilson, and Pat Gudaskas.
Despite some injuries this year and being ranked 23rdon the WCT, the 23-year old Muniz will be seeking another title.
Not to be outdone, USA's Slater is coming off a stellar 2013 season where he took home three WCT titles. In 2014, he took home a title early on at the Volcom Prime Pro in Haleiwa, Hawaii, alongside two semi-final appearances in the Drug Aware Margaret River Pro and the Billabong Pro in Rio, respectively.
La Jolla native Gudauskas will also look to get in and turn some heads at this year's competition after a win at the Vans Pro in Virginia Beach in 2013. While he has not seen much top place finishes in 2014, Gudauskas did have an appearance in the semifinals of the Hurley Australian Open.
Rounding off the action is 2012 US Open champion Julian Wilson. Wilson's 2014 campaign has not been up to par in his eyes. With only a second place finish at the Hurley's Australian Open and a semifinal appearance at the Rip Curl Pro in Bells Beach, Australia, Wilson will be looking forward to improving his ranking.
"I'm sitting at 15th in the world at the moment and I finished last year 6th in the world and it's not where I want to be," said Wilson. "But there are a lot of events left, so as long as I put myself in position to push [get] through the 3rd round I can breakthrough back into that top 10, top five category which is where I want to be."
This year at Huntington Beach marks history for surfing at the Southern California site. 100 Years of surf will headline the competition, something that Wilson likes about the site, and the fans that come out to watch the competition unfold.
"The history there is something that doesn't compare to the rest of the tour," says Wilson. "People shouting from the pier, people at stadium seating and just the fun iconic moments at Huntington Beach."