Hoops Help: Adidas Adds Boost Cushioning to Crazylight and D Rose 5
Adidas has fallen fully in love with its Boost cushioning, announcing the addition of the proprietary foam to its two lead basketball kicks—the Crazylight Boost and D Rose 5 Boost—in Las Vegas on Sunday.
Boost first launched in adidas running shoes in 2013, and the German-based company has spent over a year testing out the material created from thousands of capsules to better store and release energy during motion on basketball shoes. The thermoplastic polyurethane foam required a new manufacturing process that heat-steams pea-sized capsules, binding them together in the Boost sole.
Derrick Rose claims his new signature shoe—which he has tested out for the last couple of months—is the most comfortable he's ever worn. Along with the new full-length sole, the D Rose 5 Boost includes a lightweight and breathable "fit cage" for strength and support around a foot's upper. This cage also acts as the vehicle to show off the differing colors of the D Rose 5, including the Home, Away, Alternate and Brenda colorways adidas has already unveiled. The four versions offer plenty of black, red and white, with some touches of blue.
Crazylight Boost and D Rose 5 Boost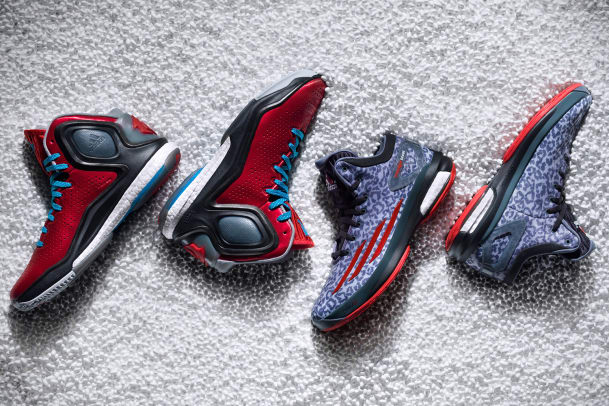 In a rare feat for any adidas product, adidas removed the three stripes from the back of the D Rose 5 (the sides remain vacant of stripes too) and replaced them with the Rose logo.
Introducing the 2014 Nike Hyperdunk
For all the other non-Rose adidas athletes, the Crazylight Boost proves the shoe of choice. At 11.6 ounces, adidas says everything about the design builds around lightweight performance, including ShockWeb construction for added support around the foot, a soft mesh upper for breathability and a new collar design that adidas claims "offers the mobility of a low-top and stability of a mid."
Portland's Damian Lillard and Minnesota Timberwolves' point guard Ricky Rubio will have special "player editions" of the Crazylight that also come in a variety of team colors, all with a gradient color scheme. The placement of three horizontal stripes across the toe aim for a "fast aesthetic."
The D Rose 5 Boost launches Oct. 23 and the Crazylight hits stores Sept. 1, both full of Boost cushioning.
Tim Newcomb covers stadiums, design and gear for Sports Illustrated. Follow him on Twitter at @tdnewcomb.