Publish date:
How Lindsey Jacobellis fell in love with snowboarding again
Lindsey Jacobellis isn't fluent in German. But when the most decorated and recognizable snowboard cross racer of all time heard the name "Tanja Frieden" over the loudspeaker before the FIS World Championship final race this January in Kreischberg, Austria, she didn't need a translator to understand the gist of the announcer's message.
Nate Holland, a 7-time X Games gold medalist and fellow USA SBX team rider, noticed a scowl creep across Jacobellis's face.
"They're talking about the wreck in Torino," she told him. Then her grimace morphed into a tense smile. She laughed.
"I know the result in Torino definitely still hangs with Lindsey and is a sore subject for her," Holland says. "But she tolerates it and can laugh when she looks back at it now. It took a while to get to that point."
Lindsey Jacobellis tried to show off and she got what she deserved: She fell on her tail. —Lindsay Berra, ESPN The Magazine
February 17, 2006. George W. Bush was in the White House and Barack Obama was still a little known Senator from Illinois. "The Pink Panther" starring Steve Martin was the number one movie at the box office. Two weeks earlier the Seattle Seahawks lost the Super Bowl, this time to the Pittsburgh Steelers. One week after that a blizzard 1,200 miles long and 500 miles wide pounded the East coast from Washington D.C. to Boston and blanketed New York City with a record 26.9 inches of snow.
But it was on a snow-covered mountain in Bardonecchia—a small town in Italy's Piedmont region—that an Olympic snowboard race and one jump caught the nation's attention and left everyone stunned.
Almost nine years later the sequence of events from the first Olympic women's snowboard cross final read like a Greek tragedy. How the 20-year-old phenom with blonde curly hair nicknamed "Lucky" Lindsey Jacobellis was poised to capture the gold and continue the USA's reign in snowboarding. How she won the hole shot then gained a massive lead after the third turn. How 100 yards from the finish line she looked back and saw no other racers. How she then tried a stylish backside method grab on the second to last jump. How she fell like Icarus—skidded out on her heels and slid on her back.
[daily_cut]"Keep racing! Keep racing!" Peter Foley, the head coach for the USA snowboard cross team, shouted at the monitor as other coaches started to congratulate him.
"I never took my eyes off the screen," Foley recalls. "I know the race is never over until they cross the line."
Others didn't have the same foresight. Jacobellis's throng of friends, family and supporters positioned at bottom of the course saw her lead and started the coronation. The USA fans in the crowd wore red, white and blue striped Cat in the Hat-themed top hats and held signs including one that read "Lindsey—Speed Goddess." They had begun to celebrate when Jacobellis neared the second to last jump.
Then they saw the fall. They stopped.
Jacobellis's father turned away and looked up to the sky. "Get up! Get up!" her mother screamed.
Her daughter did get up, but it was too late. Tanja Frieden of Switzerland swooped in, took the lead and the gold. She raised her arms in victory.
"When I saw her crash I realized I was still in the game," Frieden says thinking back on the race. "Technically, Lindsey was a much better rider than me. She could have only been beaten by herself."
Jacobellis had to settle for silver. After crossing the line she put her hands on her knees and looked confused. She stared on while Frieden rejoiced.
"I didn't even think twice," Jacobellis told reporters. "I was having fun and that's what snowboarding is. I was ahead. I wanted to share with the crowd my enthusiasm. I messed up. It happens."
***
Jacobellis couldn't have expected what happened when she came back to the U.S. YouTube had just celebrated its one-year anniversary and Twitter wouldn't launch for another six months. Still, the uproar and media attention Jacobellis received was suffocating.
Questions swirled. Was she trying to stabilize her board? Was she grandstanding? Opinions emerged. "She just went down on a showboat trick!" NBC commentator Todd Richards screamed during the broadcast of the final sequence. "The second to last jump and she goes down on a showboat trick!"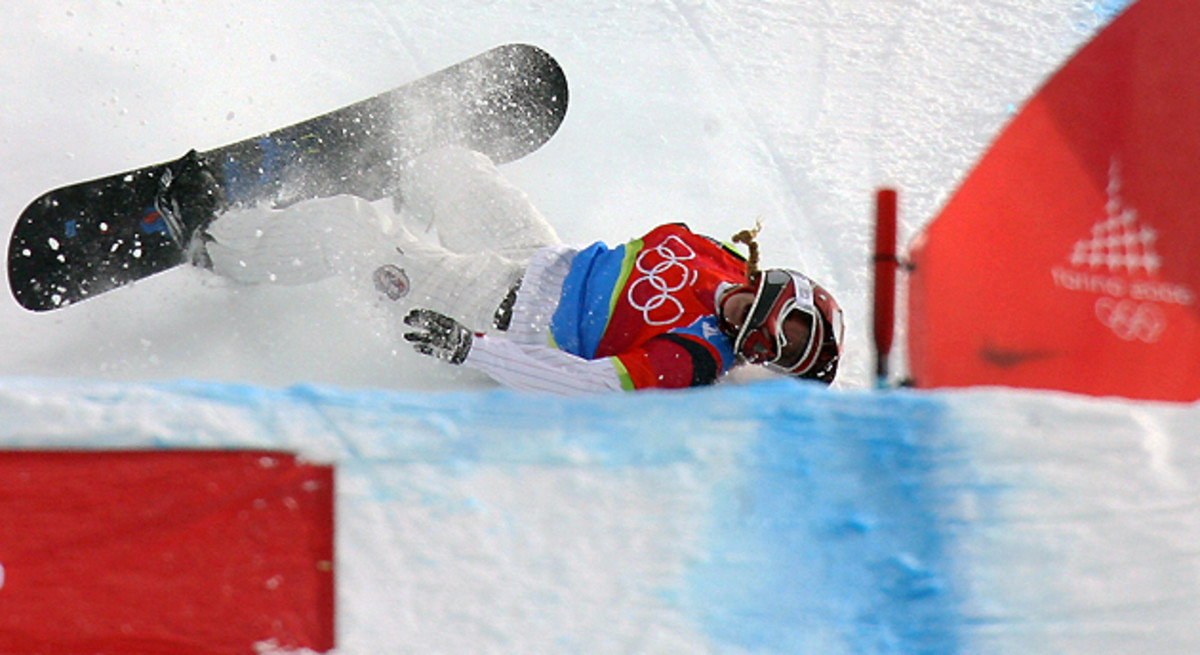 "I knew that I made a mistake," Jacobellis says. "But I feel like it was a bit unfair for the country and the media to put so much stress and be so harsh on someone so young."
Imagine returning home after winning a silver medal and receiving criticism instead of praise.
Imagine turning on the TV and seeing people that had never paid attention or even watched your sport before the Olympics brand you with new nicknames like "show off," the "poster girl for hot-dogging," or the "Bill Buckner of snowboarding."
Imagine your entire career suddenly defined by one race, one decision, one mistake.
Imagine being known as the girl who fell and blew her shot at the gold.
[pagebreak]
That girl who had to listen to the Swiss national anthem while she stood on the lower tier of the podium and had to answer an onslaught of questions was not the same girl who fell in love with snowboarding after her brother Ben introduced her to the sport at the age of ten.
Jacobellis would follow her brother, five years her senior, every weekend when their family went to Stratton Mountain in Vermont. She would chase him off jumps, through the half-pipe and through the woods. She started racing at 11 because Ben did. She started winning.
At home in Danbury, Conn., if Ben was playing a sport that meant Lindsey was too: lacrosse, street hockey, home run derby, didn't matter. And Lindsey wasn't satisfied just keeping pace. She couldn't stand losing. "I always wanted to do everything Ben was doing but try to be better," she admits. "Sometimes it could end very badly." Their mother even hid the monopoly board for a few weeks until the siblings agreed to "play properly."
But Jacobellis's competitive spirit and desire to prove herself began to shift as snowboarding became less of a fun weekend activity and more of a requirement.
After dominating the local races held at Stratton on Friday nights, Jacobellis got an offer to attend the Stratton Mountain School, a college prep school and ski and snowboard academy. The school boasts 66 Olympic placements, including Ross Powers—the gold medalist in snowboard half-pipe at the 2002 Winter Games in Salt Lake City.
While at SMS, Jacobellis's time revolved around the sport. She would ride for four hours in morning, go to class till around six, eat dinner then tune her board and try to finish her homework. The disciplined regimen and dedication produced results. Jacobellis won the Junior Worlds SBX Championship in 2002. The next year she entered the X Games for the first time. She won gold at 15 years old and repeated in 2004 and 2005.
Teton Gravity Research: Learning the basics of avalanche safety
During that stage in her career the wins came easy. "Back then I expected to win," Jacobellis says. "I needed to win."
Even as she stood atop the dais she would start thinking about the next practice run, the next film session, the next race. That preoccupation fueled her "personal shield of invulnerability" as her brother calls it.
"I don't know if there is anybody as competitive as Lindsey," Peter Foley says. "It's a blessing and a curse because that drive is part of what makes her so good but it's not a very relaxing way to go about life."
After Torino, Jacobellis refused to drop the shield. She trained harder. She put more pressure on herself. She continued to rack up X Games gold medals and World Championship titles. None of those results however seemed to counterbalance the weight of media scrutiny. She would have to wait four years to attempt to remove the asterisk on her resume from 2006. 
"That old story has followed me for four years," Jacobellis said in the run up to the 2010 Olympics. "I've told it probably a thousand times, and I don't know how else to tell it."
She did it again! Looking to redeem herself after giving away a victory four years ago in Italy, Lindsey Jacobellis' return trip to the Olympics was even worse. —Eddie Pells, Associated Press​
In Vancouver the external and internal burden on Jacobellis to win the gold and fulfill the comeback narrative was like quicksand. The more she tried to fight it the more she sank.
Jacobellis admits that before her semifinal race she was already looking ahead to the final and the prospect of writing a new chapter to her script.
She never got the chance.
She collided with Maelle Ricker of Canada on the first jump. Ricker rode away clean and continued the down the course. She advanced to the final where she won the gold.
"In our sport there are no guarantees," Jacobellis says. "There is just so much unknown. Sometimes it's a roll of the dice."
Jacobellis lost her balance and hit a gate. She was disqualified. There was no redemption story. Just another episode in the saga she couldn't escape. 
***
When Jacobellis first wanted to swap her skis for a snowboard and tag along with Ben her parents refused. The reason? They were afraid she'd get hurt.
Fifteen years later their trepidation came true. Jacobellis crashed on the last jump during practice at the 2012 Winter X Games in Aspen. She tore her ACL and meniscus in her left knee. Her season was over. She had surgery four days later with the plan to come back at full strength for the 2013 season.
Mariachi Man: Prince Hubertus and the Mexican ski team he helped create
​
Yet as the months passed and Jacobellis started to do more intensive rehab, there was a lingering irritation. Her knee didn't feel right. "Oh that's normal," others tried to reassure her.
She wasn't convinced. So in December while Jacobellis was with the USA team training in Telluride, Colorado she asked one of the USA team doctors to examine her knee.
An estimated 10% of ACL reconstructions fail according to the Hospital for Special Surgery. Jacobellis was a member of that 10%. An MRI confirmed the ligament from her hamstring used to replace her ACL had stretched. The graft didn't take.
"It was devastating," Jacobellis says.
The doctor told her that she could forego surgery, but her knee would only recover 90%. That wasn't an option. Jacobellis underwent another surgery later that month in Vail. Another season was lost. 
***
During the two years Jacobellis missed with the injury and during the five to six hours she spent in the gym every day there was plenty of time for doubts. Am I falling behind? She worried. Will I be strong enough? Will I be the same rider I was before?
But with no race to preoccupy her, she also had time reflect. She thought about how everyone had judged her for one decision she made when she was 20 years old. How a career and a life is a culmination of successes and failures. How she had built a wall around herself and obsessed over winning because she didn't want to admit she was afraid to lose.
[pagebreak]
Imagine if Tony Romo, Bill Buckner, Peyton Manning, and Jean Van De Velde collided in a terrible snowboarding accident. If that were to happen, the end result would look something like Jacobellis' Olympic career over the past eight years. —Mike Foss and Jess Yomtov, USA Today​
Jacobellis finished her recovery ahead of schedule and came back to win her first two events in 2014. No one seemed to notice. They were more concerned with Sochi. They wondered: Would this be Jacobellis's last shot? Could she finally stop the jinx?
She couldn't. Jacobellis again gained the lead in the semifinal. Again she lost her balance and fell after a jump. Again she failed to reach the final.
But despite the disappointment over the result, those around Jacobellis noticed a change in her attitude compared to the aftermath of Torino and Vancouver.
"I have to say this last one was the best of the three," she said in an interview with ELLE Magazine in February of last year.
Jacobellis also adopted a stray dog that was living outside her hotel during the Olympics. His name? Sochi. She took two weeks off to decompress after returning home. She surfed. She tried to unwind. Then two weeks later she was back in the gym training. It's at that point she sat down with Jeff Archibald, her other coach, and Foley to discuss her outlook for the next season. Archibald asked Jacobellis if she still had the motivation to compete.  
Over the past nine years Jacobellis has gotten pretty used to answering questions about the past when each interview veered off topic as if pulled by a gravitational force back to that race in Torino.
But now the question centered on her future.  What would that answer have been if Jacobellis landed that method? If she was on top of the podium instead of Frieden?
Into the Wild: Fighting the trail, the cold and 430 miles of solitude
"If I had won in Torino I would have quit because I didn't like snowboarding that much at that point," Jacobellis says. "I was ready to go away, live in California and cash out. That's what everyone tells you, if you just win the Olympics then you'll be set for life."
But that's the funny thing about life. There is no set script. So instead of riding off into the California sunset, Jacobellis has compiled so many victories that all the medals barely fit into her parents' china display cabinet at their home in Danbury.
And since her recovery from the second surgery and Sochi, Jacobellis has also found something that was missing from her snowboarding. Something that existed before the credit card commercials, before the sponsorships and before the Olympics. Something that was there when she made her first turns down the bunny hill at Stratton.
Fun.
This past winter she practiced in Argentina with her boyfriend—USA team rider Hans Kearney. She experimented with her equipment and tried different styles of boards. She took time away from the racecourse and started free riding more. The girl who used to think the only solution was winning started to lower her shield. She started to say what she thought.   
"I feel people who don't follow our sport define me by the Olympics but I don't care what they think," Jacobellis says. "Everyone in our industry knows the rider that I am and the races I've won."
Here's all the proof she needs:
Career totals after the 2014 season:
X Games gold medals: 8
FIS World Championship titles: 3
FIS World Cup: 63 starts since 2003 with 27 wins and 39 podiums
Olympic medals: 1 silver
Who wouldn't want that resume?
So what was her answer to Archibald's question?
"Hell yes," she told him. "I have a lot more to prove."
And Jacobellis's response about whether she plans to compete in the 2018 Games in South Korea (she will be 32) is even more direct.
"Absolutely," she says. 
***
The start of the 2015 has given her ample reason for such confidence. That race when Jacobellis heard Frieden's name over the loudspeaker? Did she let it distract her or ruin her focus? No. She won and claimed her fourth World Championship title.
A week later Jacobellis was in Aspen for the X Games looking to extend her record number of X Games gold medals for a female athlete.  While the race aired on ESPN on a Friday afternoon and failed to draw the hordes of spectators like the Olympics, if you watched close enough then you got a glimpse into Jacobellis's journey and her transformation.
Book excerpt: Exploring the dangers of World Cup ski racing
There were initial doubts. Jacobellis landed short on the first jump and failed to secure the hole shot. She was in fifth place—second to last.
"Oh no," she thought. "I'm not sure if this is going to work."
No longer can Jacobellis cruise to victory.
"The women's field is really competitive now," Archibald says. "Lindsey has to work her a-- off and claw and fight and claw her way for every win. It's brought out the best in her."
The venue wasn't on her side either. The snowboard cross course at the X Games this year was one the shortest in the event's history. While a typical race lasts almost two minutes, the average times in Aspen were closer to 50 seconds.
"It was more of a sprint," Nate Holland said of the race. He took bronze in the men's final.  "That makes for desperate riding at times."
Jacobellis's time to make a move was running out. She didn't panic. "Lindsey has an extremely high snowboard IQ," Archibald says. "You can't teach that. She is like a great point guard or quarterback where during competition everything just slows down."
"Lindsey is the best at hunting other racers down," Tanja Frieden says. "She fights and when she is behind she wants to overtake you."
On the second jump a racer in the yellow bib lost control in the air and crashed hard. Jacobellis moved into third. She then sped through the "roller" section of the course with its series of bumps and ledges.
She took the lead.
This time the margin wasn't fifty yards like that fateful race with Frieden in Torino. Jacobellis could see the other riders' shadows. She could hear their boards carving over the icy snow. There was no room for error. She didn't look back. On one of the final turns, Dominque Maltais's board rode up onto Jacobellis's tail. But Jacobellis maintained her balance and the lead.
Inspired by others and by her own near tragedy, a snowboarder steps up
Then came the final jump.
"They don't build jumps that big anymore on the World Cup circuit," Holland says. "It was definitely more challenging and a breath of fresh air."
Jacobellis rode off the jump and soared into the air. She raised her arms like airplane wings and didn't go for the grab. She landed clean and crouched low into her tuck, crossing the finish line one tenth of a second before Maltais. Jacobellis won the gold and screamed in delight.
"I saw with Lindsey's last two wins that there was finally a bit of a release," Foley says. 
"I now know it's not feasible to win every time," Jacobellis says. "I don't let winning define me as an athlete anymore so I can enjoy it more when I do win."
But before Jacobellis accepted her medal, before she did an interview with ESPN, before she celebrated with her coaches, she undid her bindings and walked over to the rider in the yellow bib, who was sitting on the snow—head turned down.
She was the rider who had crashed and finished in last place. Her name was Eva Samkova from the Czech Republic.
"Eva was right next to me and I saw her go down. I just wanted to make sure she was okay," Jacobellis says.
"I know what it's like to fall."