Michael Steele/Getty Images
Early in his career, Steven Gerrard was being terrorized by a Liverpool underworld looney named George "The Psycho" Bromley, who was just a few years younger. The two men had grown up beneath the same charcoal skies and in the same kind of bleak housing developments, but Gerrard went on to become captain of Liverpool FC. Bromley went on to sell heroin and extort money from rich footballers.
Bromley had learned the game from his father, George Sr., a real-life Liverpudlian Omar Little, who used to 'tax' local drug dealers through intimidation. Determined to outdo his father, "The Psycho" started using Gerrard as an ATM. One day, Bromley showed up at Liverpool's training ground and chased Gerrard to his car. When Gerrard refused to pay up, he smashed the window of his BMW with a brick. Bromley even threatened to end his career by shooting him in the legs.
Liverpool is one of those places where the criminals and the police are often cousins, so Gerrard's family enlisted the help of a few well-known gangland "fixers" to sort things out. According to legendary Liverpool gangster Charlie Seiga, "The Psycho" was undeterred by strong words, so a few hard men paid him a visit one day and shot him in the face with buckshot. If he didn't stop messing with Gerrard, the men would be back with real bullets.
Bromley stopped. Then he spent 10 years in prison on drugs charges, and, naturally, decided to escape just weeks before he was set to be freed. Police caught him in a garden 30 minutes later.
I couldn't stop thinking about this strange saga when Liverpool took the field against Manchester United at a rapturous Anfield on Sunday. As the transfer deadline loomed and teams prepared to splash preposterous sums to sign dispassionate mercenaries and 17-year-old kids, there was Steven Gerrard walking under the This is Anfield plaque once more.
Gerrard, now 33, has had the same haircut since he was 17. It's hard to even call it a haircut. It's essentially a Number 4 on the sides, and on the back, and on top. It's just a Number 4. In a world of flip-floppy haircuts, huffy transfer requests, and managerial roulette, it takes a Number 4 haircut to stay at one club for 16 years. Even if it's your boyhood club. Especially if it's your boyhood club.
On Sunday, Liverpool scored early and then dug a trench of attrition to seal a 1-0 victory against United. Gerrard wasn't in the vanguard. He's a bit too old for those adventures these days. Instead, he hustled around the defensive midfield like he was being chased around Merseyside by George "The Psycho" Bromley. He hounded United's midfield until their creativity was completely snuffed out. He was human buckshot.
As €100 million man Gareth Bale moussed his overwrought hairdo (it has its own project manager) and packed his luggage for Madrid, Gerrard was on the pitch again at Anfield — clocking in, clocking out. Same as it ever was.
It's probably all meaningless. Despite the 3-for-3 start to the season, Liverpool will inevitably finish fifth. United will inevitably dink-and-dunk their way to another league title. Bale will inevitably thrill at the Bernabéu and, perhaps more importantly, sell millions of those Sharpie-fonted Real Madrid kits (for an extra 20 Euros, a child will actually hand-write Bale's name on the back of the shirt at Adidas' manufacturing facility in Guangdong).
What happened on Sunday at Anfield is all probably for naught.
But in 20 years, when world football has been sandblasted into a branded utopia and the vulgar chants from the terraces have been replaced by choruses of "I'm lovin' it, I'm lovin' it, Mac-Don-ald's, I'm lovin' it!" then and only then will we truly appreciate Gerrard and his numbskull haircut and brutish persistence. When the public servants finally get their way and Anfield has been turned into a commemorative TESCO and Liverpool-at-large has been transformed into an Orwellian CCTV police state and all the seedy underworld figures have been fatigued into careers at rental car agencies and football itself has been analyzed and perfected into a majestic tiki-taka wonderland, we will look back fondly on that big, puffy, dry haircut.
Whether or not you embrace or revile the kind of corporatized lunch-pail nostalgia Liverpool FC spin to promote their global brand, some of that nostalgia is actually very real.
Liverpool is still a place where you can get a brick thrown through your window.
***
Arsenal bags Özil
Oof. You have to feel for Tottenham supporters this week. First, Gareth Bale throws a temper tantrum to force his record-setting move to Real Madrid. Then, Spurs' completely rebuilt squad goes out and lays an egg in the North London derby against Arsenal. Even more bizarrely, their typically stylish manager's tie was all goofed up for the duration of the match.
Woof. Amateur hour.
If all that wasn't enough, spendthrift rivals Arsenal finally dusted off their Velcro wallet on deadline day and splashed out a record £42.5 million for Mesut Özil, who happens be to very, very good at playing football.
I only say this because Özil is total quality and also dates a gorgeous model: He kind of looks like he was created by a totally zonked-out stoner using World of Warcraft's random character generator. "Dweebish Warlock" class.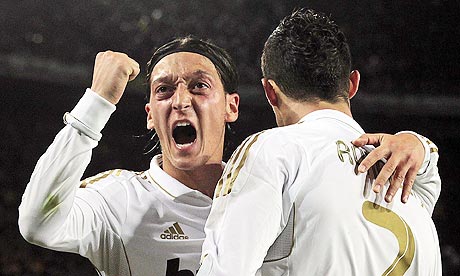 The chants directed at him 'round Britain should be inspired.
***
United signs Chia pet
All in all, it was an uneventful deadline day. Manchester United balked on the asking price for Athletic Bilbao's Ander Herrera, which means that Michael Carrick and Tom Cleverley will have to do for the season — and by 'do' I mean pass the ball back and forth to one another with no clear purpose or direction whilst David Moyes flashes redder and redder like a Super Nintendo boss about to combust on the touchline.
But wait! Late drama! Just as the door closed shut on the transfer deadline, Everton confirmed the sale of Belgian midfielder Marouane Fellaini to Manchester United. This is extremely convenient for Fellaini, seeing as he'd already moved from Merseyside to Manchester earlier this year, because, as he explained, women were crawling all over him and making his life unbearable.
Here is Fellaini.
This invokes a famous quote from Peter Crouch, the gawky but lovable Stoke City striker. When asked what we would be if he wasn't a footballer, Crouch responded, "A virgin."
***
Picture of the Week
Here is David Beckham's son Romeo wearing a porkpie hat this weekend at the Emirates. Look at that little tyrant. Romeo supports Arsenal despite own father being a Manchester United legend, which is a totally hateful thing to do, even for a child. This kid is the real-life Joffrey Baratheon.
When he's not berating the Beckham's live-in chef for botching his lunch box spread of sashimi and wild rice, Romeo is doing fashion shoots in Burberry raincoats and silky Keith Sweat button downs.
Honestly, look at that hat. I'm going to carry around that photo in my wallet for whenever someone says, "You don't know how hard famous kids have it!"
Never has an inevitable recreational drug addiction been so well deserved.
***
Tweet of the Week
Tottenham full back Benoit Assou-Ekotto glumly reacts to the news that he's been loaned out to Queens Park Rangers.
............................ Football...

— Benoit Assou-Ekotto (@AssouEkotto) September 2, 2013
***
Geezer of the Week
Check out that geezer in the red shirt.
You cannot purchase a shirt like that anymore. That's a WW2 ration shirt. After the match, instead of going to the pub, this man was submerged in a vat of Jameson.
***
Goal of the Week
Arsenal striker Olivier Giroud with a flash of technical brilliance against Spurs, side-footing in a low cross with a bit of Dutch, right into the bottom corner.
***
Chant of the Week
In honor of Giroud's superb strike, here's the best video of the "Hey Giroud" song available on the interwebs.
Sean Conboy is the digital editor of Pittsburgh Magazine. Also catch him at Wired, Deadspin, GQ, Vice and this very blog. Banter with him on Twitter@SeanConPM.