Tuesday's P.M. Hot Clicks
Scenes From the David Ortiz Celebrity Golf Classic
Tuesday's P.M. Hot Clicks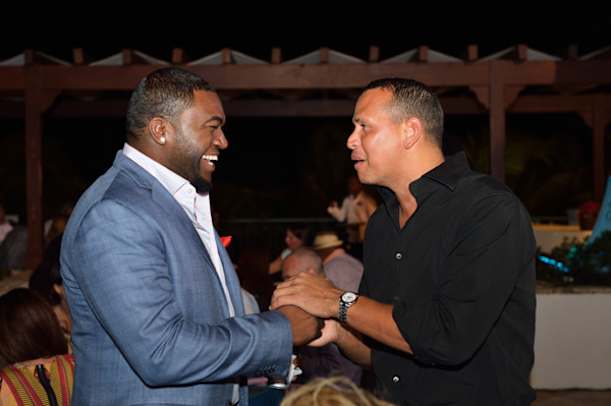 World Series MVP David Ortiz hosted the sixth annual David Ortiz Celebrity Golf Classic at Sanctuary Cap Cana Resort in the Dominican Republic last week. The four-day event, which features athletes and celebrities, raised $350,000 for The David Ortiz Children's Fund. Here are some photos of the event.
This Is How You Do Secret Santa
The Heat held its annual Secret Santa and the presents were spectacular. Shane Battier gave Chris Bosh a telescope, Mario Chalmers gave Battier two bottles of pricey wine, Rashard Lewis bought Michael Beasley a Louie Vuitton bag and Roger Mason Jr. bought Greg Oden a set of Bang & Olufsen speakers. Yahoo's Ball Don't Lie blog has all the details.
Media Feuds of the Year
Richard Deitsch, SI's media writer and Hot Clicks editor (blame him for all the mistakes!), has compiled the year's best media feuds leading with Bill Simmons vs. Doc Rivers.
Lovely Lady Round-Up
Tuesday's P.M. Hot Clicks
California native Jaclyn Swedberg has a new set of bikini photos out ...Coed has an important look at the year in celebrity cleavage ... The 50 hottest photos of pro surfer Erica Hosseini.
This Is Unusual
A soccer match between the under-17 teams of the U.S. and Brazil ended in odd fashion as both teams literally did nothing the last five minutes but watch the clock run out. Brazil was frustrated by the referees and the Americans didn't want to take advantage of a team no longer trying.
This Is Ridiculous
Duluth (Ga.) High senior safety Sam McNair received a year-long suspension from school for hugging a teacher. McNair, who also plays lacrosse, was punished after the teacher accused him of touching her in the back of the neck and cheek with his lips during the hug. An online petition has been created to overturn the suspension, which could cost McNair a college scholarship.
This Is Cool
The North Carolina athletic department is letting fans choose which uniform the Tar Heels will wear in the Belk Bowl against Cincinnati.
Odds and Ends
I'm not sure what to make of Bootsy Collins' latest hit single, Peyton Manning's Passing Your Way, but I can't stop watching it ... Jay Leno compared the Sochi Olympics to Nazi Germany last night ... I really love what Boston Globe reporter Billy Baker (a friend of mine from grad school) did on Twitter to get people interested in his latest story ... A 19-year-old man from Florida was arrested after police became curious at all the incriminating photos he posted to his Instagram account.
Learn Spanish With Jose Calderon
The Mavs point guard teaches his teammates how to speak Spanish.
Fan Of The Day
This little Celtics fan shows off his moves during Monday's Celtics-Wolves game.
Miss Supercross Is Back
Dianna Dahlgren, who we featured as LLOD last month, stars in the latest edition of SX Ed with Miss Supercross.
Happy Holidays From the Diamondbacks
In my quest to post every holiday video in sports, here's one from the Diamondbacks.