The X-Rated 5K Mud Run Asks, "Are You Tough Enough to Climb the Boob Wall?"
Image provided by organizers of X-Rated Race. Not an actual competitor. Just a nice young woman.
If you're a mud-running enthusiast who has ever wanted porn stars, pole dancers, and generous sexual innuendo with your endurance racing, you best start searching Kayak for flights to Bunnell, Florida on March 22. That's when thousands of runners with questionable motives will flock to the Sunshine State for the inaugural X-Rated Run, described on its site as "THE ORIGINAL, FIRST OF ITS KIND, 5K adult-themed obstacle course race for all people over 18 of all fitness abilities!"
The event—which will feature such obstacles as the Dominatrix Dungeon, the G-String Crawl, and the Boob Wall—is the brainchild of Kelly Perez, an obstacle-course buff and the owner of adult novelty store SensualSteals.com. She got into the hobby after other attempts at weight-loss regimens didn't stick, and the idea came to her during a workout session with her Marine cousin.
"One day while training, I felt drained and wanted to give up," Perez recalls. "I said, 'This is B.S. Forget it. I'm not an elite athlete—I sell sex toys for a damn living.' My cousin replied, 'Stop f---ing complaining, and envision crawling through a penis tunnel.' After I laughed, it hit me like a bolt of lightning: I literally envisioned an entire obstacle course made out of boobs and penises. Exercise and sex are so closely related: They both cause you to get all hot, sweat, and release feel good pheromones. So why is there not an event that can bring the two together?"
With the help of a former ING Marathon race director, Perez turned that bolt of inspiration into reality, figuring she "could use the open-minded, sexually-charged atmosphere to bring together young adults and use it as a platform to promote safe sexual practices and fitness in a lighthearted, funny, physically exhausting way."
While it might sound like the race is just a front for a mud-covered, Real Sex-style orgy, it's (purportedly) not. The race is sex-themed in presentation, but not practice—nudity and sexual behavior are prohibited. What racers will find is the usual assortment of "Tough Mudder"-esque obstacles, just with an erotic twist. Perez shared details on a couple:
"The Dominatrix Dungeon will be an enclosed mud-filled maze resembling a dungeon. You'll be in almost complete darkness surrounded by metal hanging chains, whips, and bondage-like items. We'll have a surprise or two waiting for you inside that will 'whip' you into shape. The Blue Balls Dash is just that: A dash through very large, blue rubber balls that are hitting you in the face."
Here are renderings of select obstacles. Some of them are, in their own peculiar way, NSFW.
The X-Rated 5K Mud Run Asks, "Are You Tough Enough to Climb the Boob Wall?"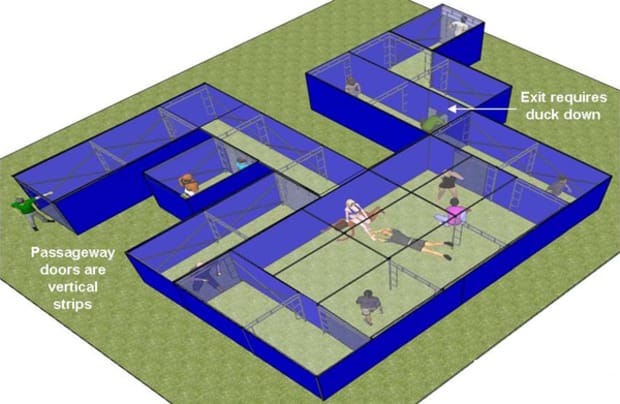 As-yet-unnamed porn stars will be participating in the event, and pole dancers and burlesque performers will line the course because why not? At the finish line runners will get a free beer, a condom-shaped medal, and the chance to be named Ms. or Mr. X-Rated 2014, with a grand prize of $690. Registration is still open, with racer fees going for $65. Spectator (voyeur) fees at $25.
We'll end with a dramatic staged photograph of a supposedly post-run couple that was sent to us by the race organizers: