Tuesday's P.M. Hot Clicks
Classic Photos of Mr. T
Tuesday's P.M. Hot Clicks
The WWE announced yesterday that Mr. T, who headlined the very first WrestleMania in 1985, will be inducted into its Hall of Fame. To celebrate, I collected my favorite Mr. T pics for this tribute to the mohawked legend.
The Many Faces of Bruce Pearl
Auburn hired former Tennessee coach Bruce Pearl as its new basketball coach on Tuesday. Pearl, who famously appeared shirtless in the UT student section during a 2007 Lady Vols game, is a man of many faces and this gallery captures nearly all of them.
George Costanza Night and Other Bad Minor League Promotions
Guyism has compiled a list of minor league baseball promotions that weren't completely thought out (Mike Tyson Ear Night, for example), though I still have hopes for the Kalamazoo Growlers' Selfie Night in late July.
Lovely Lady Round-Up
Tuesday's P.M. Hot Clicks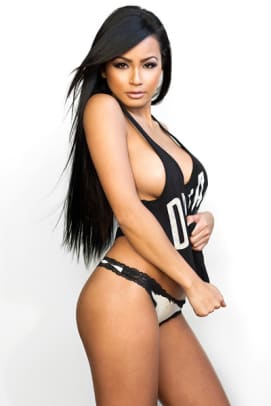 Gloria Touch is a DJ and model based out of Seattle. Follow her on Instagram and Facebook ... The 30 hottest Instagram photos of Scottie Pippen's wife, Larsa ... The cheerleading squads of all the NCAA Tournament teams ... Paulina Gretzkyenjoyed some bikini time in Las Vegas ... Rebecca Marshallalmost makes me want to watch Supernatural.
Today in Crazy Athlete Tattoos
Browns receiverJosh Gordon had some work done on his enormous number 12 back tattoo.
NYC Half Marathon Hotties
Brooklyn resident Kelly Roberts, who describes herself as a "humble joke teller, adventurer, actress, director, fun seeker, cooker, and marathon runner," had some fun on Sunday when she posted selfies of herself and unsuspecting male hotties while running the NYC Half Marathon.
Remembering Pedro vs. Zimmer
Pedro Martinez and Don Zimmer :: AP
As I write this, my Twitter feed is blowing up with news of a delay in the Red Sox-Yankees game due to bees, which reminded me of the strangest moment in the longtime rivalry. SI's Tom Verducci describes the scene from a memorable 2003 night at Fenway Park:
"In the bottom of the inning New York righthander Roger Clemens threw a high fastball that was closer to the plate than it was to the hitter, Manny Ramirez, yet the Boston outfielder took a few steps toward Clemens with bat in hand. Both dugouts and bullpens emptied. The charge included [Don] Zimmer, who rushed as best he could on his 72-year-old legs and lunged at [Pedro] Martinez, raising his left hand at him. Martinez grabbed Zimmer's head and threw him to the ground. Zimmer toppled headlong and rolled over, suffering a cut on the bridge of his nose. ( Martinez was fined $50,000 by the commissioner's office on Monday, while Zimmer, who apologized for his behavior on Sunday, was hit for $5,000.)"
New Feud Alert: Swisher vs. Lofton
This isn't exactly new, since it happened in January, but we'll call it new since word is just getting out today. During the Indians' "Tribe Fan Fest" in January, outfielder Nick Swisher went nose-to-nose with Kenny Lofton after taking issue with the retired outfielder's comments about Cleveland's 2013 playoff run.
Odds and Ends
The Knicks have begun selling Phil Jackson retro T-shirts for $34 ... Here are the NCAA Tournament brackets of Stephen Curry, Damien Lillard, Anthony Davis and John Wall ... Alexander Ovechkin also filled out a bracket and didn't exactly show a wealth of college hoops insight ... The Patriots have begun selling Darrelle Revis jerseys even though he hasn't been given a number yet ... Avril Lavigne, Jim Carrey, Justin Bieber, Celine Dion and Pamela Anderson make up the top Canadiens, according to this MIT poll ... Here's Hillary Clinton rocking candy-striped pants at age 21 ... A group of Flyers fans had their homemade (and mildly offensive) jerseys censored while attending a game in Pittsburgh against the Penguins ... March Madness is a popular time for Vasectomies ... The Jets apologized to at least one agent for shady negotiating tactics ... Courtney Love claims to have found Flight MH370 ... Tucson police are looking for a man who robbed a bank while carrying a basket with a Chihuahua.
Buzzer Beaters
Still not pumped for March Madness? Perhaps 10 straight minutes of buzzer beaters will do the trick? (HT Extra Mustard)
Andrew McCutchen's Batting Stances
This is tremendous.
How Many Basset Hounds Can Fit In One Tiny Doghouse?
The answer is five, at least according to this video.
Time Lapse Video of the Day
Sydney Cricket Ground's transforms into a baseball diamond for the upcoming series in Australia.
[mlbvideo id="31565453" width="600" height="336" /]