Frequent Flyer Smiles
Weekend Hot Clicks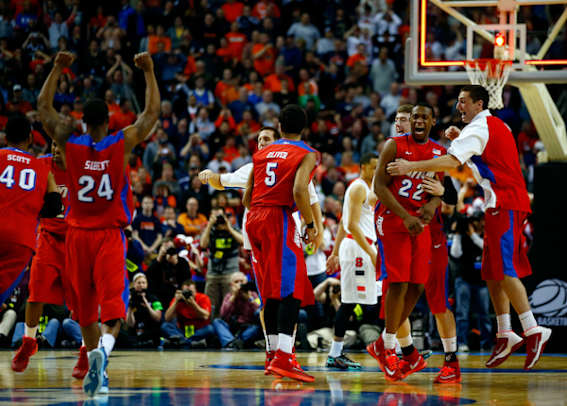 Yesterday's big upset belongs to No. 11 Dayton, which fought its way to a 55-53 victory over an offensively anemic (21-54 on field goals) Syracuse squad that closed its season with six losses in nine games. Syracuse had a couple shots in the closing seconds to win or tie the game, but seeing how the Orange sunk zero (0) of 10 from beyond the arc and collected only one (1) from outside the paint ... it didn't fall. Here's the Cuse shot chart, which looks like someone spilled a container of red X's all over the court. This Cuse fan is not bitter.
Let's round it up: Dayton punched its first ticket to the Sweet 16 in a long time, which sent its students pouring into the streets in an absolute frenzy, but not only its students: Dayton's president joined the celebration and even went crowdsurfing ... Watch Dayton dancing in the locker room ... UConn'sShabazz Napier put on a show as the Huskies sent Villanova packing and his bench into fits with some sort of arm hanging celebration that I don't understand, but it looks fun! ... North Dakota State made a valiant effort but fell by almost 20 to San Diego State; afterwards, ND State's head coach Saul Phillips couldn't contain his emotion, nor could Charles Barkleyrefrain from taking a shot at Phillips ...
... No. 12 Harvard gave Michigan State a serious scare before Sparty roared back. The national broadcasters were just fine but couldn't match the entertainment value of the Harvard student announcer, who sounds as endearingly nerdy or maybe even nerdier than you're expecting ... No. 7 Oregon blew a sizable lead to No. 2 Wisconsin and frustration boiled over at the end when the Ducks Jason Calliste shoved Traevon Jacksonto the ground ... Also advancing: Michigan, Florida and Louisville and proud we are of all of them ... Finally, Scoochi Goochie Coo!
Memphis Woman Delays Surgery for Collapsed Lung to Watch Tigers Game
"I'm a Psycho"
"Whatever I do, I'm all in. Whether it's at church worshipping, if it's on the floor coaching, if it's eating fried chicken, if it's getting my iced tea, I'm all in.
-- Mercer coach Bob Hoffman about his all-or-nothing approach to life. That and more entertaining Hoffman bits available here.
Cheerleader of the Week
Weekend Hot Clicks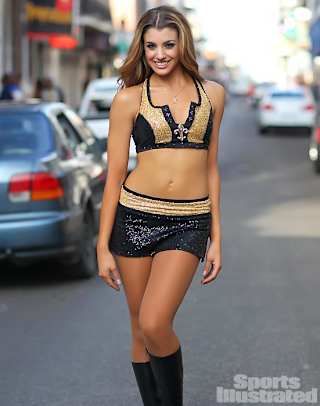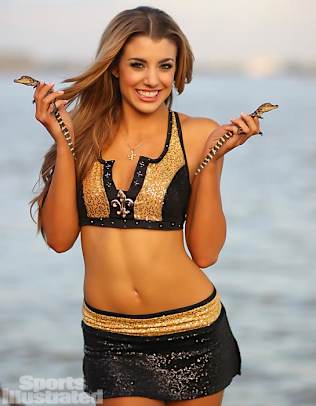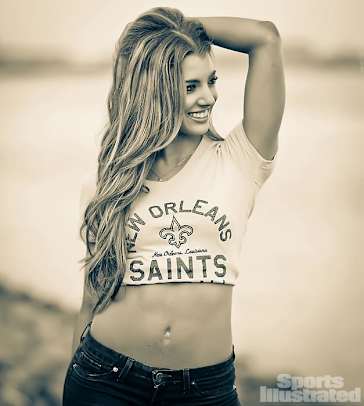 The cheerleader of the week hails from Louisiana -- LSU graduate and member of the Saintsations, Stephanie.
Favorite people to follow on Twitter: "Foodies and local restaurant. This New Orleans girl definitely knows how to eat!"
The "most played" songs on her iPod: "Techno and electronic music. It keeps me pumped and energized during workouts."
Celebrity crush: "Currently, Juan Pablo from "The Bachelor" because who doesn't love his accent?"
Favorite professional sports team: "The New Orleans Saints because they represent more than just a football team for the city and for state of Louisiana. Being a Saints fan is definitely a way of life in New Orleans, not just a title. It's truly an honor to cheer for a team that means so much to its fans."
Go here to get Stephanie's full gallery.
Roddy White Reneges
Roddy White promised a fan on Twitter season tickets at the 50-yard line if Duke (his pick for the national championship) fell to Hoffman-led No. 14 Mercer. Of course Duke lost and now White is refusing to make good, offering tickets to one game only, explaining that the fan "had nothing to lose" in the bet and also that "it's illegal to gamble in the NFL," both of which are sorry excuses. I'm not sure NFL guidelines apply for a guy operating according to Bush League rules.
Weightlifting, Soccer, or Sex?
The Columbus Crew broadcast featured some eXXXtracurricular audio (NSFW-ish).
Keep Your Effing Jersey
Earlier in the season, a frustrated Oilers fan took off his jersey and threw it onto the ice. Another fan did the same on Saturday in a 8-1 blowout loss, only this time goalie Ben Scrivens hooked it with his stick and launched it back into the crowd.
Odds & Ends
Follow me on Twitter @brettsmiley... This year's Amanda Enfield, Dayton coach's wife Morgan Miller (on Twitter here)... "We suck" -- Chris Bosh on the floundering Heat ... New York Rangers analyst loses his headset during a live report ... March Madness cameraman sneaked guns inside the arena ... Vin Scully tries out his Australian accent ... At least one double digit seed almost always reaches the Sweet 16 (infographic) ... A fan eating a gigantic hot dog ... Recently home from treatment, Richie Incognito apologizes to his Ferrari ... Marcus Vick once again proves that he's an idiot incapable of keeping his mouth shut... Fitness gals showing why working out pays.
Steer Clear of the Glass
So that's what a check feels like.
[youtube https://www.youtube.com/watch?v=tHae-jr30X0]
NO NO NO NO
Double overtime, clocking ticking down, this poor Raptors fan begins melting down before the ball even leave's Kevin Durant's hands. [H/T Royce Young]
[youtube https://www.youtube.com/watch?v=wodL7DOZaQc]
Snowman Exploding Marks the End of Winter
Hopefully.
[youtube https://www.youtube.com/watch?v=k0B0fHobGOQ]
Adam Sandler
It's ironic that some of Sandler's best work came from the early album "What the Hell Happened to Me."
[youtube https://www.youtube.com/watch?v=We8MeWpyBgA]