Mustardite Brett Smiley with you today for Andy. Follow me on Twitter @brettsmiley. Thanks for Fridaying-ing with me and come back Sunday for Weekend Hot Clicks.
What They're Listening To
Photo: NBAE/Getty Images/Andrew D. Bernstein
Clippers forward Matt Barnes and other NBA stars shared their pregame pump up playlists with SI.com. You'll find everything from Tupac to Train with a heavy dose of Rick Ross. The tunes are embedded, so go ahead and enjoy the eclectic musical journey.
And of course the late-season coasting mode has finally ended and the playoffs start tomorrow. Get first-round matchup previews and more coverage at SI.com's NBA playoffs preview hub.
NCAA and Boss Mark Emmert Immediately Regret This Decision
Emmert appeared on Mike & Mike this morning to discuss collegiate athletics revenue and other controversial matters. Prior to the interview, show staffers encouraged listeners to use the hashtag #AskEmmert to ask Emmert questions. The result, as a reasonable mind would imagine, completely backfired. In a face saving effort, the NCAA Twitter handle followed up with some trivia.
The Texas Rangers Had Adorable Penguins March Across Their Infield
Go watch it now and get a bonus anteater GIF. The little tuxedoed friends move pretty slowly but possibly still at a quicker pace than David Ortiz in his record slowest trot around the bases.
Lovely Lady Round-up
Friday's P.M. Hot Clicks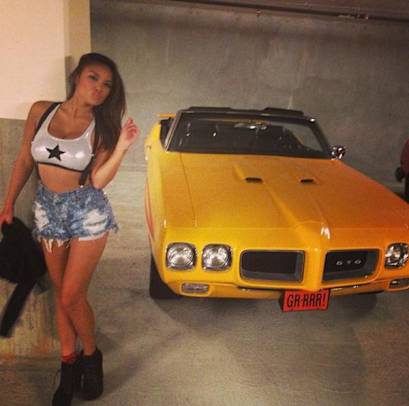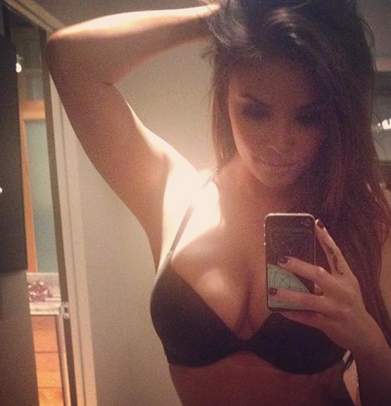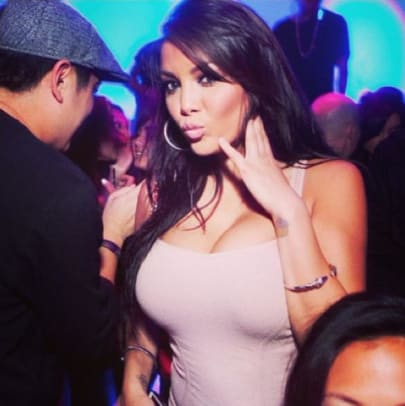 Model Justene Jaro leads the way this afternoon. There's a lot more of her at Mandatory and you can follow her on Instagram here. ... Go get Guyism's 101 hottest celebrity Instagram pictures of the week ... Check out Egotastic's set of Constance Nunes beach photos ... And The Roosevelts celebrated "yoga pants thursday" yesterday. I actually started doing hot yoga a few months ago and my lower back pain (from sitting in a desk chair all day looking at models -- tough break) has completely disappeared. Really -- try it.
Jacks & Jokers Hot Clicks Giveaway
The only brand for hockey players who get to meet the First Lady. (Photo: Jacks & Jokers)
Jacks & Jokers -- sported by Alex Ovechkin (above) with First Lady Michelle Obama -- is a contemporary clothing brand inspired by the historic art and imagery of the United States Playing Card Company (USPC). Each item in the collection is carefully detailed with the graphics and logos that have appeared on decks for over 100 years.
I've got three tee shirts to give away. If you'd like to get one, be one of the first three to tweet me @brettsmiley a GIF or video of Ovechkin dancing during a certain commercial for a Maryland-based car dealer.
Update: Contest is over. Winners will be notified. Thanks for playing. Here's Ovechkin's glorious jingle for Eastern Motors.
Hey Lloyd, Go Get Me That Model's Number
That's basically how it worked for Jeremy Piven aka Ari Gold after he met SI swimsuit model Nina Agdalat an charity event the other day. True to form.
Unforgettable Moments from the "Bad Boys" Documentary
A diehard Pistons fan culled the most entertaining, craziest moments from Detroit's Bad Boy era as seen in the new "3o for 30" feature. Elsewhere, the King's Isaiah Thomas (active player, different spelling) is catching heat on Twitter from misguided fans angered by the other Thomas from that Bad Boys squad. The Kings point guard was born in 1989, when his naming probably didn't seem such a bad idea.
Tottenham Hotspur Fans Post Missing Pet Flyers for Erik Lamela
"Rarely seen. Struggling to adapt to new surroundings." For when booing just won't cut it.
Odds & Ends
Boston Marathon Bombing victim enjoyed a great Fenway Park wedding on Thursday ... How should the media present coverage of the Boston marathon bombings one year later? ... Golfer Pablo Larrazabal got stung by a swarm of hornets and jumped into a course pond ... Steve Kerr "absolutely expects" offer for Knicks coaching job ... Recall that crotch grab by Joel Quenneville? Now it's under NHL "review" ... Showtime is set to produce a documentary on Kobe Bryant called "MUSE" ... The Vikings new stadium is a massive upgrade ... Here's a pretty chilling story about a former Army Ranger who believes he may have accidentally shot Pat Tillman ... Kid at a Brewers-Pirates game went hunting for gold, succeeded, ate the treasure ... Giants fan asked Steve Weatherford to her prom, he accepted ... Does anyone know how the late David "Pervert Dave" Cummings got his nickname?
11 Minutes of James Harden Getting Crushed on Defense
Just brutal. [H/T Matt Yoder]
[youtube https://www.youtube.com/watch?v=wVYJULACcao]
The Other Amazing Save By a Non-Goaltender
In this morning's very early NHL superlatives, I pointed out Max Lapierre's incredible, sort-of accidental game saving stop. If you missed it, you have to see the Av's Erik Johnson's incredible save on what looked like a sure-thing, game-ending empty netter. [Holdout Sports]
[youtube https://www.youtube.com/watch?v=B5C9CTe0Q0A]
Elephants Like Soccer, Too
I'm actually impressed by some of their ball-handling skills, considering their size. [Tastefully Offensive]
[youtube https://www.youtube.com/watch?v=e0-Lso0C7lc]