Mustardite Brett Smiley in today for Andy. Send tips to basmiley@gmail.com or hit me up and/or follow me on Twitter @brettsmiley. Come back for Weekend Hot Clicks on Sunday when I will curse my Kentucky Derby pick.
Three's Company
Katherine Webb (Troy Robertson/SI)
Arizona Cardinals lineman Darnell Dockett's unabashed love affair with Katherine Webb has taken another awkward turn. Yesterday, when outgoing Alabama QB AJ McCarron appeared on Dan Le Batard's show, the host asked McCarron how he might coexist as a rookie in Arizona with Dockett, who has lusted for Webb on Twitter. "We're two grown men," McCarron said. "So hopefully we'd both have respect for each other if we're on the same team. But I don't know what happens in that situation." The inset photo you see above is Dockett's hysterical response to McCarron's remark. You could say Dockett would like to see McCarron run the option.
Derby Day Is Almost Here
Some horse names are pretty crazy, which inspired this challenge: "Derby Horse or Indie Rock Band?" ... Sochi announcing stars Johnny Weir and Tara Lipinskibroke down hat trends at the Derby ... Speaking of hats, here's a gallery of people wearing crazy things on their heads at the track ... Here are some classic photos from the 1955 Derby ... Meet the horses in this year's run for the roses and get SI senior writer Tim Layden's picks.
Just the Cleveland Indians Pitching Staff Looking Sexy in V-Necks
And by sexy I mean very, very creepy.
Lovely Lady Round-up
Friday's P.M. Hot Clicks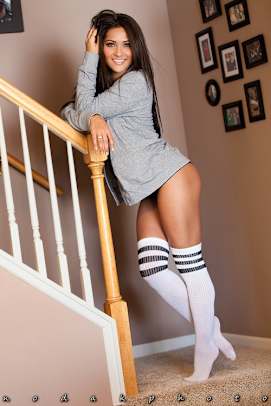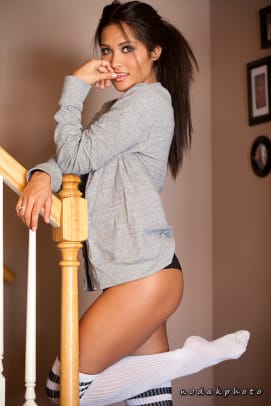 Meet Dani Cooper, a Cambodian-Irish Army veteran who's currently an aeromedical evacuation technician, who also models, studies biochemistry and sells motorcycles, ATVs and dirt bikes. Busy girl. Thanks to reader Bud for suggesting Dani. You can follow her on Instagram and Twitter. ... Guyism's 100 sexiest celebrity Instagram photos of the week ... COED put together 50 photos from Arizona State's "Wet Electric" pool party, which sounds like a bad idea but isn't ... Check out Bikini Team's model of the month, Tawny Jordan.
Ill-Advised Derby Picks
ABC via Getty Images
You may be wondering, Why am I looking at a picture from a 1979 episode of Taxi? The horse is obviously a clue. That's a young Tony Danza at left, staring at Gary the horse in an episode titled "Jim Gets a Pet." But look at Danza's fond glance at Gary the horse. I think it's a 35-year-old sign that Danzathe horse (trainer Todd Pletcher, jockey Joe Bravo), given 10-1 odds to win the Derby, is going to take it down! Danza himself was once a (semi?) professional boxer.
Anyhow, the Derby is a crapshoot, even for people who study the horses closely. I don't, but I spent a lot of time today reading analyses, looking at some numbers and watching episodes of Taxi, and I think this Danza from the four post has a decent chance. California Chrome is the favorite but the field is so huge and anything can happen when the speed horses fight for early position. So I'm going to fade the favorite and take Danza, Medal Count, Ride on Curlin (Borel, baby!) and Candy Boy in a Trifecta Box (paying for the extra horse in the trifecta). Good luck.
Designer Socks, by Dwyane Wade
They're expensive at $14 a pop but not outrageously so -- if you're into funky footwear. I like Puma quarter-socks and stopped matching any of my socks five years ago (one big drawer), which has made getting dressed much easier. On the flip side, my wife's grandfather thinks I'm some combination of incompetent and crazy.
The Rock Has a Very Rock Birthday
For his 42nd rotation around the calendar, Dwayne "The Rock" Johnson hit the weights hard and apparently curled what looks to be about 150 pounds. The dude is jacked. Here's the old Rock, from his younger days at Miami. I guess he was The Boulder then.
Throwback Baseball GIFs
Some delightful baseball moments in black-and-white, before these people knew that all their slip-ups and highlights would get turned into amusing cybernuggets.
Odds & Ends
The guy who was blocked from opening a roadside bar named "Buck Foston's Road House" won a $1.5 million award in a lawsuit ... Fifty cool NFL draft facts ... Some moronic (apparent) Raptors fans graffitied the Brooklyn Bridge ... Donut shop has stamped its receipts with Mitch Hedburg's hysterical donut receipt joke ... Seventy-five percent of Atlanta rappers (four rapper sample) want the Falcons to draft Jadeveon Clowney... Someone on the USC Twitter account screwed up its team colors, students outraged ... Interested in buying Willie Nelsons's giant reefer mobile?
Are Those Reebok or Nike?
A Dominican DJ/wizard correctly guessed a caller's song despite terribly misunderstood lyrics. Try to guess it. [NESN]
[youtube https://www.youtube.com/watch?v=BQ4c54rCJ_k]
Foul Ball Shatters Camera
Coming right at you. [USAT HSS]
[youtube https://www.youtube.com/watch?v=X4EbJy05laY]
Tough Tony Danza
I love the New York accent in this video showing Danza knocking a guy out of the ring in under a minute.
[youtube https://www.youtube.com/watch?v=QrgAivyc3V4]
Tiny Hamsters Eating Tiny Burritos
[youtube https://www.youtube.com/watch?v=JOCtdw9FG-s]