Tuesday's A.M. Hot Clicks
New Kid on the Block
Jimmy Garoppolo and Tom Brady :: Getty Images
Jimmy Garoppolo has been a Patriot for less than a week but he already has Tom Brady beat in one important department ... his looks. Outsports.com asked its readers 'Who is hotter: Tommy or Jimmy,' and Garoppolo received 79% of the votes. All he needs now is a model to date. May I suggest today's LLOD Samantha Hoopes?
Los Angeles Hates Justin Bieber
The pop star was shown on the scoreboard during Sunday's Clippers-Thunder game, where he was met with a chorus of boos from the Staples Center crowd. Maybe Bieber, a native of Ontario, Canada, should stick to attending hockey. He has already been banned from Heat games and Los Angeles clearly wants nothing to do with him.
We Call Him Groomzilla
Dwyane Wade is taking his wedding preparation very seriously, according to fiancee Gabrielle Union, which I think is all a secret ploy to make us forget the overalls he wore to Saturday's Heat-Nets game.
Lovely Lady Of The Day
Tuesday's A.M. Hot Clicks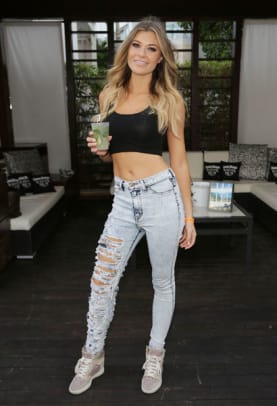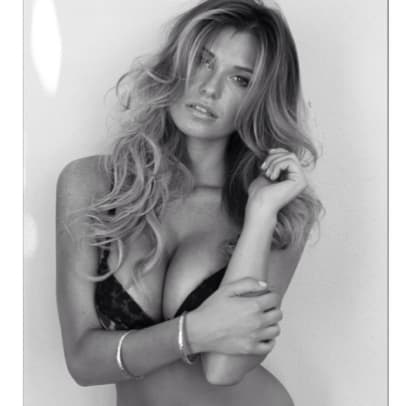 Samantha Hoopes stopped by the office yesterday, where she met the Larry O'Brien Trophy, hung out with fellow SI Swimsuit model Jessica Gomes and played a fun game of "Would You Rather," which I've embedded in the video section below. She also takes home today's LLOD honors.
Yasiel Puig Celebrates Yasiel Puig
The Dodgers outfielder killed some time before Monday's game against the Marlins by playing MLB 14: The Show, and celebrated like a champ after hitting a walk-off grand slam as himself.

The House That Johnny Built?
Texas A&M is spending $450 million to renovate Kyle Field, and if one school regent has his way, the stadium will also undergo a renovation of its name. Speaking at a construction update yesterday in College Station, Texas A&M regent Jim Schwertner said he wanted Kyle Field renamed to "Kyle Field: The House that Johnny Built."
From the SI Vault
Dennis Rodman :: Ralph Notaro/Getty Images
Dennis Rodman turns 53 today. In this 2005 photo, the former Pistons great signs copies of his book I Should Be Dead By Now inside a casino in Hollywood, Fla. For more classic sports photos, check out the SI Vault on Twitter and si.com/photo.
Odds and Ends
Donald Sterling thinks the Clippers players still love him despite his recent controversies ... A look at how the NFL pundits did with their mock drafts ... Montreal fans hurled trash at Milan Lucic as he was leaving the ice after last night's Bruins-Canadiens game ... A sex clip was posted to the Instagram account of Rams receiver Kenny Britt (and then quickly deleted) ... Rob Gronkowski was among a sea of women at Mohegan Sun Casino over the weekend ... The Ravens have invited Jerry Rice's son, who played wide receiver at Nevada, to try out for the team ... The Red Sox enjoyed an off-day at the Mall of America ... There is an outbreak of measles in Ohio ... Maine and Illinois have America's least-trusted state governments.
Samantha Hoopes Plays 'Would You Rather'
Would you rather kiss a guy with no tattoos or one tattoo of Samantha Hoopes? This and other important questions in the debut of our exciting new Hot Clicks game.
Trampoline Dunk Of The Day
I haven't seen a lot of trampoline dunks, but this is impressive (HT Next Impulse Sports)
Kellar, the Blind Dog, Plays Fetch
This is a little old but still awesome. From the video description: "Kellar was originally trained to play ball with the commands 'hot' and 'cold'. We later added 'warmer', 'passed it', 'left' and 'right'. The process took about a week for the basic commands."