Wednesday's A.M. Hot Clicks: Maggie Rawlins; Eli Manning Can't Dance
Wednesday's A.M. Hot Clicks feature the lovely Maggie Rawlins and evidence that Eli Manning can't dance
Follow Extra Mustard on Facebook | Follow Andy on Twitter
Eli Can't Dance
​It has been well established that Tom Brady is the worst dancer among NFL quarterbacks. Here's Exhibit A and Exhibit B. Eli Manning, however, is not far behind, as he proved Tuesday when he attempted to salsa with Victor Cruz.
Thunder Squeak Past Spurs
Oklahoma City took a 3-2 series lead over San Antonio with a 95-91 victory, and every Spurs fan is wondering why the refs missed an obvious foul that helped decide the game. Steven Adams avoided San Antonio fans at all costs but did get away with a subtle trip of Danny Green, which led to a three-point play. As the saying goes, if you're not cheating you're not trying.
13 Amazing High School Football Stadiums
In a shocking plot twist, Texas has the most entries on the list.
Lovely Lady of the Day
Maggie Rawlins: 2017 SI Swimsuit Casting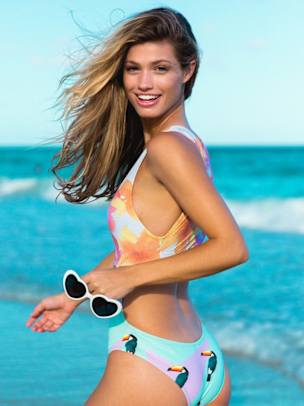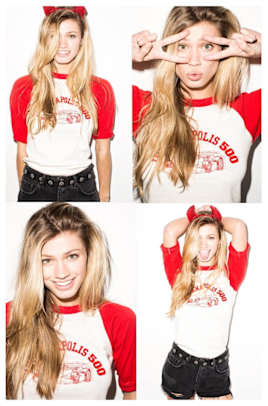 ).
Free Beer For a Year
Congrats to Brandon Laird of the Nippon Ham Fighters, who won a year's supply of beer when his home run hit the Kirin Brewery sign at the Sapporo Dome. The play-by-play of this is tremendous.
Buy Steph Curry's Mansion
If you want to live in northern California and have a budget of $4 million, boy do I have a place for you.
Conor McGregor vs. Floyd Mayweather
In may not happen in real life, but they fought in a WWE 2K16 simulation.
Best Correction Ever
The Shirt is Everything
Odds & Ends
Dwight Howard was on Inside the NBA and it was some of the best TV I've seen all year ... Manny Pacquiao has officially been voted in as a senator in Philippines​ ... Today in sexist tennis comments ... Budweiser plans to change its name to 'America' ... Ranking the best fast food restaurants ... Gallery: The Day in Sports (May 10).
Get the Tissues
Tuesday's MLB Highlights
#http://www.120sports.com/video/v177352770/mlb-highlights-may-10
​Tornados Can Be Scary
[youtube:https://youtu.be/pDobfHX09to]
Before They Were Famous
Click here for previous editions of Hot Clicks, and visit our Extra Mustard Page throughout each day for more offbeat sports stories and videos and the latest Cheerleader of the Week gallery. Also check out the SwimDaily Page for the latest updates and Instagram pictures of models who have appeared in our issues.