Friday's P.M. Hot Clicks: Alexina Graham; Sports World Celebrates National Dog Day
Friday's P.M. Hot Clicks feature the lovely Alexina Graham and the sports world celebrating National Dog Day
Happy National Dog Day
Happy National Dog Day. If anything in the world is worth celebrating, it's our four-legged friends. Who else will take a nap next to you after a long day of work? In celebration of my dog Larry and dogs everywhere, below is a gallery of dogs invading the soccer pitch.
The best of dog pitch invaders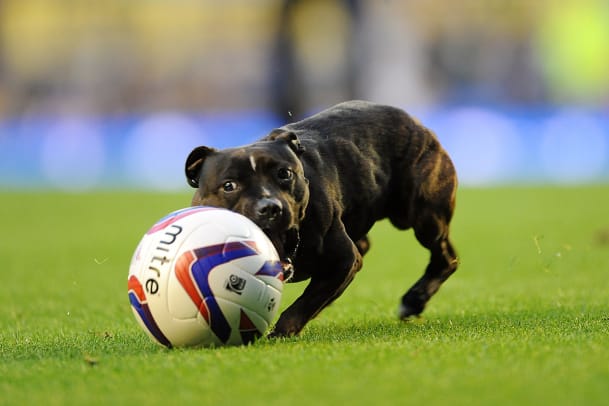 ​
Come to Coney Island on Sunday
The Sports Illustrated Summer of Swim Fan Festival, a free event where fans can meet models, play carnival games, eat great food and more, takes place Sunday in Coney Island. Afterwards, Action Bronson will perform at the new Coney Island Amphitheater (buy your tickets now!). So if you're in the NYC area and looking for something fun to do on Sunday, come to the festival and say hey. Or at the very least, follow SI Swimsuit on Facebook, Instagram and Snapchat for live updates throughout the day.
This Man is Insane
Over the next 18 to 24 months, I intend to move into a new apartment, maybe take a cooking class and write about 300 editions of Hot Clicks. In that same time, 45-year-old Bill Sycalik plans to run 1,545.8 miles across 29 states as part of his National Parks Marathon Project. My plan sounds much easier.
Alexina Graham: P.M. Lovely Lady of the Day
Alexina Graham stopped by the office for a 2017 SI Swimsuit Casting and if there's one thing you need on a Friday afternoon, it's a fiery British redhead. She is today's LLOD (click for full-size gallery).
Alexina Graham: 2017 Sports Illustrated Swimsuit Casting Call
​
Great Moments in Bootleg DVD Covers
I've been dying to see The 40-Year-Old Virgem and The Loin King.
Whoops!
KFC accidentally revealed its top-secret recipe for fried chicken.
Thanks, Mom
Presented without comment (so I don't get fired for an inappropriate joke).
No PDA in Football!
NBA Celebrates National Dog Day
Odds & Ends
A NHL prospect wore an 'RIP Harambe' shirt instead of his jersey at a trophy parade ... Tristan Thompson took the Larry O'Brien Trophy to Tim Hortons ... Three Philly DJs were suspended for impersonating a black caller ... Rick Astley discusses Rickrolling ... I want to visit the Saved by the Bell restaurant in Chicago ... Dogs who broke world records.
Minor League Baseball Game Interrupted By Runaway Sheep
Ben Zobrist and His Daughter Belt Out Let It Go
Action Bronson Performs With Melissa Ethridge
Here are two people I never expected to perform together. If you like Action Bronson, come to Coney Island on Sunday and watch him do his thing.
[youtube:https://youtu.be/M1iIkH5eVCM]
Email andy_gray@simail.com with any feedback or ping me on Twitter. Click here for previous editions of Hot Clicks. Visit our Extra Mustard Page throughout each day for more offbeat sports stories and the latest Cheerleader of the Week gallery. Also check out the SwimDaily Page for the latest updates and Instagram pictures of models who have appeared in our issues.