Monday's P.M. Hot Clicks: Chailee Son; Celebrities at NBA Games
Monday's P.M. Hot Clicks feature the lovely Chailee Son and celebrities at NBA games
Celebrities at NBA Games
​Celebrities love basketball players. Basketball players love celebrities. Below is a gallery of many of the times they've intersected on the hardwood so far this season. And yes, we have a rather loose definition of celebrity (I'm looking at you, Shawn Hatosy and Kelly Albanese). (Click here for full-size version.)
Celebrities at NBA Games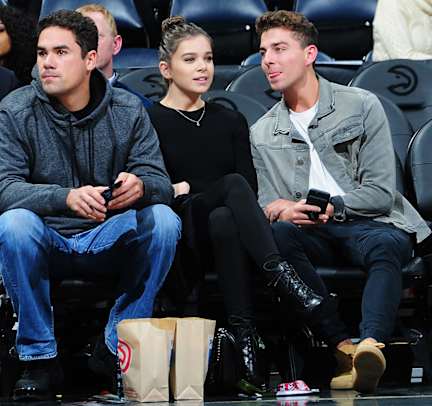 Skateboarding Tricks of the Year
Street League announced its seven nominees for "Trick of the Year" and I'm suddenly an Evan Smith fan.
Teddy Bears on Ice
Shout out to the AHL's Hershey Bears, who collected 20,662 stuffed animals during their annual Teddy Bear Toss on Sunday.
Chailee Son: P.M. Lovely Lady of the Day
It's been way too long since we featured model Chailee Son. Let's rectify that now (click for full-size gallery).
​
100 Best Photos of 2016
Time.com picked its 100 best photos of 2016. My top choice is the Clintons eating breakfast (No. 43). In a related story, I'm starving.
Nickelback Fights Back
Law enforcement in Kensington, Canada, gave the world a much-needed laugh when it announced drunk drivers would not only be arrested, but also would get the "bonus gift of playing the office's copy of Nickelback in the cruiser on the way to jail.​" Nickelback, however, didn't find this very funny.
T.J. Maxx Facebook Page Gets Hacked
You know you want to click. I promise you it's SFW.
Snitch Alert
Dogs are the Best: Example 683
Stan Kroenke's Decision Making
Odds & Ends
Kings forward Matt Barnes is in hot water for reportedly choking a woman at a NYC nightclub​ ...David Bowie fans will enjoy this ... I don't understand why Bob Dylan is so angry about winning the Nobel Prize ... Shia LaBeouf has been banned from Atlanta (according to Soulja Boy) ... Ten classic movies you can see in theaters this month ... There was mucho eye candy at the 2016 Victoria's Secret show.
Hippo on the Course
Shakira is Stressed
Try Doing This Twice
The Last Play of Every Super Bowl
Email andy_gray@simail.com with any feedback or ping me on Twitter. Click here for previous editions of Hot Clicks. Visit our Extra Mustard Page throughout each day for more offbeat sports stories and the latest Cheerleader of the Week gallery. Also check out the SwimDaily Page for the latest updates and Instagram pictures of models who have appeared in our issues.