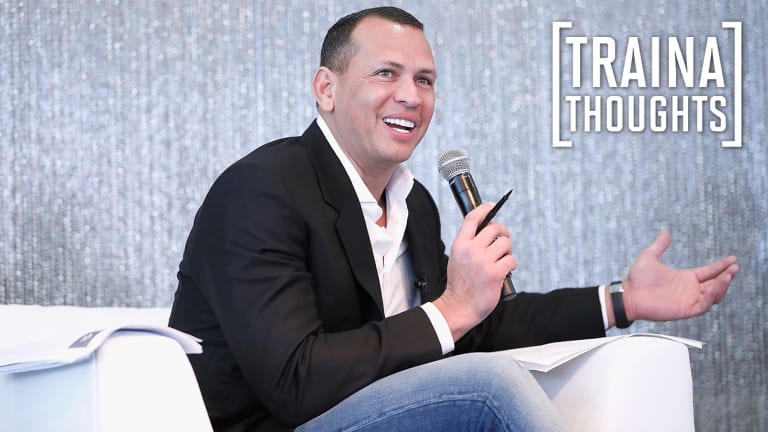 Publish date:
Traina Thoughts: It's a Little Odd That ESPN's Top MLB Analyst Is Also an Advisor to the Yankees
It's a bad look for Alex Rodriguez to be ESPN's top MLB analyst AND an advisor for the Yankees.
It's a bad look for Alex Rodriguez to be ESPN's top MLB analyst AND an advisor for the Yankees.
1. Let me be honest right up front: I'm not an Alex Rodriguez fan at all. Never have been, never will be. Having said that, the issue I'm about to bring up is not a knock on A-Rod, it's a knock on ESPN. At the risk of coming off as Johnny Journalism, it was a little bizarre to see this tweet show up in my feed yesterday:
Rodriguez is about to begin his first season as ESPN's lead analyst for its Sunday Night Baseball games. For his sake, ESPN should've told him he can't be an advisor to the Yankees. Or—and this is unheard of in sports television, but would be a welcome change—should've just stated up front that Rodriguez is an advisor to the Yankees and is as a result not expected to be objective while calling games.
Every single broadcaster, despite their denials, is biased in some way. Even if they're not rooting for a team, they have players they like and dislike, based on whether those players give them quotes or whether agents of players leak information to them, etc. So I would never expect Rodriguez to be different than any other analyst. But the optics for ESPN here are not good. The Sunday night game is a big stage: A national audience, a standalone game.  Anytime A-Rod calls a Yankees game, fans of the opposing team are going to automatically be angered by the broadcast because they know Rodriguez is rooting for the Yankees.
2. From hardcore journalism to some WWE coverage. Actually, this is more of a statement about the trouble we're in as a nation. Last night, after Roman Reigns was "arrested" by "U.S. Marshals," I tweeted this:
The amount of people who thought I was serious was absolutely staggering.
We're in trouble. (On a side note: I can't wait for Roman Reigns to beat Brock Lesnar at WrestleMania.)
3. I tweeted this a few days ago:
Last night, in the 15th year of his career, LeBron James put up 40 points, 12 rebounds and 10 assists. Come on!
4. Legendary Brewers play-by-play man Bob Uecker suffered a major health scare during the offseason after he suffered a poisonous spider bite. Thankfully the 84-year-old who delivered one of the greatest lines in sports movie history has made a recovery.
5. Joel Embiid with solid back-to-back nights. Sunday he partied.
Monday, he dominated at work.
6. A great moment in Alex Trebek's career took place last night.
7. RANDOM WRESTLING VIDEO OF THE DAY: Rusev's imitation of New Day's Big E is the best thing you'll see today.
Traina Thoughts is the best of the Internet, plus musings by SI.com writer, Jimmy Traina. Get the link to a new Traina's Thoughts each day by following on Twitter and liking on Facebook. Catch up on previous editions of Traina Thoughts right here. And check out Jimmy Traina's weekly podcast, "Off The Board."
Subscribe: iTunes | SoundCloud | Stitcher
IN CLOSING: The east coast is expected to get hit with a Nor'easter over the next 24-48 hours. What better way to get in the mood for Opening Day next Thursday!