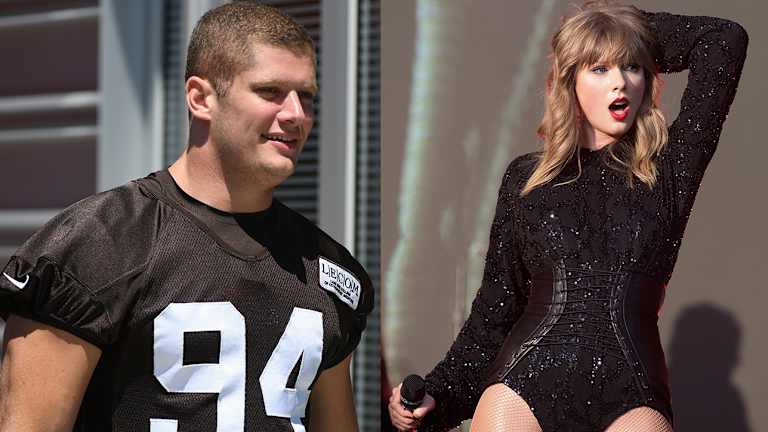 1. Hard Knocks is back in a big way.
This season's debut episode on HBO on Monday night was highly entertaining with a little bit of everything—and of course, the soothing voice of Liev Schrieber. 
Wide receiver Jarvis Landry gave one hell of a speech to his teammates.
There was a tense and fascinating scene in which Browns coaches pleaded with head coach Hue Jackson to stop giving players time off before Jackson dropped the hammer and told them he was the boss.
There was plenty of emotion with Jackson grieving for his mother and brother who had both passed away in a two-week span.
Baker Mayfield sang a truly horrible rendition of "Take Me Home, Country Roads."
However, without question, the breakout star of the episode was defensive end Carl Nassib, who was dropping math and knowledge left and right.
First he tried to explain the importance of interest and saving money to his teammates while also revealing how he almost tried to impress Taylor Swift.
"I met Taylor Swift and before the concert, and I was like, 'I need to buy a Rollie so she knows I got it," Nassib confessed.
Later in the show, Nassib passionately pleaded with this teammates to get off Instagram because they spend one month out of the year on the social media app instead of "bettering" themselves.
2. If you were on the fence about watching Hard Knocks this season and that recap above wasn't enough to convince you to tune in, check out the latest SI Media Podcast with senior coordinating producer Ken Rodgers, who previews the entire season, explains how the show is filmed, edited and put together and much more. 
A new SI Media Podcast will drop early Thursday morning with the full cast of Good Morning Football—Kay Adams, Nate Burleson, Peter Schrager and Kyle Brandt. Next week's show will have Mr. Viral Video Dale Hansen and WWE superstar Seth Rollins. To get the podcast delivered right to you, subscribe here. I repeat, SUBSCRIBE TO THE SI MEDIA PODCAST RIGHT HERE.
3. I can so relate to Kirk Cousins here.
My co-worker, and SI.com golf producer, Daniel Rapaport is 24 years old and has never seen an episode of Seinfeld. Not one. Feel free to shame him on Twitter. He deserves it.
4. Baseball needs more things like Felix Hernandez laughing at Adrian Beltre and telling him to go back to the dugout after striking him out.
5. I stand with Nationals outfielder Jayson Werth.
6. The Rock has actually stepped up his dieting and training to get in better shape because clearly he had let himself go the past few months.
7. RANDOM STAND-UP VIDEO OF THE DAY: Jerry Seinfeld on going to the doctor. So good.
Traina Thoughts is the best of the Internet, plus musings by SI.com writer, Jimmy Traina. Get the link to a new Traina's Thoughts each day by following on Twitter and liking on Facebook. Catch up on previous editions of Traina Thoughts right here.And make sure to listen to and subscribe to the SI Media Podcast hosted by Jimmy Traina.
IN CLOSING: The Red Sox actually aren't getting enough attention for their ridiculous 80-34 record.