Fantasy football awards: Peterson on superhuman run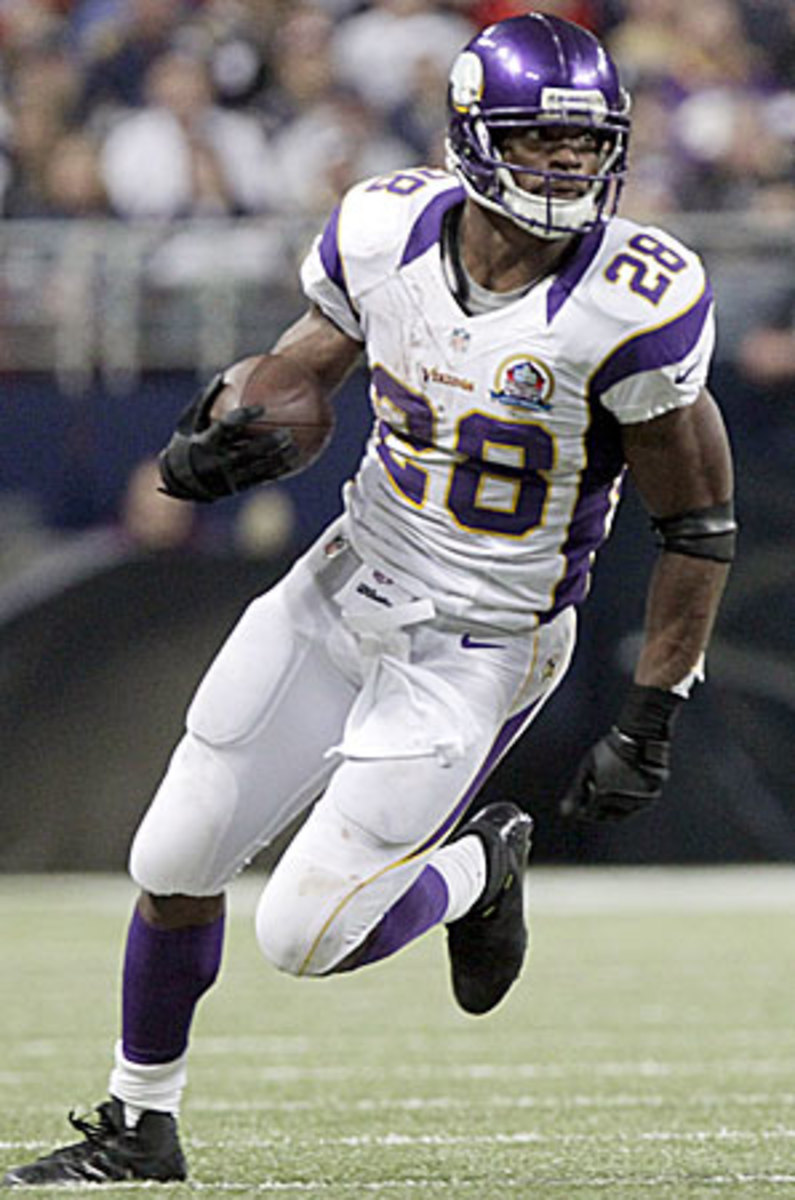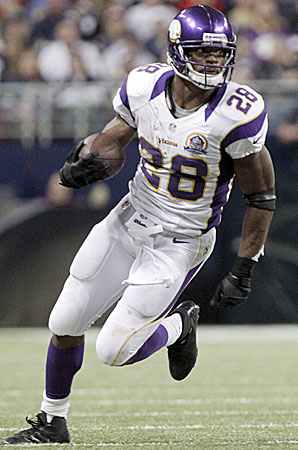 What many billed as Statement Sunday looked more like No Show Sunday. Three teams -- the Bucs, the Giants and the Chiefs -- were shut out, a fourth scored three points and another, the Chargers, got nothing but a late, pity touchdown. Timing for the box score famine couldn't have been worse, with most teams in the fantasy playoff semifinals, leading to a number of ugly games. There was no shortage of fantasy goats, but on the flip side, the big performances seemed gigantic in the shadow of so many flops. The night ended with the closest the fantasy football gods will get to an apology, as the Patriots and 49ers lit up the scoreboard. Let's hand out some awards ...
? The Never Doubt Adrian Peterson Again Award: You can only make so many Adrian Peterson isn't human jokes until you actually start wondering. Reconstructed knee and all, Peterson punished the Rams defense with 212 yards and looked dazzling all day, most notably on his 82-yard bolt to the end zone. In his last three games Peterson has 576 yards rushing, including two 200-yard games, for an average of 192 yards at the most critical time for fantasy owners. Next season Peterson is a lock to go in the top few picks, no matter what style of league.
? The Second Straight Over 50-Club Award: In what will go down as the Year the Rookies Took Over, Russell Wilson guided the Seahawks to a second straight 50-point week and showed why he'll be on many a sleeper list next preseason. Wilson finally started scoring rushing touchdowns as he got his multi-threat on with 92 yards and a trio of touchdown runs. Wilson has 13 touchdown passes in the last seven games and is only getting better. In the meantime, Marshawn Lynch meanwhile scored for the third straight week and went over 100 yards for the second time in a row.
? The Saints Alive Award: Hopefully the Saints offense didn't wake up in time to only help owners win their consolation brackets. While the Bucs helped out by imploding, Drew Brees still carved them like a surgeon to the tune of 307 yards and four scores. The sweet still came with a bite of sour; just ask owners of Marques Colston (60 yards) and Jimmy Graham. Breese may have gotten back in the groove, but his two most-owned targets continue to slump.
? "Most Offensive" Offensive Performance: Tampa Bay. How does the last-ranked defensive unit in the league shut you out? Bucs fans and Tampa fantasy owners everywhere are banging heads into walls this morning while asking this. Even before Josh Freeman became a turnover machine with four interceptions and a lost fumble, the offense was sputtering in the first quarter and running back Doug Martin was getting swarmed. Vincent Jackson made it out of this disaster with 80 yards as the lone bright spot.
? "Most Offensive" Offensive Performance, Runner-up: The Giants. The Bucs weren't the only ones that ruined the weekend for fantasy owners. The Jekyll and Hyde quality of Big Blue came back to roost. As the Giants fell behind early, many owners anticipated a wide-open passing attack in a desperate bid to come back. Instead, the offense went fizzled, taking down Hakeem Nicks (40 yards) and Victor Cruz (15 yards) in the process. David Wilson's anticipated start wasn't the spark that some pundits thought (ahem ...).
? "Most Offensive" Offensive Performance, Second Runner-Up: The Chiefs. Unlike the other two shutouts Sunday, Kansas City's dud had the least fantasy impact with fewer implications on the line. But still, tell that to Jamaal Charles owners who watched him get shutout as if K.C. was playing to preserve the top pick in next year's draft, which it currently is slotted for. Charles rushed for 10 yards on nine carries as the Chiefs coaches seemed to feel that by running him less, he'd run more effectively. In two games against the Raiders, Charles had 14 yards on 14 carries combined. That tells you everything you need to know about offensive play-calling in K.C. Even with an injury-ravaged lineup, making Charles a decoy isn't the answer.
? Individual Shut Out of the Week: Danario Alexander was targeted only three times and was shut out with a massive bagel in the box score in the week's biggest mystery. He had 40 targets combined in the last month, but just three Sunday. You would think that falling behind big early, like the Chargers did with the Panthers, would be a recipe for a good passing day, albeit in a losing effort with some garbage time stats in the end (We're looking at you Josh Freeman and Eli Manning). Not this week, seemingly, for anyone.
? Hat Trick of the Week: James Jones might have singlehandedly ended Greg Jennings' career as a Packer Sunday. Jones caught all three of Aaron Rodgers' touchdown passes against the Bears. Jennings, for the third straight week since returning from injury, posted modest numbers and is averaging 41 yards in those games. Jennings' contract is up at the end of this season, and with the emergence of Jones and Randall Cobb, along with standout Jordy Nelson (when healthy), Jennings likely is done. Jones is feast or famine, reliant on scoring touchdowns to make a fantasy impact, but his career-high 12 scoring grabs is no fluke.
? Fantasy Injury of the Week (That Didn't Shake The World): Ryan Mathews' other collarbone broke, ending an unremarkable season that was star-crossed from the start of preseason, when he broke his other one. Mathews' latest injury, in what seems like a career full of them, throws a question mark over his stock in dynasty leagues. His draft status for next year was already damaged by his lack of production on the field, which had him bench-bound in most leagues. Look for Mathews to go late next season, especially if the Chargers consider a time share in the backfield to keep him healthy.
? Fantasy Injury of the Week, Runner-up: Torrey Smith's concussion is a bummer, but at this point owners have woken up to the fact that there is no way to rationally trust the Ravens' passing game under any circumstances.
? Most Disappointing Raven: Ray Rice also sank many a fantasy team with a dreadful outing that saw him gain 38 yards rushing against a Broncos defense that made Baltimore fans pine for Cam Cameron's offensive play-calling. Despite a late passing push, the offense was a mess, and Rice was the biggest victim as a result.
? Strangest High-Scoring Performance: Tom Brady's season has had some big peaks and a few valleys, but Sunday night's outing had plenty of twists and turns. Despite throwing for 443 yards, one touchdown and adding a rushing score in a 28-point comeback, his numbers could have been even better.
Sunday Night Winners:
? Aaron Hernandez (93 yards, one touchdown) turned in his second straight big performance for the Pats but one wonders if he'll fade once Rob Gronkowski returns in a week or two.
? Michael Crabtree. With Colin Kaepernick starting, Crabtree's production has skyrocketed, making the Niners receiver look like an every week WR3 or flex in 12-team leagues or larger. In the past three weeks, he has 300 yards on 34 targets, along with only two touchdowns, from Sunday night. Either way, Kaepernick seems to have lit a fire under the one-time disappointing high draft pick.
Sunday Night Loser:
? Stevan Ridley owners, who watched the running back cough up the ball and yield three rushing touchdowns to unlikely vultures. Brady had one, but Danny Woodhead nabbed the other two as Ridley finished with just 23 yards.