Salary cap advice: Romo to set Saints on heels again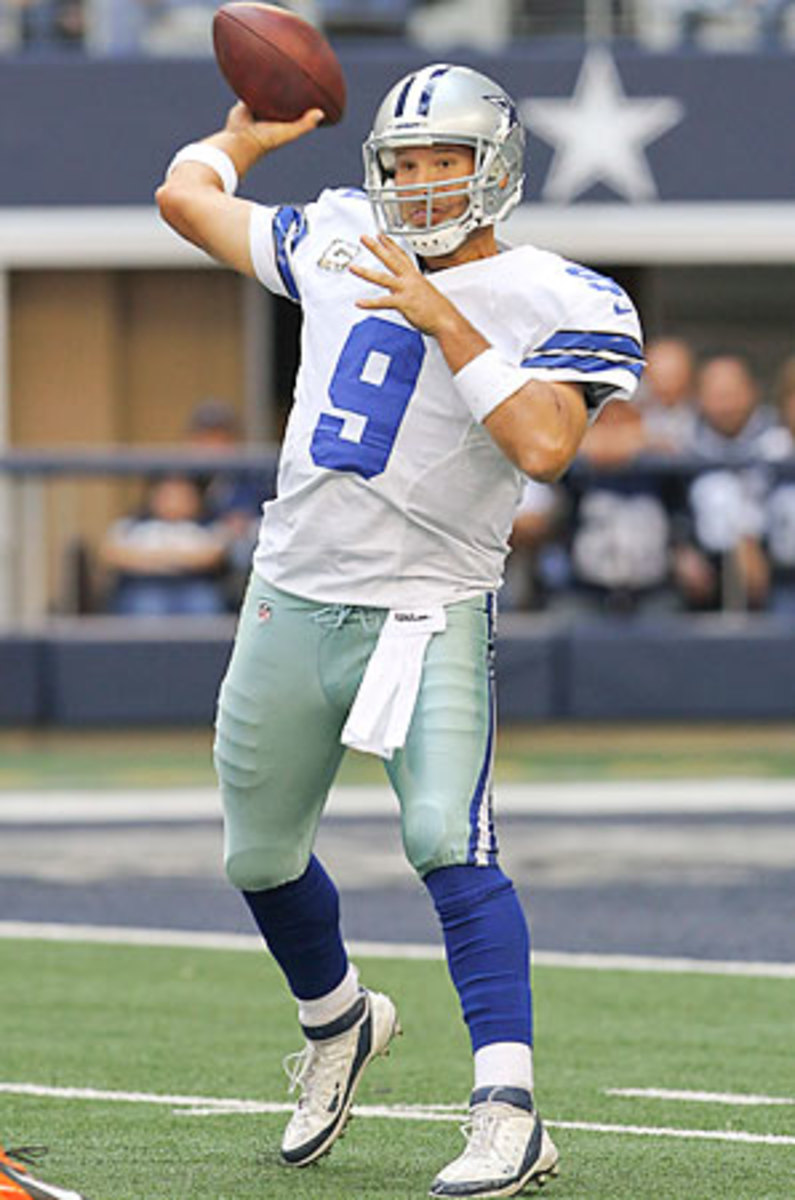 There are just two weeks to go in the NFL regular season and there are still playoff implications in all but two Week 16 games (Raiders-Panthers and Chargers-Jets). With so much at stake this weekend you can expect those teams with a chance to advance to charge forward with their usual rotations while the eliminated four will, hopefully, rise to the idea of playing spoiler. Both scenarios will play out well for those participating salary cap fantasy games.
This position-by-position look at some of the best bargains entering Week 16 is based on current prices in FanDuel 10-team leagues. If you're looking for a salary cap challenge, test your skills by going head-to-head with SI's Peter King in the Peter King Fantasy Challenge.
? Quarterbacks:Perhaps the most intriguing matchup of the week will take place Sunday night at Seattle as two of the league's most entertaining young quarterbacks, Colin Kaepernick and Russell Wilson, square off. More important, the young signal-callers also face two of the league's toughest defenses. They're both low priced, but given the possibility of tight defensive battle, they're both better left untouched. Instead, try Tony Romo, the Cowboys' much-maligned yet quite effective (at times) quarterback who is home to take on the Saints. Yes, New Orleans pitched a shutout last week against the Buccaneers, but the Saints' defense has also allowed the second-most passing yards in the NFL and is due to come back to Earth against Romo, Dez Bryant, Jason Witten, et al. Speaking of the Bucs, they are the only team in the league that has given up more passing yards than the Saints, which makes Sam Bradford, fresh off of his career-best fantasy effort, the value pick of the week.
? Running backs:The Texans rank as one of the league's toughest teams to run against, allowing just 79.9 yards per game and three touchdowns on the ground all season. However, there's no reason to believe that Adrian Peterson, hot on the trail of a 2,000-yard season and within reach of Eric Dickerson's single-season rushing record, will be denied, especially when someone like Vick Ballard was able to go over the century mark against Houston last week. It'll cost you a large chunk of change, but it's also more interesting when a part of history is in your lineup. With Peterson costing a pretty penny, you'll be smart to look for a low-cost alternative to team with him. That includes the aforementioned Ballard against the Chiefs, DeAngelo Williams against the Raiders and for some reason, Chris Johnson is quite affordable against the Packers.
? Wide receivers:Broken index finger and all, Dez Bryant is a worthy signing for any fantasy owner this week against the Saints. He's scored touchdowns in six straight games, and a total of eight over that span. Meanwhile, New Orleans has given up four multiple touchdown games to individual receivers this season. For a little less you can get involved with the potent Packers offense by grabbing Randall Cobb, the jack-of-all trades who is likely to have a big day against the Titans. Others of interest include Mike Wallace in a must-win matchup with the Bengals, Jeremy Maclin against the Redskins and Danny Amendola, who faces the league's worst fantasy pass defense in Tampa.
? Tight ends:In a bit of a surprise for a good defense, no team is easier to score tight end fantasy points against than the Broncos. You can save a big chunk of your budget for other needs by using Cleveland's low-priced Benjamin Watson against those Broncos. If you have some more to invest in the position, there's always Greg Olsen, who has been Cam Newton's second-most favorite target all season and will see plenty of chances against a Raiders defense that's still tied for the league lead in most points allowed despite last week's shutout of the Chiefs.
? Kickers:Like the rest of his teammates, Lawrence Tynes was blanked last week in Atlanta, but look for a big bounce-back against the Ravens. At the other end of the cost spectrum is Olindo Mare, who is worth the gamble for the low price as he is playing for a team struggling to put the ball in the end zone and playing against a defense that's been dealing with severe shifts in effectiveness, all in a dome.
? Defense:New England has forced a turnover in all 14 games this season. Playing against a Jaguars team with their U-Hauls warming up in the parking lot, it's a lock that the Patriots will be among the highest scoring defenses in Week 16. Others to consider are the Bears, who get to face the debacle that is the Cardinals offense, the Redskins, who take on Philadelphia's turnover machine and the Packers with a healthy Clay Matthews back in the fold.