Fantasy football Player Projections: Breaking down Week 3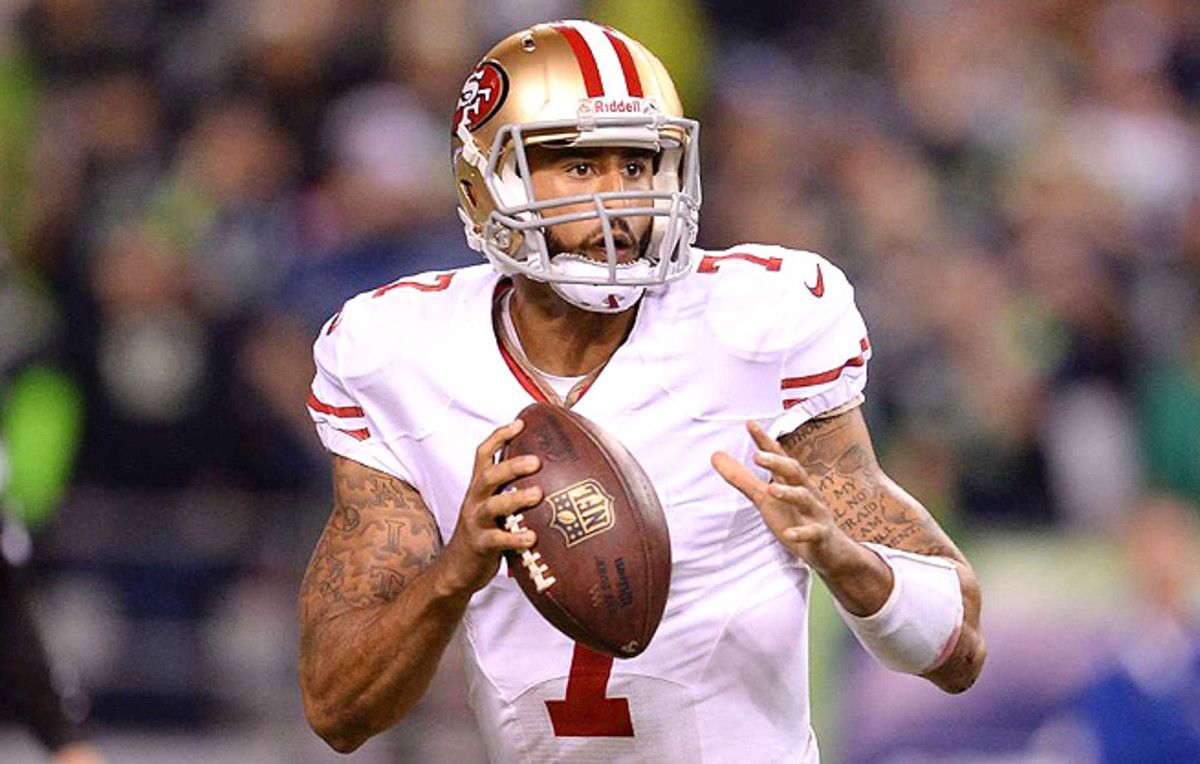 Fantasy Player Projections: Week 3
View by Position
View by Matchup
vs.
vs.
vs.
vs.
vs.
vs.
vs.
vs.
vs.
vs.
vs.
vs.
vs.
vs.
vs.
vs.
Quarterbacks
1

Colin

Kaepernick

PASS YDS324

PASS TD2

INT0

RUSH YDS42

RUSH TD1

The Seahawks embarrassed Kaepernick last week, but he'll bounce back in a big way against an inferior opponent.

2

Russell

Wilson

PASS YDS297

PASS TD2

INT0

RUSH YDS43

RUSH TD1

Wilson struggled against the 49ers, but then the Seahawks didn't need him to light it up for the win. He'll bounce back strong against lowly Jacksonville.

3

Peyton

Manning

PASS YDS354

PASS TD4

INT0

RUSH YDS0

RUSH TD0

Manning became the first player in NFL history to throw for nine touchdowns without an interception in the first two weeks of the season. The train will keep right on rolling this week.
To see the full list, click here
Running Backs
1

Jamaal

Charles

RUSH YDS101

RUSH TD1

REC YDS54

REC TD1

After going away from him early last week, Andy Reid will make sure to feed Charles early and often against the Eagles. It'll result in his biggest game of the season to date.

2

Matt

Forte

RUSH YDS97

RUSH TD1

REC YDS52

REC TD1

Forte put up a huge game last week, racking up 161 yards from scrimmage and 11 receptions. Expect more of the same this week.

3

Marshawn

Lynch

RUSH YDS124

RUSH TD2

REC YDS21

REC TD0

Lynch ground out 98 yards and two scores on 28 carries against San Francisco. It'll be a little easier for him this week.
To see the full list, click here
Wide Receivers
1

Calvin

Johnson

REC YDS163

REC TD2

That's more like it. After just four catches for 30 yards in Week 1, Johnson had six receptions for 116 yards and a score last week. He'll keep it rolling against Washington.

2

Demaryius

Thomas

REC YDS118

REC TD2

After a quiet day against the Giants, Thomas will once again be a beast in Week 3.

3

A.J.

Green

REC YDS125

REC TD1

The Steelers held Green to six catches for just 41 yards last week. I'm willing to bet he makes up for that against the Packers.
To see the full list, click here
Tight Ends
1

Jimmy

Graham

REC YDS105

REC TD1

I knew exactly what Graham did last week since I played him in one of my most important leagues, and I still did a double-take when I saw his stats again writing these projections. He'll have another huge day against Arizona.

2

Jared

Cook

REC YDS84

REC TD1

Cook may have only caught one pass last week, but he had six targets. He's always going to be one of the focal points of this offense.

3

Vernon

Davis

REC YDS82

REC TD1

Seattle totally negated the San Francisco passing game, but I'm betting it gets back on track this week.
To see the full list, click here
Kickers
1

Justin

Tucker

PAT1

FG4

As far as a fantasy kicker goes, Tucker was essentially shut out last week. I think he'll make up for that in a big way against Houston.

2

David

Akers

PAT3

FG3

Washington's defense has been a sieve, giving kickers plenty of scoring opportunities. That will continue with Akers' big day Sunday.

3

Rob

Bironas

PAT2

FG3

Thanks to an offense that is having trouble punching the ball into the end zone, Bironas will have a big day Sunday.
To see the full list, click here
Defenses
1

PTS ALLOWED17

SACKS3

INT2

TD1

The Niners shut down Russell Wilson and sacked him four times. Coming off a loss, expect a huge performance at home.

2

PTS ALLOWED0

SACKS6

INT3

TD0

They shut down Cam Newton. They shut down Colin Kaepernick. What do you think they're going to do to Chad Henne or Blaine Gabbert. This is going to be a laugher.

3

PTS ALLOWED24

SACKS1

INT1

TD1

Cincinnati rebounded from a ho-hum Week 1 performance to register two sacks, two takeaways and 10 points allowed against the Steelers. You'll want to start this defense every week if it's on your roster.
To see the full list, click here