Fantasy football 2014 draft prep: Kansas City Chiefs team preview
The Chiefs are the reason NFL fans have hope every summer that their bad team will be able to turn it around and become one of the best in the NFL.
Let's go back to 2012, when the Kansas City Chiefs finished the season as the worst team in the NFL, earning the top overall draft pick in in 2013. Coming off a season-ending injury the previous year, Jamaal Charles put up a career-high 1,508 rushing yards, but all he heard about was Adrian Peterson's miraculous recovery from the same injury and subsequent march to the mythic 2,000-yard mark. Quarterback Matt Cassel was finishing his contract in Kansas City and was replaced late in the year by Brady Quinn. It was a horrible year for the Chiefs, and things looked bad for a while.
That offseason, Andy Reid was fired by the Eagles and joined new general manager John Dorsey in Kansas City, and the Chiefs' overhaul began. They traded for quarterback Alex Smith, who had been unseated by Colin Kaepernick in San Francisco, and drafted offensive lineman Eric Fisher with the No. 1 overall pick in the draft.
Fantasy Football 2014 draft prep: Indianapolis Colts team preview
Reid installed the West Coast offense that had helped many of his quarterbacks in Philadelphia turn into excellent fantasy players. The offensive line helped Charles lead the NFL in total touchdowns (19) and finish third in the NFL with 1,287 rushing yards. The Chiefs finished 11-5 and lost a wild-card weekend heartbreaker to the Colts.
The NFL looks at the Chiefs in a whole new light after a remarkable turnaround last year, but fantasy owners still don't see as much change in Kansas City. Sure, Charles is awesome -- but he was awesome when they were horrible. We like him as the top overall draft pick, but we're also not excited about many of the other Chiefs from a fantasy perspective.
Currently, only four Chiefs are getting picked in most fantasy leagues: Charles, Dwayne Bowe, Knile Davis and the Chiefs defense/special teams.
Charles enters his second year in Reid's offense, and he'll be 27 years old for much of the 2014 season. He has plenty of gas left in the tank after being the main running back at Texas for one season then needing a couple years in the NFL to grab hold of the starting gig in Kansas City. He has just 1,043 career rushing attempts, compared to fellow 2008 NFL draft classmate Matt Forte's 1,551.
Charles also became a much bigger part of the passing game in 2013, which is part of why we love him as the top overall pick. His offensive line took a beating this offseason, losing three starters, which is a good argument to draft LeSean McCoy instead. While the offensive line is young, its outlook is promising.
The Chiefs won't be sneaking up on anyone this year, but it's very possible some Kansas City players sneak up on fantasy owners. Some possibilities include Alex Smith, who is coming off a career year and finished as a top-15 quarterback in spite of his reliance on short passes. Donnie Avery becomes more valuable with Dexter McCluster moving to Tennessee, and backup running back Knile Davis will see more touches in 2014.
2014 Fantasy Football Sleepers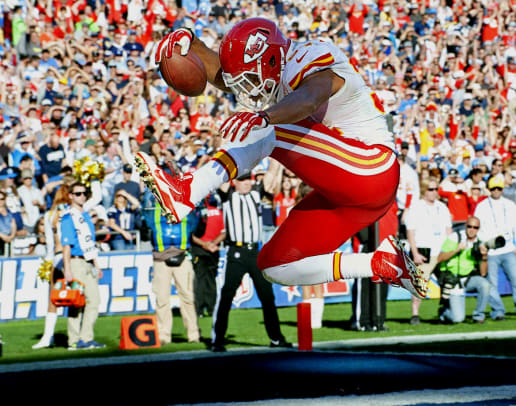 Most overvalued player
Chiefs DST -- After leading the NFL with 11 touchdowns scored on defense and special teams in 2013, the Chiefs DST enters this year on the minds of many fantasy owners. Unfortunately, defensive touchdowns are very difficult to predict, and while this unit will still be aggressive under Bob Sutton, 11 touchdowns is likely an outlier. Drafting the Chiefs DST among the elite fantasy defenses is a big mistake this season, even though it finished as the second-best DST in fantasy last year.
Most undervalued player
Fantasy football 2014 draft prep: Tennessee Titans team preview
​Dwayne Bowe, WR – No doubt, Bowe has been a fantasy thorn in the sides of nearly everyone who has drafted him, and Reid's offense didn't seem to squeeze much more out of him last season in spite of Smith's big year. Bowe's 57 catches for 673 yards and five touchdowns ranked among the worst seasons of his career. We know he has the talent and the size, but he needs to put it together consistently. The NFL is checking out his marijuana arrest from late last season, but that doesn't necessarily mean a suspension is on the way. The news that Bowe hired a nutritionist and dropped from 221 to 212 pounds coupled with McCluster's move to Tennessee makes Bowe a good value in Round 9 of your draft. It's the perfect spot for a WR4 that actually has WR2 upside.
Depth chart
QB: Alex Smith, Chase Daniel
RB: Jamaal Charles, Knile Davis, De'Anthony Thomas
WR: Dwayne Bowe, Donnie Avery, A.J. Jenkins
TE: Anthony Fasano, Travis Kelce
K: Ryan Succop
Fantasy football 2014 draft prep: Oakland Raiders team preview
Davis is expected to see more touches in Kansas City's backfield, which we thinks works in Charles' advantage, as he'll be better rested/less beaten up each week. Davis has to be considered one of the top handcuffs in the game, along with Seattle's Christine Michael. Davis' backup, rookie De'Anthony Thomas, could see work in the slot this year, picking up where McCluster left off.
Kelce, another Chiefs sophomore from the Class of 2013, had microfracture surgery on his knee last year, which killed his rookie season. He was considered one of the top rookie tight ends coming into last summer, right behind Tyler Eifert and Zach Ertz. The Chiefs plan to use plenty of two-tight end sets this year, especially now that there aren't many passing options outside of Charles and Bowe.
Defensive analysis
| | | | | |
| --- | --- | --- | --- | --- |
|   | Total | vs. Pass | vs. Run | Points Allowed |
| NFL rank | 24 | 25 | 22 | 5 |
|   | vs. QB | vs. RB | vs. WR | vs. TE |
| Fantasy rank | 22 | 20 | 29 | 8 |
We already laid out the unlikelihood that the Chiefs defense offers the same value it did last season, but one more note to point out: Kansas City's strength of schedule for the regular season is ranked 30th for fantasy defenses. In other words, this defense/special teams plays a schedule against some very good offenses in 2014, and only two other defenses (Oakland and Denver) play a tougher schedule. That definitely says something about the offenses in the AFC West -- and the AFC East and NFC West, as well, which they also play. 
One of the reasons they scored those touchdowns -- and gave up so much yardage -- was their aggressive pass rush and focus on forcing turnovers. Defensive tackle Tamba Hali and linebacker Derrick Johnson are both IDP draft-worthy.