Fantasy football 2014 draft preview: Kicker position primer
You're not going to select a kicker in the first round. Quite frankly, nobody is. But grabbing the right kicker can make a difference for your team. Last year, four kickers -- Stephen Gostkowski, Matt Prater, Adam Vinatieri and Nick Novak -- averaged at least nine fantasy points per game. Other players who averaged between nine and 10 points per game included Danny Woodhead, Larry Fitzgerald and Reggie Wayne. Julian Edelman did not reach that level. Neither did Andre Ellington or Torrey Smith. So yes, kickers can make a difference.
FANTASY FOOTBALL POSITION RANKINGS AND PROJECTIONS:
Having said that, it is still a position of relatively little importance in fantasy leagues. The difference between Gostkowski and the No. 12 kicker, Jay Feely, was two points per game. There is very little difference from top to bottom, and the position is so volatile that there is very little predictive power in previous results. The best time to take your kicker is with one of your final two picks. Don't spend more than a dollar on the position in an auction. In fact, one great auction move is to nominate your favorite kicker for a buck with your first selection. If you get him, that's great. If you don't, you just made someone spend at least $2 for a kicker.
POSITION PRIMERS:
QB | RB | WR | TE | K | DST
In general, you want a kicker tied to a good offense. Those are the guys who are going to be in a position to score with regularity. Greg Zuerlein has a booming leg, but do you trust the Rams to put him in scoring range enough to make him a strong play in fantasy leagues? They certainly didn't do that last year, as he was 22nd among kickers in fantasy points per game. Seven of the top 12 fantasy kickers from last year were on teams that were in the top 12 in the NFL in scoring. Focus on the offenses that are projected to be among the best in the league, and chances are you will find a good kicker.
Oh, and don't allow your league to use yardage bonuses. First, nothing should be worth more points in fantasy than it is in real life. Second, kickers across the league are better than ever. They went 96-for-142 on attempts from beyond 50 yards, a success rate of 67.6 percent. They made 83 percent of kicks from between 40 and 49 yards. Just make all field goals worth three points and move on.
2014 Fantasy Football Sleepers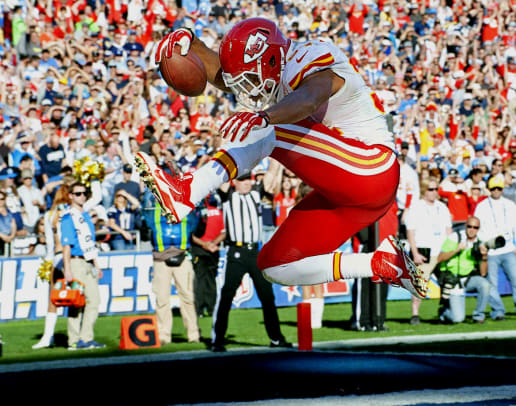 Elite
Stephen Gostkowski, New England Patriots -- As stated earlier, the very top of the kicker position usually experiences a great deal of turnover from year to year. Of the top 10 kickers in 2013, just four were also in the top 10 in 2012. Half of 2011's top 10 was outside that group the following season. With that sort of turmoil, it's nice to find some consistency, and you can best find it in New England. Gostkowski hasn't just been in the top 10 each of the last three years. In 2011, he had the third-most points among kickers. In 2012, he was on top. Last year, he repeated as fantasy's best kicker. In troubled waters, Gostkowski remains one of the safest ships you can find.
Reach
Jay Feely, Arizona Cardinals -- Feely scored the 12th-most fantasy points among kickers last year, connecting on 30 field goals and making all 37 of his extra point attempts for a total of 127 points overall. However, he made just 83.3 percent of his field goal attempts, which ranked just 22nd in the league. He was more of a volume kicker, with his 36 field goal attempts standing as the sixth-most in the league. Feely was one of three kickers who missed three field goals from less than 40 yards last year. He has only been north of a 90-percent success rate once in his career, and that was back in 2007.
Steal
Connor Barth, Tampa Bay Buccaneers -- Barth had a very good year in 2012, scoring the 11th-most points among kickers after connecting on 28 of his 33 field goal attempts. He went 6-for-9 from at least 50 yards, and had a long of 57. Those three misses from beyond 50 also help explain away his average 84.8 percent success rate. He looked to be one of fantasy's sure-fire starters in 2013, but he tore his Achilles tendon during a charity basketball game just before the start of training camp. You likely won't find him high in many rankings because of last year's injury, but he is a good bet to once again be in the top 12 this year.
Injury Risk
Adam Vinatieri, Indianapolis Colts -- Kickers don't carry a ton of injury risk given that they aren't typically in harm's way, and that is true of Vinatieri. Still, it's worth noting that the old warhorse is 41 years old now, and he does have three knee surgeries in his past. Neither of those facts should bump him down draft boards, though. Even at 40 years old last season, he went 35-for-40 on field goal attempts, and made 4-of-6 from beyond 50 yards.
Rookie
Nate Freese, Detroit Lions -- The kicking game was an issue last year for Detroit, with the veteran David Akers having one of the worst years of his career. The team jettisoned him in the offseason, and drafted Nate Freese out of Boston College in the seventh round. He's competing for the job with Giorgio Tavecchio, who has been waived at the end of training camp each of the last two seasons. Freese, who went 20-for-20 on field goals as a senior including two of longer than 50 yards, is the favorite to win the job. If he does, he'll be tied to what should be a very potent offense.
Tier Explanations
All stats below represent projections for the 2014 season.
First Tier -- One way or another, all five kickers in the top tier have proven themselves to be a cut above everyone else. Stephen Gostkowski and Dan Bailey get extra points here for consistency.
| | | | | |
| --- | --- | --- | --- | --- |
| FGs | 50+ | XPs | bye | Value |
| 29 | 6 | 60 | 4 | $2 |
| | | | | |
| --- | --- | --- | --- | --- |
| FGs | 50+ | XPs | bye | Value |
| 31 | 4 | 48 | 10 | $2 |
| | | | | |
| --- | --- | --- | --- | --- |
| FGs | 50+ | XPs | bye | Value |
| 31 | 4 | 48 | 4 | $2 |
| | | | | |
| --- | --- | --- | --- | --- |
| FGs | 50+ | XPs | bye | Value |
| 33 | 6 | 34 | 11 | $2 |
| | | | | |
| --- | --- | --- | --- | --- |
| FGs | 50+ | XPs | bye | Value |
| 28 | 5 | 45 | 11 | $2 |
Second Tier -- There really isn't much difference between Phil Dawson, the top guy in this tier, and Robbie Gould, the last one. They're all worthy of being drafted as starters.
Third Tier -- There is some upside with this group, especially with Connor Barth, Greg Zuerlein and Adam Vinatieri. Still, you'll need to be in a deeper league to think about these guys in your draft.
| | | | | | | | | |
| --- | --- | --- | --- | --- | --- | --- | --- | --- |
|   | Player | team | bye | AUCTION | FGs | 50-yd+ | XPs | tier |
| 1 | Matt Prater | DEN | 4 | $2 | 29 | 6 | 60 | 1 |
| 2 | Stephen Gostkowski | NE | 10 | $2 | 31 | 4 | 48 | 1 |
| 3 | Steven Hauschka | SEA | 4 | $2 | 31 | 5 | 43 | 1 |
| 4 | Justin Tucker | BAL | 11 | $2 | 33 | 6 | 34 | 1 |
| 5 | Dan Bailey | DAL | 11 | $2 | 28 | 5 | 45 | 1 |
| 6 | Phil Dawson | SF | 8 | $1 | 28 | 3 | 43 | 2 |
| 7 | Blair Walsh | MIN | 10 | $1 | 30 | 4 | 35 | 2 |
| 8 | Matt Bryant | ATL | 9 | $1 | 28 | 4 | 40 | 2 |
| 9 | Alex Henery | PHI | 7 | $1 | 26 | 3 | 47 | 2 |
| 10 | Nick Novak | SD | 10 | $1 | 27 | 3 | 27 | 2 |
| 11 | Mason Crosby | GB | 9 | $1 | 25 | 3 | 50 | 2 |
| 12 | Shayne Graham | NO | 6 | $1 | 25 | 3 | 49 | 2 |
| 13 | Robbie Gould | CHI | 9 | $1 | 26 | 2 | 47 | 2 |
| 14 | Ryan Succop | KC | 6 | $1 | 26 | 3 | 40 | 3 |
| 15 | Adam Vinatieri | IND | 10 | $1 | 28 | 3 | 34 | 3 |
| 16 | Graham Gano | CAR | 12 | $1 | 25 | 4 | 34 | 3 |
| 17 | Connor Barth | TB | 7 | $1 | 24 | 5 | 35 | 3 |
| 18 | Greg Zuerlein | STL | 4 | $1 | 24 | 4 | 30 | 3 |
| 19 | Sebastian Janikowski | OAK | 5 | $1 | 26 | 3 | 31 | 3 |
| 20 | Kai Forbath | WAS | 10 | $1 | 21 | 2 | 39 | 3 |