Fantasy football 2014 draft preview: AFC busts
When it comes to fantasy football, there are plenty of player busts who can still be very successful in the NFL; they simply don't produce the stats that fantasy owners expected before the start of the season.
While a fantasy sleeper (a late-round pick who outperforms expectations) or a fantasy breakout (a mid-round pick who jumps a level) can help a team reach the fantasy playoffs, a fantasy bust is very difficult to overcome. Obviously, more of the first two and fewer of the last one is the recipe for fantasy success, so step carefully as we try to find some danger zones.
Here are my picks for early-round fantasy busts. These players are overvalued and will underperform at varying degrees in 2014. You can make a case for many players to be busts each season, but these players above all have something that stands out as a possible in-season issue -- proceed with caution.
FANTASY FOOTBALL BREAKOUTS: AFC | NFC
Montee Ball, RB, Denver Broncos 
Fantasy Football 2014 draft prep: Denver Broncos team preview
There are a few problems with Ball, and not all of them are his fault. The offseason fervor to draft Denver's new starting running back sent his ADP as high as the late first round -- some choosing him after Eddie Lacy. But Ball's preseason ended before it even started due to an emergency appendectomy, which will surely drop the Broncos' RB on draft boards.
Ball is a partially tested second-year running back who looks to be capable in pass protection for Peyton Manning. But this offense is led by head coach John Fox, who famously juggled DeAngelo Williams and Jonathan Stewart for years, much to the peril of fantasy owners everywhere. C.J. Anderson and Ronnie Hillman will be backing up Ball in the Denver backfield.
Arian Foster, RB, Houston Texans
Fantasy football 2014 draft prep: Houston Texans team preview
As excited as I was about Foster's prospects entering this season, it's time to admit that drafting him at his early second round ADP is a huge risk. He's coming off of back surgery that ended his 2013 season early, and now he's dealing with a sore hamstring. Owners will have to execute a near-perfect draft after picking him in that slot, which isn't impossible but improbable.
The Texans' quarterback situation remains up in the air, which has a way of negating a lot of the good their above-average wide receiver corps can do. Defenses will prey on the running game, and Foster specifically.
Houston signed Andre Brown this past offseason to work as Foster's backup -- and then they promptly released him after the first week of preseason. Rookie Alfred Blue and Jonathan Grimes, a third-year player out of William & Mary, are competing for the backup spot now.
With Ben Tate now in Cleveland, Foster is a man on an island, and the passing game doesn't seem like it can rescue him. This is a risky second-round pick in 2014.
FANTASY FOOTBALL MOCK DRAFT 1.0: 12-team, standard scoring
Toby Gerhart, RB, Jacksonville Jaguars
Fantasy football debate: Is Harvin or White the better bargain on draft day?
A career backup until now, Gerhart joins one of the worst offenses in the NFL for his first starting gig. There's no question that he's going to get a large volume of touches with the Jaguars, and he has proven to be good enough in the passing game to stay in for as many downs as he can take. Gerhart will line up behind one of the youngest offensive lines in the league, which will likely make things more difficult for the running back. 
While he's the uncontested No. 1 running back, he does have a rookie moving up the depth charts behind him, as Storm Johnson looks like the new No. 2 back in front of Jordan Todman. Johnson went to UCF with Blake Bortles, has all-around tools and could be a very nice sleeper handcuff to Gerhart in larger rostered leagues.
GALLERY: FANTASY SLEEPERS
2014 Fantasy Football Sleepers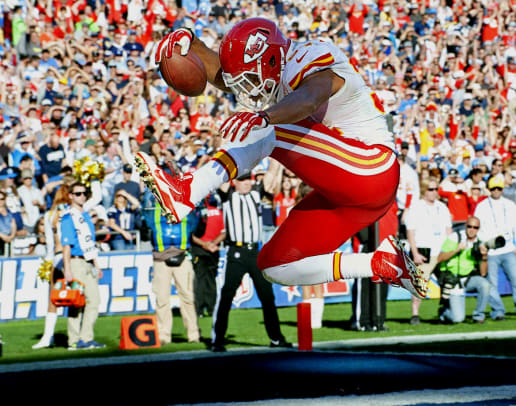 Andre Johnson, WR, Houston Texans
Another Texans player? That's right ... It's tough to see great things coming from Johnson this season, especially after he begrudgingly returned to the team after a short holdout. There's a host of red flags that should scare many owners away from using a fourth-round pick on this wide receiver.
First off, he's 33 years old. Of the 250 NFL players that have totaled 1,200 receiving yards or more, only 14 of them were 33 years or older, and nearly half of those seasons came from either Jerry Rice or Cris Carter. Teammate DeAndre Hopkins is a younger more athletic version of Johnson who the Texans likely see as their future star on offense.
As we mentioned above, the Texans' quarterback situation remains unsettled. Johnson already asked for a trade, showing his quarterbacks and coaches how little faith he has in them.
FANTASY FOOTBALL PRIMERS:
TOP 300 | QB | RB | WR | TE | K | DST
Rob Gronkowski, TE, New England Patriots 
Fantasy football 2014 draft prep: New England Patriots team preview
With less than a month left before the start of the NFL season, Gronkowski is still just participating in 7-on-7 drills. He's coming back from a torn ACL and MCL, and while reports say that he looks good, he'll likely not play in the preseason.
Owners will have to spend around a third-round draft pick to get the big man, which means passing up the best RB2s in the draft, and even a few WR1s. There will likely be more reliable tight ends still available a few rounds later, and Gronkowski could possibly fill up a valuable spot on the bench if he cannot play in Week 1.
Without a doubt, Gronkowski is the best fantasy tight end in the game when he plays. He averaged an amazing 13.80 fantasy points per game over the past three seasons, compared to first-round pick Jimmy Graham (12.06). But he's been plagued with injuries as of late -- his knee shouldn't be too much of a problem, but it's more of a case of "what's next?" with him.
FANTASY FOOTBALL POSITION RANKINGS AND PROJECTIONS:
Honorable Mentions
Marshawn Lynch, RB, Seattle Seahawks -- While Lynch ended his holdout a while back, getting a bump in pay that was much less than he had requested, he's still a player that saw 685 touches over the past two years. Christine Michael is forcing his way into getting more touches.
C.J. Spiller, RB, Buffalo Bills -- There are plenty of reasons to like Spiller, including his game-breaking ability and an offense that loves to run the ball. But the Bills brought in Bryce Brown this offseason, and Spiller is in a make-or-break contract year. If he falters early, the Bills could lean on Brown even more than they expected.
Ray Rice, RB, Baltimore Ravens -- Suspended for the first two games, Rice will return to face the second-toughest fantasy schedule for running backs over the 13-game fantasy regular season.
Antonio Brown, WR, Pittsburgh Steelers -- In that same vein, the Steelers face the third-hardest schedule for fantasy wide receivers over the entire 17-week NFL regular season. Brown loses his second WR-counterpart in two years, and until the new No. 2 emerges, he'll be keyed on defensively.
Keenan Allen, WR, San Diego Chargers -- Allen faces some very tough cornerbacks this season, and he has a new offensive coordinator running the show. Allen's 2012 was so good, he ranked as one of the 20 best rookie wide receivers in fantasy history, and just 15 percent of that top 20 were able to improve on that number.