Fantasy Football: NFL preseason implications, fallout from A-to-Z
After the Seahawks won the Super Bowl, we had several months to take in all of the changes in the league during the NFL offseason. Fantasy fans develop opinions on sleepers and busts, and a fantasy draft done in May likely looks similar to one done in July. But from the beginning of the NFL preseason to the end, a lot can change! So here's an alphabetical list of everything you need to know after four weeks of exhibition games:
A – Appen-Denver-ectomy
One of the biggest scares of the preseason for owners who drafted Montee Ball in the first round in July was when the second-year running back had an emergency appendectomy on Aug. 4. He was able to recover, however, and play in the preseason finale. If Ball plays the way Denver expects, he could finish as a top-10 fantasy running back, just like Knowshon Moreno did in an explosive offense in 2013.
B – Brown Out/Brown In
The Chargers cut wide receiver Vincent Brown this week, not too long after he was once considered a big Fantasy sleeper before an injury. For the Cardinals, however, WR John Brown has impressed everyone, including Cardinals GM Steve Keim, who told Grantland he hasn't see a rookie impress in camp like this since Anquan Boldin. Brown, a third-round pick from Pittsburg State, is a rookie wide receiver to watch – from a class of what should be excellent rookie receivers. Cardinals coach Bruce Arians also told SI that he foresees Brown being involved in "about 60 percent of the offensive snaps."
FanNation Fantasy Games: Play Football Throwdown | Blitz
C – Cowboys Defense is a Dream Matchup
Fantasy owners should be very excited when their fantasy players go up against the Cowboys defense in any given week. This defense was brutal last season, and things didn't look better in the preseason. Just two teams allowed more yards (393.2 per game), even though the Cowboys defense allowed the most per play from scrimmage. Sure, some of this can be blamed on the backups – but those are the players who might replace the disappointing starters.
D – Devonta Freeman Shows Promise
In spite of some trouble with blocking, the rookie running back out of Florida State posted 4.2 yards per carry this exhibition season, and he totaled 280 yards from scrimmage. He led the Falcons in rushing yards (134), receiving yards (146) and receptions (11) this preseason. If Steven Jackson (hamstring) continues to show his age, Freeman could start stealing a lot of touches.
E – Early Retirements
We saw a handful of running backs decide to retire early due to neck injuries, including David Wilson of the Giants, Isaac Redman formerly with the Steelers, and Johnathan Franklin, just in his second year with the Packers. The average shelf life of an NFL running back at his peak is shrinking, which is starting to make great wide receivers better keeper candidates than very good running backs.
F – Falcons Offensive Line
Left tackle Sam Baker is out for the season with a knee injury (torn patellar tendon), so first-round pick Jake Matthews will move over from the right side. This line could hold the key between a return to prominence for Matt Ryan or another disappointing season.
MORE: Complete fantasy football guide
G – Great Days Ahead for Jaguars Offense … in 2015?
At the end of the NFL preseason, we find that the Jaguars have a promising young quarterback in Blake Bortles (highest yards per pass among QBs with at least 50 preseason pass attempts this preseason and no interceptions) and wide receiver Marqise Lee. Keep them in mind for late-season fantasy starts in 2014.
H – Houston Suddenly Has a Future at QB
Once the Patriots decided rookie Jimmy Garoppolo was going to be Tom Brady's backup this season, they could afford to finally move Ryan Mallett to Houston (for a conditional seventh-round pick). Malllett hasn't lit the world on fire, but Texans new head coach Bill O'Brien had worked with the 6-foot-6 gunslinger while he coached for the Patriots. Without a doubt, Mallett becomes the future here, with Ryan Fitzpatrick likely starting until he's ready.
I – Injuries Behind Them?
Several players entered the preseason with a need to prove their recent injuries are officially behind them.
Arian Foster (back): Last year's back surgery didn't hold him back – but a sore hamstring did. He'll be playing in Week 1 against the Redskins.
Reggie Wayne (knee): The Colts are more than happy with Wayne's progress from a torn ACL, and his late ADP makes him a great value with a great quarterback feeding him the ball.
Julio Jones (foot): As great as No. 11 looked this offseason, he's still hesitant to say he's back 100 percent, according to the Atlanta Journal-Constitution. Barring more issues with his foot, he's a top-10 fantasy wide receiver again.
J – Johnny Football Sits … and Waits
Brian Hoyer won the Browns starting quarterback job, and Heisman winner Johnny Manziel will have to wait for his opportunity. The rookie was inconsistent, as expected, but he did flash some ability – with both his arm and legs. Only Dallas has a tougher schedule for fantasy quarterbacks in the first five games of the season, which means Hoyer will be on the hot seat quickly.
K – Kicker Carousel
Arizona's Jay Feely lost out to Chandler Catanzaro.
Kansas City's Ryan Succop lost out to Cairo Santos.
Philadelphia's Alex Henery lost out to Cody Parkey.
Tampa Bay's Connor Barth lost out to Patrick Murray.
Tennessee's Maikon Bonani lost out to Travis Coons …until the Titans signed Succop on Monday.
L – Latimer Might See More Snaps
With Wes Welker dealing with more concussion issues, Cody Latimer, a rookie receiver out of Indiana, could find himself used more frequently in Denver's offense. At 6-foot-2, he has the potential to get some goal-line targets that left with Eric Decker to East Rutherford, N.J.
M – Miami RBs Split Carries
No matter who starts the season as the main tailback between Lamar Miller or Knowshon Moreno, the other will certainly spoil his fantasy potential. The speedy Miller should get early down touches, with the versatile/fragile Moreno getting third-down looks. The Dolphins offensive line has seen a lot of improvement this offseason, so if one of these running backs gets 20-plus touches, he'll have RB2 stats.
N – Niners Defense in Trouble
Inside linebacker Navorro Bowman (knee) was placed on the reserve/PUP list, DT Glenn Dorsey tore his biceps, and Aldon Smith has been suspended nine games. A defense that had a chance to compete with the Seahawks as the best fantasy unit is now looking like a defense you should let someone else take a chance on.
O – Orton Shuffles Off to Buffalo
The Bills named Kyle Orton the backup to second-year quarterback E.J. Manuel, who looked pretty bad this offseason. Considering the Bills' weapons on offense, a Manuel injury could make Orton a pretty nice bye-week replacement once again. It's a run-heavy club, but Buffalo's wide receivers have plenty of talent, including rookie Sammy Watkins, Mike Williams and Robert Woods.
P – Patriots RB Roller Coaster
Last week, one of the Patriots' beat writers projected a final roster that didn't have Stevan Ridley on it, which meant Shane Vereen and James White would have become much better fantasy plays. But Ridley made the final cut, and he looks to own the RB1 job until he fumbles it away. White's 2.8 yards per carry on 29 rushing attempts could not have instilled full confidence in the Patriots.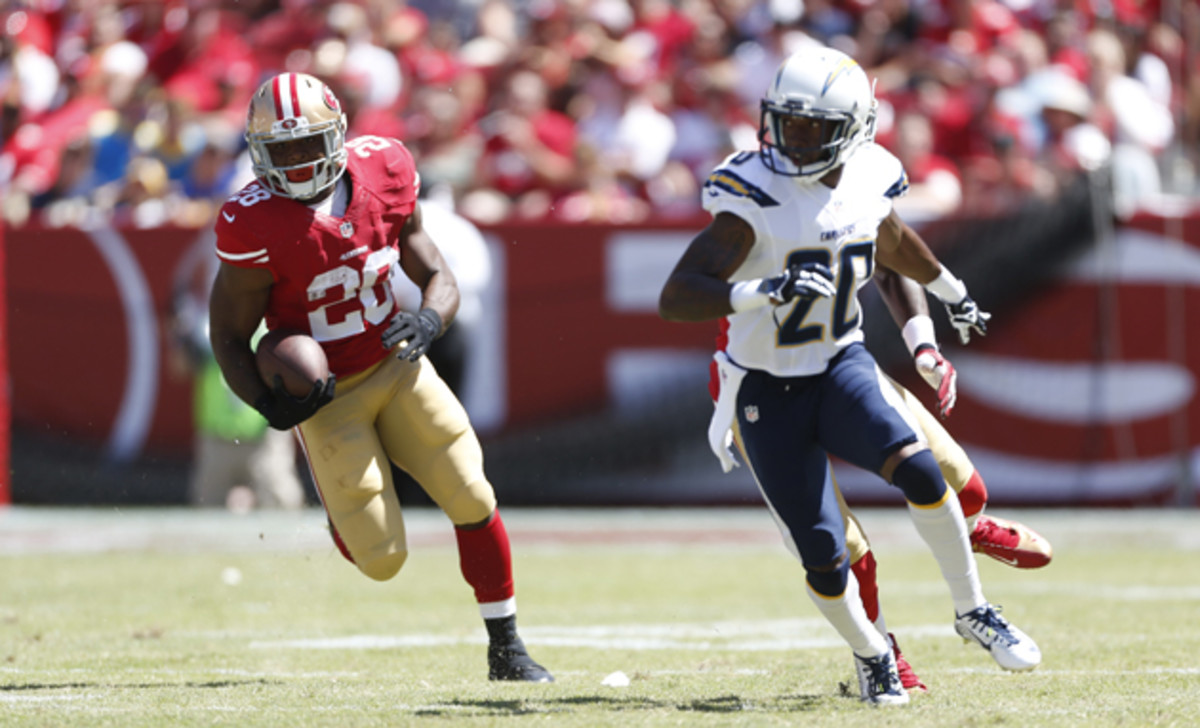 Q – Quick-Rising Rookies
Carlos Hyde, RB, SF: With 31-year-old Frank Gore ahead of him, Hyde played very well this preseason, and has the chance to be one of the best backup running backs in the league and a promising possible starter in 2015.
Jeremy Hill, RB, CIN: His bowling ball presence allowed the Bengals to finally release BenJarvus Green-Ellis, and the rookie out of LSU should see significant touches behind Giovani Bernard.
Lorenzo Taliaferro, RB, BAL: Suspensions and injuries could help this rookie see more time than usual. He led the NFL with 243 rushing yards in the preseason.
Andre Williams, RB, NYG: He'll get goal-line touches, and he's the top backup behind Rashad Jennings in the Giants' remade backfield.
Allen Hurns, WR, JAC: The two Jaguars rookie receivers we expected to do well were Marqise Lee and Allen Robinson. But Hurns, and undrafted free agent, led all NFL rookies – and veterans -- with 232 preseason receiving yards.
Kelvin Benjamin, WR, CAR: The rookie was supposed to be a project, but he pulled in eight catches for 117 yards and a touchdown this preseason, giving Cam Newton a viable outlet. He has size and speed, but with him being a rookie, we should expect plenty of inconsistency.
Jordan Matthews, WR, PHI: With 15 catches, the rookie out of Vanderbilt proved to be one of the top rookie receivers this preseason. DeSean Jackson moved to Washington and Jeremy Maclin (knee) and Riley Cooper (foot) are coming back from injuries, so Matthews should see plenty of targets early in the season.
R – Rookie Disappointments
Bishop Sankey, RB, TEN: He managed 3.7 yards per carry this preseason, and he's still part of a committee of sorts, with Shonn Greene and Dexter McCluster.
Lache Seastrunk, RB, WAS: The rookie out of Baylor was thought to be a candidate to make some noise, but the Redskins cut him after the final preseason game.
Isaiah Crowell, RB, CLE: The troubled former prep star made the Browns' roster as a backup. Despite the team being a run-heavy one, we expected he'd do a little more in the preseason, along with rookie Terrance West.
Odell Beckham, WR, NYG: A hamstring injury will likely keep the LSU speedster in street clothes for Week 1, and Rueben Randle was able to secure the WR2 position in Eli Manning's offense.
S – Suspension for Ray Rice
Rice received a two-game suspension for domestic violence, opening an opportunity in the Baltimore backfield. Despite suffering a concussion this preseason, Bernard Pierce should be fine for Week 1, and the Ravens' offensive line has looked solid, with the team rushing for a league-high 684 yards this preseason.
T – These Defenses Looked Good
The Broncos, Buccaneers and Lions defenses were all impressive in August, with the Broncos and Buccaneers getting picked in most fantasy formats. For the Broncos defense, the addition of DeMarcus Ware, with some secondary help, should make their fantasy unit much better. Tampa Bay's new head coach, Lovie Smith, brings the Tampa 2 back, which plays to the talents of both DT Gerald McCoy and LB Lavonte David.
U – Uh-oh, Sam Bradford Is Hurt Again
The Rams lost Bradford (ACL) for the season, so Shaun Hill steps into the starting quarterback's role. No team plays a more favorable schedule for fantasy quarterbacks than the Rams, but it's tough to argue for starting Hill in 12-team leagues unless six NFL teams are on byes.
V – Volatile Values of Doug Martin, Zac Stacy
Before the NFL Draft, both Martin and Stacy were looking like fantasy first-round picks, with Martin returning from a shoulder injury and Stacy coming off a very good rookie campaign. That didn't stop their respective teams, Tampa Bay and St. Louis, from drafting tailbacks with their third-round picks, prompting many to re-evaluate their fantasy draft positioning.
Those challengers haven't proven to be too threatening, though. Charles Sims' ankle injury knocked the Tampa rookie out, and Tre Mason has had a tough time in pass protection for the Rams. While neither Martin nor Stacy is likely to be a first-round pick (depending on league size, that is), each's stock has risen while others' fell in August. Martin's outlook is especially bright after the Bucs traded for Pro Bowl guard Logan Mankins.
W – Washington's Offense Under RGIII
ESPN analyst Ron Jaworski believes Robert Griffin III's mechanics have regressed recently, but we should all tap the brakes on dooming RGIII for 2014. He's still just in his third season, and he's learning a new offense under Jay Gruden. He has numerous weapons at his disposal – at every skill position – and he could easily go from a top-12 quarterback to a top-five one if he can stay healthy.
X – X Out Josh Gordon From Your Cheatsheets
The NFL dragged out a final decision on Josh Gordon's suspension from May 8, the first day of the 2014 NFL Draft, all the way until Aug. 27. That's 111 days of fantasy floating. You can finally remove him from your cheat sheets since he's officially suspended for all of 2014, and bump up the Browns' starters, Mile Austin and Andrew Hawkins, a little bit.
Y – Young Players with Upside
There are a few players who were once considered promising fantasy picks, only to disappoint in reality. But post-hype sleepers can be nice late-round picks, and players like Saints RB Mark Ingram and Patriots WR Aaron Dobson fall into this category.
Z – Zach Mettenberger's Food for Thought
The rookie quarterback out of LSU took Tennessee by storm, completing close to 70-percent of his of passes for a preseason-high 659 passing yards. He threw two touchdowns, with two interceptions, and he's a (likely) Jake Locker injury from having Kendall Wright, Justin Hunter and Ken Whisenhunt's offense at his disposal. Locker is in a contract year, also, which makes Mettenberger the possible 2015 starter.