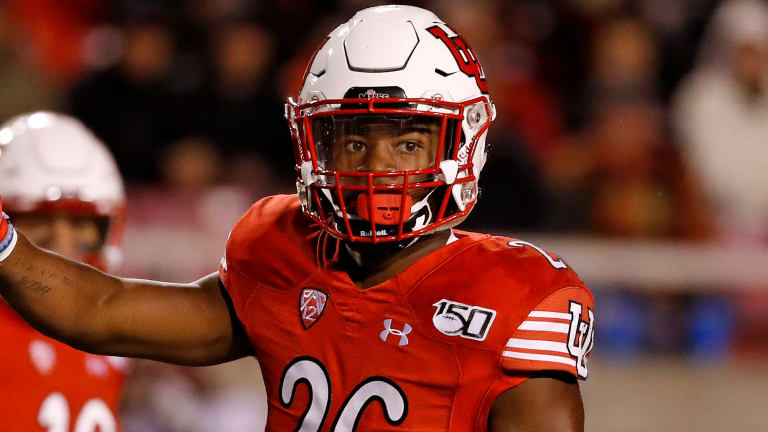 College Football Week 7 Best Bets: It's Time to Bet Pac-12 Favorites
Apologies for not having a best bets article up last week, but we are back with an all-Pac-12 edition to start off Week 7. In Week 5, I went 3-2 to move to 16-10 (61.5%) on the season. As always, SI Gambling will be using current odds from New Jersey sportsbooks (FanDuel, DraftKings, William Hill, PointsBet) for best bets every week.
No. 15 Utah at Oregon State: Utah -13 (-110) at DraftKings
It pains me to have a double-digit road favorite here in the #ConferenceOfUnderdogs, especially when it's going against Oregon State, a team that has been very kind to us this season. But if I am going to back nearly a two-touchdown favorite, it's in this spot with Utah.
Oregon State is coming off a 48-31 trouncing on the road at UCLA to pick up its first conference win. If that seems notable, it's because it is. Oregon State won just one Pac-12 game last season (a 41-34 overtime win over Colorado) and won zero the year before. Make no mistake, this is a better Oregon State team than either of those ones, but given the Beavers are still a bottom-tier squad in the Pac-12, there could always be a bit of a letdown.
Let's dive deeper on the Beavers, though. Oregon State ranks 12th in the country on offense according to Bill Connelly's S&P+. The defense is 106th, so bad, but not nearly as bad as last year's historically awful unit. But for as explosive as Oregon State's offense has looked to start the season, the Beavers have played defenses ranked 49th (Oklahoma State), 103rd (Hawaii), 55th (Stanford), 90th (UCLA) and an FCS team (Cal Poly). Utah surprisingly only ranks 29th in S&P+ on defense, but after getting torched in a loss to USC, the Utes responded nicely by surrendering just 13 points and 5.0 yards per play to Washington State.
Oregon State's offensive line has been solid, but it faces a tough task going up against Utah. The Utes' defensive line ranks seventh in stuff rate in the country, meaning the percentage of tailback carries that get stopped at or before the line of scrimmage. Utah doesn't give up many big runs either, allowing just 10 of at least 10 yards (tied for fifth in CFB) and only one of at least 20 yards (tied for second in CFB). As reliant as Oregon State is on its run game with tailbacks Artavis Pierce and Jermar Jefferson, it hasn't been that explosive this season—the Beavers are tied for 61st in 10-yard-plus runs and tied for 51st in 20-yard-plus runs. Oregon State's offensive line also ranks 61st in stuff rate. So while this may get billed elsewhere as strength vs. strength, I think Utah's defensive line has the advantage based off those metrics as well as the overall talent level.
The improvement behind Oregon State's aerial attack has been keyed by quarterback Jake Luton and star wideout Isaiah Hodgins, the latter of whom has played at a first-team All-Pac-12 level this season. As good as Stanford cornerback Paulson Adebo is, Utah is still the toughest secondary this offense will face thus far. And Utah has a star cornerback of its own in Jaylon Johnson, who head coach Kyle Whittingham has had shadow top wideouts before.
Oregon State is elite in two departments on offense: giveaways and third downs. The Beavers have turned the ball over just once, which is the fewest in all of college football. And that was an interception thrown by backup Tristan Gebbia in the fourth quarter of a 45-7 game vs. Cal Poly. Oregon State ranks sixth in third-down conversion rate (53.3%). With the Beavers being so good on third down and not having to punt as often along with not turning the ball over, that means more scoring opportunities. But it's hard to imagine Oregon State continuing that level of success in both categories, especially since turnovers are often more unpredictable from game to game than consistent. And if Utah can get the upper hand on Oregon State's run game, that will force Oregon State into more third-and-longs, which will make it much harder to move the chains at such a high rate.
On the other side of the ball, Utah's offense shredded Washington State's defense last game for 7.4 yards per play, including 11.1 yards per attempt through the air by quarterback Tyler Huntley. And that was without star running back Zack Moss, who is expected back this weekend. There may have been some growing pains early on adjusting to new offensive coordinator Andy Ludwig's system, but the Utes looked awfully explosive against the Cougars. And for as bad as Washington State's defense is (S&P+ has it 84th), Oregon State's is still worse. The Beavers have given up 5.99 yards per play (tied for 94th) and have allowed six plays a game that have gone for at least 20 yards, which is the 14th-worst mark in the country.
I also like the fact that Utah is coming off a bye week and will be fully rested and prepped for this trip to Corvallis. Whittingham is one of the best coaches in the Pac-12, and he's also one of the best in the country with extra time to gameplan. There's a reason why his bowl record is sterling, both straight up and against the spread. Give me the Utes here to take care of business.
Washington State at No. 18 Arizona State: Over 58 Points (-110) at DraftKings
At first glance, I thought Arizona State's 3-3-5 base defense would be ideal for neutralizing Washington State's Air Raid. But the more I dug into ASU's defense, the more concerned I became.

Arizona State's defense is ranked 13th in S&P+, but this is a unit that feasted against an FCS team (Sacramento State) and offenses that rank 107th (Kent State) and 101st (Cal), but with Cal, the Sun Devils took advantage when starting QB Chase Garbers left the game due to injury (9.8 YPA vs. ASU) and backup QB Devon Modster came in (1.6 YPA vs. ASU).
ASU has also faced Michigan State (56th) and Colorado (eighth). The 10-7 win over Michigan State was misleading—MSU outgained ASU 5.5 yards per play to 4.2, and the Sun Devils were fortunate with three missed field goals and a Brian Lewerke lost fumble in ASU territory. Colorado, the one strong offense ASU has faced thus far, torched the Sun Devils in Tempe, winning 34-31 and racking up 6.8 yards per play (including 11.2 yards per attempt by quarterback Steven Montez). And that was with Colorado's star wideout Laviska Shenault leaving in the middle of the game due to injury.
Arizona State has been strong at stopping the run and limiting big plays on the ground—allowing just 2.96 yards per carry (23rd in CFB) along with surrendering nine runs of 10 yards or more (tied for best mark in college football) and one run of 20 yards or more (tied for second). Defending opposing aerial attacks has been a different story, especially against competent quarterbacks. The Sun Devils have also given up a good amount of explosive plays through the air, as opponents have notched 19 plays of at least 20 yards (tied for 90th).
With Mike Leach's Air Raid offense at Washington State, you know what you're getting: A lot of passes and a lot of big gains. There are just two teams in the country that average 21 or more plays of at least 10 yards per game: Oklahoma and Washington State. If Garbers and Montez were shredding this secondary, good luck trying to contain Anthony Gordon, Max Borghi and Wazzu's deep collection of receivers.
Washington State's defense has been brutal of late. It allowed Utah to rack up 7.4 yards per play and UCLA picked up 8.8 YPP. Defensive coordinator Tracy Claeys is out, and now the Cougars are planning to simplify the defense with co-interim defensive coordinators Roc Bellantoni and Darcel McBath. For true freshman Jayden Daniels, it doesn't get much better than facing an already struggling defense that is simplifying its scheme in front of your home fans.
The big key for Arizona State has been the improvement of its offensive line. Senior center Cohl Cabral missed the first couple of games due to injury, forcing true freshman Dohnovan West to replace him there. West was the only true freshman Week 1 starter at center in the entire country, and he was snapping to a true freshman quarterback. ASU's offense struggled early on because its run blocking was poor and it let opposing rushers consistently pressure Daniels. Cabral returned at center and West was moved over to right guard, and ASU's OL and offense has looked much better since then.
I absolutely think there's value in the over here, and I'm expecting an afternoon shootout in the desert. And I wouldn't fault you for taking Washington State moneyline, either.
Washington at Arizona: Washington -6.5 (-110) at PointsBet
Another Pac-12 road favorite? Has Max Meyer been kidnapped and someone else is writing best bets this week?

Look, if you follow me, you know that I think there aren't many better pairings than Pac-12 and underdogs. But this game is a fantastic buy-low spot on Washington.
Make no mistake, Stanford's win over Washington this past weekend wasn't a fluke. In fact, Stanford probably could have won by more if not for David Shaw deciding twice to kick field goals from the 2-yard line on fourth-and-goal. But that loss in Palo Alto is part of an annual trend under Chris Petersen where the Huskies have one inexplicable performance as a double-digit road favorite.
Now, Washington has struggled in the state of Arizona in recent years and it hosts Oregon the following Saturday in the Huskies' biggest game of the season. But after the disappointing loss to Stanford, I don't think this is a lookahead spot for Washington, I see this as a get-right game, and it's coming against a team that I now think is being slightly overvalued by the market.
If you follow college football, you've probably been hearing the national media say how a surprising Arizona team leads the Pac-12 South and is one of just two teams undefeated in conference play (the other being Oregon).
But let's look closer at Arizona's games. The Wildcats opened their season by losing 45-38 at Hawaii despite forcing six (six!) Hawaii turnovers. They then gave up 41 points to Northern Arizona, a team that has only exceeded that total once in five FCS games played this season. They beat Texas Tech 28-14 at home, but that game completely changed when Red Raiders quarterback Alan Bowman suffered a shoulder injury. He played until the end of the game, but wasn't nearly as effective after the injury and that ailment has caused him to miss several weeks. Their two Pac-12 wins are by three points at home over a lifeless UCLA team and by five points at Colorado when the Buffaloes were severely hampered by injuries—including missing their best offensive player (Shenault) and best defensive player (Mustafa Johnson). Additionally, Colorado and UCLA rank 122nd (6.76) and 126th (7.01) in yards per play allowed respectively, making those two defenses not only the worst in the Pac-12, but among the worst in the country.
So I'm not buying Arizona's resume thus far. And while Washington has been disappointing, the Huskies still have a massive talent advantage and a massive coaching advantage. Khalil Tate is scary, but Washington defensive coordinator Jimmy Lake is one of the brightest minds in the country and I think he will devise a way to contain the dynamic quarterback.
Meanwhile, Jacob Eason has disappointed in Pac-12 play, throwing for just one touchdown in his first three conference games. But I still love his talent and he has some really nice weapons highlighted by running back Salvon Ahmed, wideout Aaron Fuller and tight end Hunter Bryant. Arizona's defense is still very susceptible to giving up big plays, and this will be the most talented quarterback it has faced this season.
It's a bizarro Pac-12 betting week for me with the road chalk, but I think we'll see a nice bounce-back effort here from Washington. Also, as scary as it is to not bet the over in a #Pac12AfterDark game, I lean under 58 points here too. 
Season record: 16-10