New owner is spending big and having fun -- and winning races
To say that Ernie Semersky caught the horse racing bug would be like saying Joey Chestnut likes to go to Coney Island to snack on a few hot dogs every Fourth of July.
Go back to 2012, when Semersky -- a 64-year-old Chicago-based venture capitalist, futures trader and the owner of Porsche and Audi dealerships -- was just about to buy his first horse. His inspiration came from partner Dory Newell, who had attended that year's Kentucky Derby with Semersky and asked him wistfully, "Wouldn't it be great to win a trophy?"
A few weeks later, Semersky and Newell bought a colt named Gunderman​.
"We had one horse for about a year and today we own about 60," Semersky says with a chuckle. "We built up a partial group that ran last year. And now we've got a full group running this year. We are only a year at full speed. But we've been very successful for newcomers. I mean, we got two horses into the Breeders' Cup [last year]."
This weekend in Belmont Park's $1 million Belmont Oaks, part of the Breeders' Cup's Win & You're In series, Semersky, the head of Conquest Stables, will go looking for more with a 3-year old filly named My Conquestadory. The winner of the mile-and-a-quarter Oaks will earn a spot in the Breeders' Cup Filly & Mare Turf, to be run on October 31 at Santa Anita. My Conquestadory finished fourth for Semersky and Newell in last year's Juvenile Fillies Turf, taking the lead briefly in the stretch before being outfinished by winner Chriselliam.
"There's nothing I don't like about My Conquestadory," Semersky says. "I've seen her overcome every possible obstacle, from a bad start to getting blocked in, and have never seen her quit. I've seen her squeeze through the smallest openings. She just has so much heart. And her physique, when Dory and I bought her, we just fell in love with her. She's got this really deep chest. She moves incredibly gracefully. She's got a spicy demeanor. Just like human beings, these horses are individuals. She's a special one."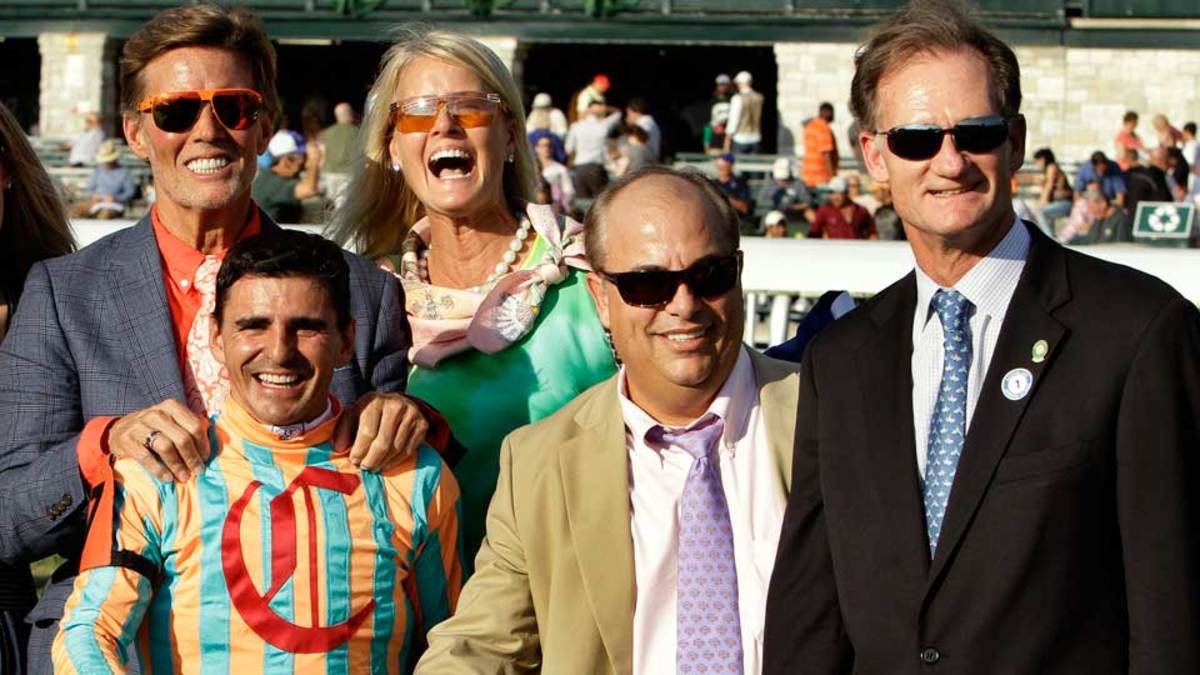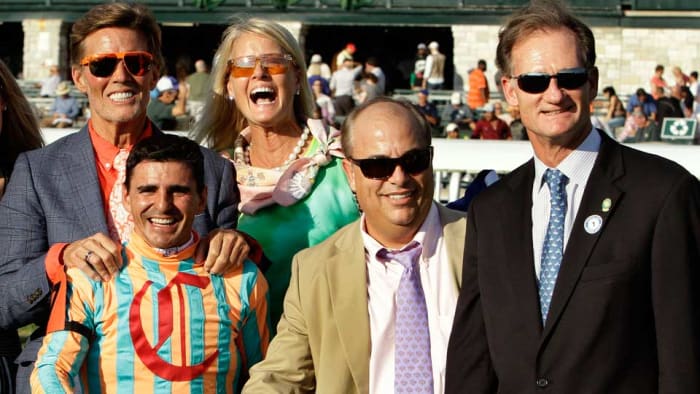 ​ He has a special affection for fillies, he says, for a reason.
"I have one daughter and three granddaughters, and I was raised, basically, by my mother and grandmother," he says. "I've had basically a female-oriented background other than playing football in college. It's not that I don't like our colts, but I do love fillies."
If Semersky sounds a tad romantic, well, he's unapologetic about it. He speaks wistfully about the trips he makes with Newell to look at horses, even though he says trainer Mark Casse always has the final say on purchases. He has taken some basic riding lessons. He swears if one of his horses has so much as a hangnail they won't run. Of his 2-year olds, he says, "I don't believe in pushing them. They're kids. They think they're playing out there."
Says Newell, "Neither of us grew up around horses, so it started out very sweet for us. We love being physically close to the horses and we look at the relationships the people who've been doing this their whole lives have and we want to understand it."
Semersky says that being a student is all he's ever been.
"I've done a lot of things in my life, but I've never really had a job," he says. "I mean, I've never had a boss. So I've been learning from our trainer, Mark. I talk to the jockeys a lot. I like to hear what they have to say about the horses. It's been a fun learning experience and a great diversion from trading futures and venture capital and the car business. Dory and I love it and the kids love it and the grandkids want to name the horses. We are just having so much fun."
They are also winning and building a recognizable brand. Conquest Titan won the Swynford Stakes last August by 5 ¼ lengths in the second start of his career and went on to run in the Breeders' Cup Juvenile (finishing 13th). Conquest Whiplash won the Victoria Stakes at Woodbine in June 2013, one day after Conquest Two Step broke his maiden at Churchill Downs. And now My Conquestadory (named for Newell) is looking for her second straight Breeders' Cup berth.
Success hasn't come without significant investment. At one sale in Ocala last March, Semersky and Newell spent $950,000 on four horses. Semersky says that he's going to get into breeding once he finds the right piece of land. He has a million different ideas on what he wants to do in the game, but swears that none of his enthusiasm has anything to do with "the action."
"I'm in it for the experience -- everything we experienced last year was phenomenal and we'd love to experience it again," Semersky says. "Just getting to the Breeders' Cup last year for us was a win, and I think if we get there again with a couple of horses, it'll be another win. We are very proud to be in the running."
He says the goal of getting back to the Breeders' Cup is not for himself and Dory as much as it is for those who show up at the track to cheer and those who follow them on Facebook.
"We've grown to 6,000 [likes] on Facebook in only three months," Semersky says with the enthusiasm of a teenager. "We try to make it interesting by doing fun things." (On the page right now they have a photo of My Conquestadory superimposed over the set of Dancing with the Stars).
"It's amazing," he says. "We have people all over the world responding. It's fun to interact with the people and respond to everybody. It's nice to have people come up to us. We took a superfan into the winners' circle with us. It's just great to meet really nice, sweet people. The Breeders' Cup is something we'd like to share with everybody. We love when people are interactive with our success." 
| | | | | | | |
| --- | --- | --- | --- | --- | --- | --- |
| date | network | time (et) | race | track | winner qualifies for | post times (et) |
| July 5 | NBCSN | 5:00 p.m. | Belmont Oaks | Belmont Park | Breeders' Cup Filly & Mare Turf | 5:45 p.m. |
| July 27 | NBC | 5:00 p.m. | Haskell Invitational | Monmouth Park | Breeders' Cup Classic | 5:45 p.m. |
| August 2 | NBC | 5:00 p.m. | Whitney Handicap | Saratoga Racecourse | Breeders' Cup Classic | 5:45 p.m. |
| August 23 | NBC | 4:30 p.m. | Ballerina Stakes | Saratoga Racecourse | Breeders' Cup Filly & Mare Sprint | 5:08 p.m. |
| August 24 | NBCSN | 8:00 p.m. | Pacific Classic | Del Mar Thoroughbred Club | Breeders' Cup Classic | 8:44 p.m. |
| August 30 | NBCSN | 6:00 p.m. | Forego Stakes | Saratoga Racecourse | Breeders' Cup Sprint | 6:45 p.m. |
| September 27 | NBCSN | 6:00 p.m. | Jockey Club Gold Cup | Belmont Park | Breeders' Cup Classic | 6:08 p.m. |
| September 27 | NBCSN | 6:00 p.m. | TBD | Santa Anita Park | TBD | 6:30 p.m. |
| September 27 | NBCSN | 6:00 p.m. | TBD | Santa Anita Park | TBD | 7:05 p.m. |
| September 27 | NBCSN | 6:00 p.m. | Awesome Again Stakes | Santa Anita Park | Breeders' Cup Classic | 7:45 p.m. |
| October 4 | NBCSN | 4:30 p.m. | Jenny Wiley Stakes | Keeneland Racecourse | Breeders' Cup Filly & Mare Turf | 4:35 p.m. |
| October 4 | NBCSN | 4:30 p.m. | Breeders' Futurity | Keeneland Racecourse | Breeders' Cup Juvenile | 5:08 p.m. |
| October 4 | NBCSN | 4:30 p.m. | Shadwell Mile | Keeneland Racecourse | Breeders' Cup Mile | 5:45 p.m. |
| October 5 | NBC | 5:00 p.m. | Bourbon Stakes | Keeneland Racecourse | Breeders' Cup Juvenile Turf | 5:08 p.m. |
| October 5 | NBC | 5:00 p.m. | Spinster Stakes | Keeneland Racecourse | Breeders' Cup Distaff | 5:45 p.m. |