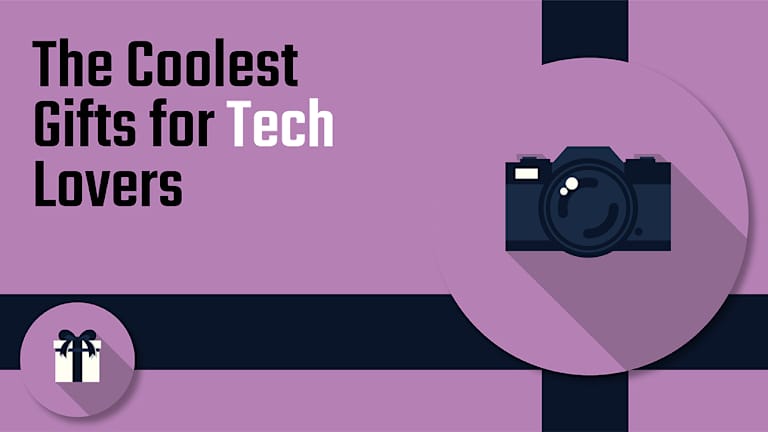 Best Tech Gifts For Everyone on Your List
This year's hottest tech gifts for every budget, from sleep buds to smart plugs, speakers and more.
Shop below for the person in your life who can't get enough of the latest gadgets and technology. From tablets to speakers and more, you'll find something for every tech-lover.  
A smart speaker
Sonos One
This compact speaker can play music with quality, room-filling sound and provide helpful Amazon Alexa skills like providing news, traffic and answers to random questions. With voice-controlled assistants becoming as ubiquitous as smartphones and TVs, this is the gift for everyone on your list.
Buy it: Amazon, $199
A fitness tracker for everyone
Fitbit Charge 3 and Fitbit Ace
Workout smarter and stay connected (not distracted) with an intelligent, lightweight tracker complete with goal-based exercise modes and personalized insights on sleep, activity and even female health. Phone and app notifications and wallet-free payments are just a tap away—and it all comes with up to seven days battery life.
Get the kids up and active, too, with their very own wristband, the Fitbit Ace. Made for ages 8+, this showerproof tracker makes fitness fun for young ones and challenges the whole family to build healthy habits together.
Buy it: Fitbit, $149.95 for Fitbit Charge 3 and $99.95 for Fitbit Ace
A silent slumber
Bose Noise-Masking Sleep Buds
They may look like headphones, but these tiny earbuds are made for bedtime, not for working out or commuting. For those who can't fall asleep or stay asleep, these buds promise comfort (you won't be able to feel them while lying on your side) and, most importantly, soothing and noise masking sounds to cover up everything from sirens to storms and snoring partners.
Buy it:Amazon, $249
An Extra-Long Charging Cable
Anker Lightning Cable
A small but might gift for everyone on your list, this Anker 10-foot charging cable works with nearly all of the newest iPhones and iPads, from the iPhone X to the 5S. it's durable, fast-charging and definitely long enough.
Buy it: Amazon, $11.99
A Way to Find Missing Luggage
Tumi Global Locator
Is there anything worse then arriving to a destination only to learn that the airline lost your luggage? TUMI has created a device to help track down the missing bag and give any traveler piece of mind when hopping on a plane. Using GPS, GSM, Wifi and Bluetooth technology, the device gives information about location via an app and smartly turns airplane mode on and off during the flight, with the paid yearly subscription fee. It's like Find My iPhone for your luggage.
Buy it: Tumi, $150
A luxury gaming keyboard
Razer Huntsman Elite Keyboard
This keyboard for the ultimate gamer ditches the typical mechanical switches in favor of an "opto-mechanical switch," which uses optical technology for unmatched speed. The key stabilizer bar makes sure every key-press is precise and accurate. The keyboard is incredibly comfortable to use—the typing experience is just as great as its incredible gaming capability.
Buy it: Amazon, $200
A Sleek Camera
Leica C-Lux
Available in gold or midnight blue, this 20 megapixel camera is versatile, compact and stylish in design. It has the ability to shoot 10 frames per second, plus 4K video, so you'll never miss a special moment.
Buy it: Amazon, $1,050
A Plug for Your Smart Devices
Wemo Mini Smart Plug
If anyone on your list uses a smart device, one of the best gives you can give this holiday season is an outlet plug that connects to Wifi and wirelessly powers lights, appliances and hands-free assistants like Amazon Alexa. With the Wemo smart plug, you can control your home's devices from anywhere.
Buy it:Amazon, $28
An old-school upgrade
Polaroid Originals OneStep 2
Based on the original Polaroid OneStep from 1977, the OneStep2 is a major update on the classic camera, with features like a built-in flash, a self-timer function and a built-in battery that can last for 60 days with one, USB-powered charge.
Buy it:Bloomingdale's, $99
A wireless mouse with unlimited power
Razer Hyperflux Combo
For the gamer who needs to go cordless, this mouse is the perfect combination of wireless freedom and amazing gaming (and general use) capabilities. The fast, responsive wireless a mouse is powered by the gorgeous Hyperflux Mat and both include Razer's Chroma glow system to light up your gaming efforts. Never worry about tangled wires again.
Buy it: Amazon, $230
A waterproof speaker
Soundcast VG1
Made for the outdoors, this powerful Bluebooth speaker is great for tailgates, backyard parties and more, thanks to its durability, battery life up to 15 hours and ability to play music loud and clear in any type of weather. It won't rust and it's shock resistant—perfect for the die-hard fan or adventurer on your list.
Buy it:Amazon, $99
A super-tiny phone companion
Palm
Know someone who is on their phone way too much? Here's a solution: a tiny, super smart device that syncs with your primary phone so you can receive texts emails, track runs and post on social media, while never missing out on what's around you. With Stephen Curry as a brand partner, the Palm is all about living in the moment. 
Buy it: Verizon, $350
A quiet listening experience
Sony Noise cancelling headphones
Noise cancelling headphones are nothing new, but these wireless ones have an upgraded feature: smart listening, which detects activity to automatically adjust the sounds you can hear. A 10-minute quick charge for 70 minutes more play is a great bonus. Plus, it all nestles into a slim case for easy travel.
Buy it:Amazon, $348
A personal wireless lighting system
Philips Hue Lights
Controlled by a smart device or phone app, the Philips Hue Lights can be changed from white to colors to enhance any experience, from playing music and games to watching TV or movies. The four colored bulbs in the start pack can be set to over 50,000 shades of warm to cool white light.
Buy it:Walmart, $200
An interactive assistant
Google Home Hub with Google Assistant
Give the gift of a digital life helper with the interactive Google Home Hub device, which has a seven-inch touch-screen display that shows reminders, videos, Google searches, security camera footage and much more. Hey Google—add this to my Christmas list.
Buy it:Best Buy and Verizon, $149
A two-in-one gaming system
Nintendo Switch
Last year's must-have holiday toy item is back for more. With the ability to play as a single player or with a partner or group, the Nintendo Switch game is fun for everyone. The selection of games available—from Super Mario Party to Minecraft and Mario Kart 8—are second to none and the ability to convert from an on-the-go handheld to a home gaming system is a great feature.
Buy it: Amazon, $299
A Pokémon gaming adventure
Pokémon: Let's Go! Pikachu Game
Pokémon makes its first appearance on the big screen with Pokémon: Let's Go. Take the game experience to another level with the optional Poké Ball Plus accessory, which gives aspiring Pokémon trainers the feeling of being right in the game.
Buy it:Walmart, $99
A phone with unmatched features
Google Pixel 3
A fun alternative to the iPhone with top-notch camera features. The Pixel 3 creates wide-angle selfies, snap portraits with Portrait mode and also possesses a great Night Sight option that takes natural-looking photos in dark surroundings, without the need of flash.​
Buy it:Best Buy and Verizon, $149
A gaming headset for built for competition
Razer Kraken TE
This competition-ready headset gives you absolutely everything you need for gaming dominance and beyond. From configurable balance between game sounds and chat volume to full THX spatial audio support, gamers will not miss a single important game sound.
Buy it: Amazon, $90
An analytics-powered putter
TaylorMade Spider Interactive
Train smarter with this putter powered by technology. You'll get real-time stroke analytics that are captured by BLAST Motion Sensors inside the grip, giving you insight into your game so you can take it to the next level. Everything syncs to the mobile app making it easy to track your performance and progress.
Buy it:DICKS Sporting Goods, $400
A high-definition viewing experience
Apple TV 4K
Watch TV and movies in 4K HDR with high-quality sound and stream content from apps like Amazon Prime Video, HBO NOW, Netflix and more. It's also compatible for HD streaming, so you can watch live sports and TV from apps like DirecTV Now, YouTube TV or Sling TV.
Buy it: Amazon, $179