Hope and nerves for Hall candidates Smith, Morris and Raines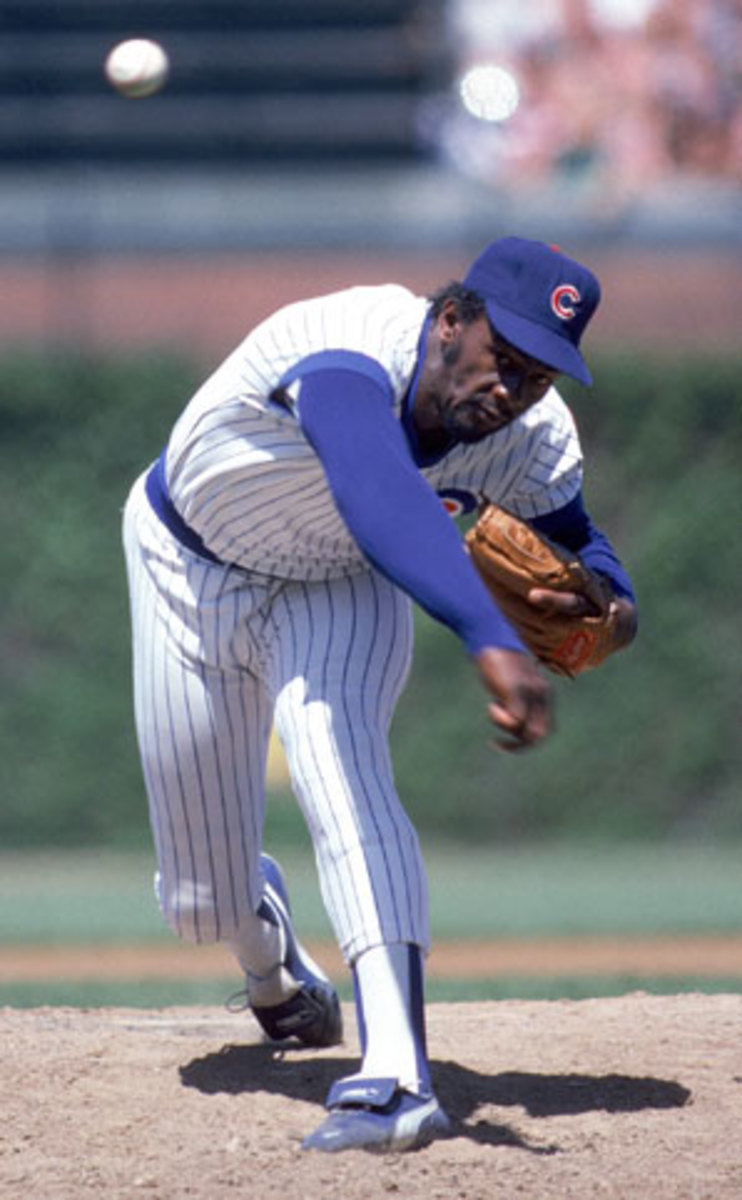 Lee Smith had a fabulous Christmas and a fun New Year's, but the post-holiday period has brought a tinge of anxiety because friends and family are asking about one thing: his chances of being elected to the Baseball Hall of Fame.
Smith is in his 11th year of going through the emotional routine. Even when he's at home in his native Louisiana, sitting in a comfortable chair and watching Bonanza,one of his favorite television shows, his mind will be elsewhere.
"I'm sitting here relaxing my body. I still think about the Hall of Fame when I'm watching [television]," says Smith. "It's part of the process.''
Smith, who ranks third on the all-time saves list with 478, cracked 50 percent of the vote for the first time last year, but there's an additional obstacle in his path to getting the 75 percent of the vote needed for election. Voters can only pick 10 players in any given year, and this year's ballot -- the results of which will be announced on Wednesday at 2 p.m. ET -- is among the most crowded in history.
Roger Clemens, Barry Bonds and Sammy Sosa, all of whom have been linked to performance-enhancing drugs yet compiled eye-popping statistics, are on the ballot for the first time. Joining them as newcomers are Craig Biggio, who had 3,060 hits during his 20 seasons with the Houston Astros; Mike Piazza, who had 427 home runs and is considered to be the best-hitting catcher, and pitcher Curt Schilling, who has a strong postseason resume.
Among the holdovers, Biggio's teammate in Houston, first baseman Jeff Bagwell, is also expected to get a lot of support. There are other intriguing candidates, such as Kenny Lofton, Edgar Martinez, Rafael Palmeiro, Alan Trammell and Larry Walker.
With those bold-faced names dominating much of the debate for the last month, players such as Smith, Jack Morris and Tim Raines, each of whom have been retired for at least a decade, are being overshadowed and could have a hard time gaining the additional support they need.
"I hope they don't forget about me,'' Smith says. "You always wonder when you don't make it for the first five or six years. You don't want to fall out of favor.''
Morris, who won 254 games and pitched for three different World Series champions, is on the ballot for the 14th time and got 66.7 percent last year. Raines, considered by some to be the second-best leadoff hitter ever, received 48.7 percent last time, his fifth year on the ballot.
Outfielder Dale Murphy, a two-time National League MVP on the ballot for the 15th and final time, doesn't expect to make it to Cooperstown, but he also told Sirius-XM Radio that the debate about steroids has taken away from the traditional discussion about a player's career.
"That's a tough one for me,'' Smith says. "Maybe the steroids stuff is blown out of proportion. Even if you took steroids, a player still has to make solid contact. Those guys knew how to hit. They are Hall of Famers.''
Smith, Morris and Raines have been controversial for a different reason. All had excellent careers but none has ever been considered an obvious choice and now, as Morris says, "We are just going to have to wait and see.''
Morris hit 53.5 percent in his 12th try and vaulted to 66.7 percent last year. But after 13 years of emotional ups and downs each January, he is tired of talking about his chances.
"In all honestly, I want it to be over with,'' says Morris, who lives in his native Minnesota and does analysis for MLB.com. "If I don't make the Hall of Fame, I'm prepared for that. I have to be. The sun will come up tomorrow.''
Morris' case for the Hall of Fame has good arguments for and against. He's classic borderline: He was a workhorse pitcher who won a lot of games, but his statistics don't overwhelm. For example, if he makes Cooperstown, he'll have the highest ERA, 3.90, among pitchers inducted.
He had 254 wins and led all pitchers during the 1980s with 162 wins, 133 complete games, 332 starts and 2,443 2/3 innings. Since 1973, when the DH became a rule, Morris pitched into the eighth inning 248 times, more than any other pitcher. He averaged 33 starts and 7 1/3 innings from 1979 through 1992. He had 64 complete game losses while pitching three one-hitters and a no-hitter.
Morris also pitched for World Series champions with the 1984 Detroit Tigers, 1991 Minnesota Twins and 1992 Toronto Blue Jays, and his Fall Classic resume includes a 10-inning 1-0 win for the Twins in Game 7 of the 1991 World Series against the Atlanta Braves.
Morris is hopeful, but he's also prepared if he doesn't make the Hall in either of the next two votes. "It teaches an important lesson in life, and that is, you don't always get what you want,'' he said. "It's an honor to come as far as I have. Not many get to this position.
"It takes 75 percent of the vote to get in. But I have to remember that I've already got a majority, and that's pretty cool in itself.''
Raines, who will be a base-running instructor in the Toronto Blue Jays' system in 2013, might be the BBWAA's most-overlooked candidate. He said he'll spend Jan. 9 with his 2-year-old twin daughters, Amelie and Ava, and try to take his mind off getting a phone call from Jack O'Connell, the BBWAA's secretary-treasurer.
Raines finished his career with 808 steals, fifth-highest of all-time, while leading the National League in stolen bases in four consecutive seasons. He hit .300 in seven seasons and won the 1986 NL batting title with a .334 average. He finished with 2,605 hits, a .294 average and a .385 on-base percentage, mostly with the Montreal Expos and Chicago White Sox.
In short, Raines is the National League's version of leadoff man extraordinaire Rickey Henderson, a Hall of Famer who is the career stolen base king. Henderson had more power, but Raines was a better defensive player. They played in the same era, but Raines didn't think Henderson overshadowed him.
"I was a big fan of Rickey Henderson, but I never tried to compete or compare myself to him,'' Raines says.
Raines would join Andre Dawson and the late Gary Carter as former Montreal Expos in the Hall. Dawson, elected on his ninth try back in 2010, has given Raines advice on being patient.
"Andre tells me it is a long process and that there's time for me to get in,'' Raines says. "I understand the waiting, but it is hard. My percentage has been going up, but I think it would take a miracle to get in this year. But anything can happen. One day, it will happen.''
It may happen for Smith, too. He debuted on the ballot with 42.3 percent in 2003 and was happy to break the 50 percent barrier last year. If history is an indication, that's good news for him. Only one other player, Gil Hodges, reached the 50 percent mark and did not eventually get in.
The gentle giant from Castor, La., a small town with no stoplights, held the all-time saves record from 1993 until Trevor Hoffman passed him in 2006 (the Yankees' Mariano Rivera now holds the mark). During Smith's time on the ballot, closers Dennis Eckersley (2004), Bruce Sutter (2006) and Goose Gossage (2008) have been elected to Cooperstown. Sutter was elected on his 13th try and Gossage on his ninth. Each started with a lower percentage than Smith.
Smith has heard all the reasons why he has been slow to get in and he doesn't agree with the pundits' reasoning. He even took a break from Bonanza to refute each of the main arguments:
? He never defined a postseason, ala Eckersley with the Oakland A's: "Getting to the playoffs is a team effort. There's not one closer than can lead a team into the postseason.''
? He was a journeyman who played for eight teams. "That means a lot of teams wanted me. You mean to tell me that if Babe Ruth had played for Tampa Bay, the Cubs and the Blue Jays, he wouldn't have gotten into the Hall? That doesn't make any sense. And how many teams did Goose Gossage play for? Nine.''
? Saves are a difficult stat to judge historically: "There are times I pitched two or three innings to get a save. They say it is an easy job, but getting the 27th out is not easy. Take a closer away from championship teams, and what have you got? Think about the Yankees without Mariano Rivera, the A's without Eckersley. Take away the closer, and who is going to nail the victory down?''
Smith was a seven-time All-Star who received Cy Young and MVP votes. In 1991, he finished second to Atlanta's Tom Glavine in the NL Cy Young race.
"The statistic I'm most proud of in my career is the number of games finished (802),'' Smith says. "That means something to me.
"The first few years (of the Hall voting) I was definitely not relaxed as the day approached. Now, I think there's a pretty good chance. It would be an unbelievable honor if I got that phone call, but we can only wait to see.''