Garza claims he isn't injured, ready to pitch in Spring Training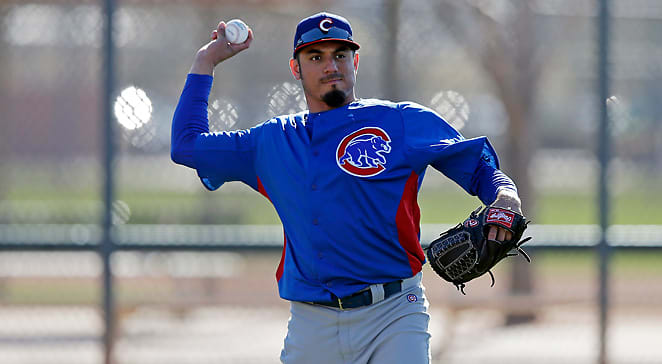 MESA, Ariz. (AP) Matt Garza still had a bulky wrap around his midsection Sunday, and the Chicago Cubs right-hander was uncertain when he would be allowed to throw again.
A week after feeling a twinge in his left side while throwing batting practice, Garza said that he had no pain and was feeling better. He described the pulled muscle as "just a little spot that's annoying."
"This is just a slower process because it's more important due to the fact that it's required to use in everything," Garza said. "It's just more like something's still there, and you don't want anything to be there, because you don't want to re-aggravate it and get it worse."
Garza said he would keep doing as much conditioning work that he could and would be ready to throw when he gets the go-ahead from team doctors. He hopes that will be in the next few days.
"I'm just antsy right now," he said. "I think it's just a sign I was too far advanced, too much ahead of schedule."
Garza was limited to 18 starts in 2012 because of an elbow injury. When he felt something in his side a week ago, he was throwing to hitters in his most extensive work since his final start July 21.
An MRI confirmed that it was only a pulled muscle, and the team said they expected him to rest and recover for about a week before throwing again.
"A little bit better today and it's still very slight," manager Dale Sveum said Sunday. "So the good thing - it was what it was and now it just keeps getting better every day."
The Cubs acquired Garza from Tampa Bay in an eight-player deal in January 2011. He is 15-18 with a 3.52 ERA in 49 starts for Chicago.
While Garza wants to get back as fast as he can, he knows he doesn't have to push things in February.
"The Cactus League, you don't go to the postseason for that. ... Right now is the best time to take care of it," Garza said.
"I'd go now if they let me," he said. "They're really holding the reigns, saying dude it's not really that big of a deal, it's just fully get it together because you don't want anything to flare up in April, especially in the cold months. So let's get it completely back to normal."