Baltimore's birds of play looking for more of that Orioles magic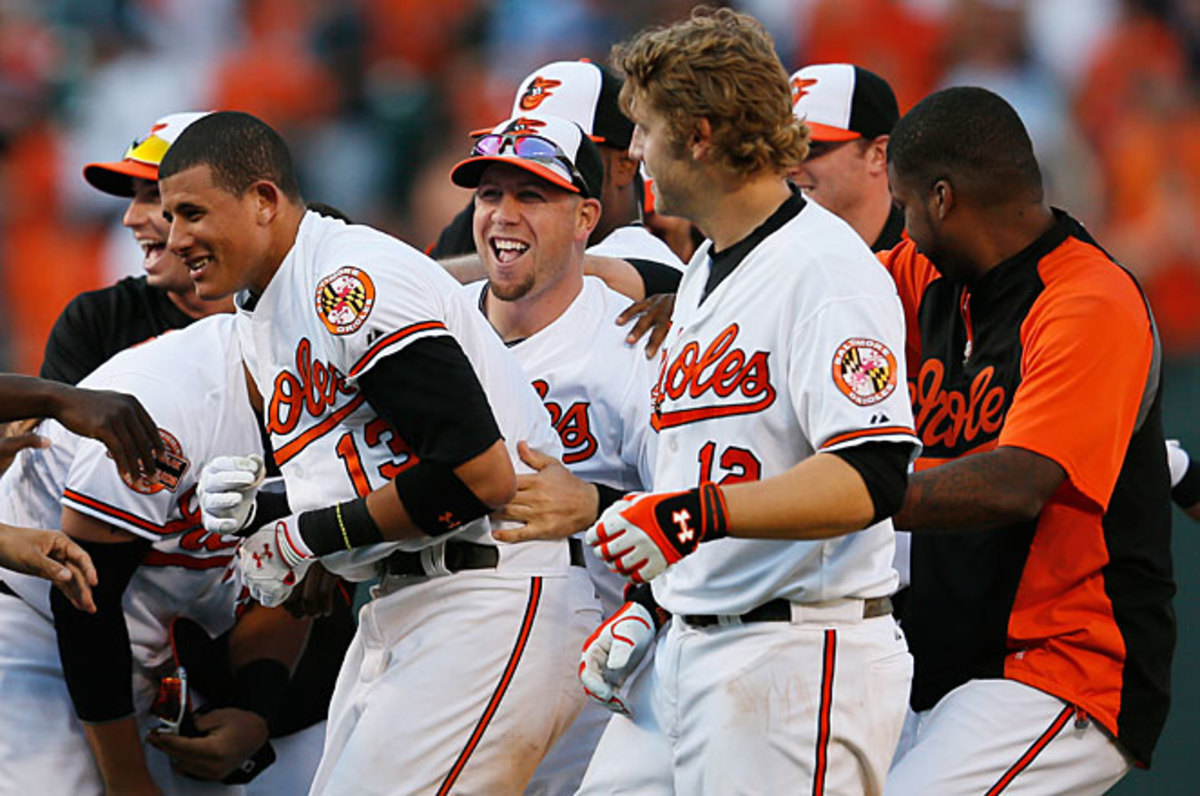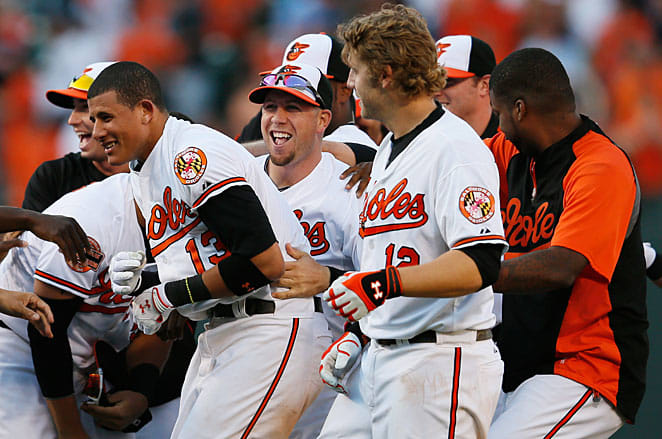 For more of SI.com's 2013 Major League Baseball season preview coverage, click here.
Baltimore Orioles
2012 Record: 93-69, second in AL East, second AL wild-card, lost ALDS to Yankees
2013 Projection: 82-80, fourth in AL East
Baseball is just one of the many games the Orioles love to play. Poke your head into their spring training clubhouse in Sarasota, Fla., and you'll find them playing table tennis, bumper pool and golf. That's right, golf. The pitchers set up makeshift courses around the grounds of Ed Smith Stadium this spring, moving actual flag sticks around on a daily basis and playing with foam balls. One morning they set up a hole just inches from Matt Wieters as the All-Star catcher relaxed in front of his locker.
This type of chemistry helps explains how the Orioles went 29-9 in one-run games and 16-2 in extra innings last season. In doing so, Baltimore transformed itself from a perpetual loser -- Camden Yards had witnessed 14 straight seasons of sub .500 baseball -- into a team that went 93-69 and took the Yankees to five games in the American League Division Series. Over the final 56 games of the regular season, no team had a better record than the Orioles (38-18).
"This season is just a continuation of what we did in August, September and October," says Dan Duquette, the executive vice president of baseball operations.
Most are still reluctant to give the Orioles that kind of credit. Fans may have connected with the grit of the team, which players inherited from manager Buck Showalter, but there's a pinch-yourself feeling that Baltimore may come crashing back to Earth. How could they possibly win so many one-run games again? Who do they really have except for Wieters and Adam Jones, their 27-year-old centerfielder who played every single game and won his second Gold Glove last season?
"All this talk about having a reality check, it doesn't really matter," says first baseman Chris Davis. "Have you seen the movie Dodgeball? They have Average Joe's Gym and that's kind of what we've got going on here. But it works for us. We really enjoy playing with this group of guys. Nobody really picked us to win last year and it was an us-versus-everybody mentality. But we know what we're capable of.
"We had a lot of guys contribute last year and define their careers. I'm actually happy that we didn't make a big move (during free agency). A lot of times when you bring in a big name that can changes thing a little bit. I think chemistry goes a lot further than payroll."
Biggest Addition: A full season of Manny Machado
The Orioles mostly stood pat this off-season, acquiring just a few players of note: infielder Alexi Casilla (off waivers from the Twins), outfielder Trayvon Robinson (Mariners trade) and infielder Danny Valencia (Red Sox trade). In essence, the biggest move they could have made was implemented last season when Manny Machado, a 20-year-old third baseman, debuted in August. He finished with a .262 average and a .445 slugging percentage in 191 at bats and now will carry that valuable experience into his first full season as an everyday player.
Biggest Loss: Mark Reynolds
Now with the Indians, Reynolds held down first base for the majority of the 2012 season, starting a career-high 105 games at the position. Despite being strikeout prone -- Reynolds led the majors in Ks from 2008-11 and fanned 159 times in 135 games last season -- he added pop to the lineup and had only five errors at first base.
After playing several positions last season (60 games as the DH, 38 at first, 28 in right and 11 in left), Chris Davis will now become a full-time corner infielder. Davis struck out 169 times in 139 games last season, but he also had a team-high 33 homers and 85 RBIs. The defensive stability should help him become a better hitter.
"It gives you a huge boost knowing you're going to be in the same position every day," he says. "There were times last year when I was a little inconsistent at the plate. I didn't want to be known as a below average defender no matter where I was playing, so I had to get work in at every position and I didn't have as much time to work on my swing."
What they do best: Slug
The Orioles blasted 214 homers last season, second most in the majors behind the Yankees (245). This output might dip after losing Reynolds, who tied for third on the team with 23 behind Davis (33) and Jones (32), but there's another way to increase run production. "We still have significant power on this team," says Duquette. "My hope is that our on-base capability increases this year."
Only 92 of the O's homers came with runners on base last season; their .311 OBP ranked 11th in the American League. It explains why Baltimore finished ninth in the league in runs (4.4 per game) and finished with only a plus-seven run differential.
What they do worst: Rely too much on the bullpen
If not for its relievers, Baltimore wouldn't have appeared in the playoffs last season. They threw more innings (545 1/3) than all but two other bullpens (the Twins and Royals) yet still managed the third best ERA (3.00) and fourth best WHIP (1.21) in the American League. Closer Jim Johnson led the majors with 51 saves in 54 opportunities. The starting rotation finished with a 4.42 ERA and 1.34 WHIP, ranking ninth in the AL in both categories.
Bottom Line
After the Ravens won the Super Bowl in February, a cartoon drawing of two birds began making its way around Baltimore. Perched on a tree branch, a Raven gives an Oriole a fist bump and says, "Your turn." That's how far the Orioles have come since 2011, when they finished 69-93 but earned a pesky reputation for knocking the Red Sox out of the playoffs on the final day of the regular season. They transposed their record last season (93-69) and missing the playoffs this year should be considered an unacceptable failure, especially with the AL East being up for grabs more than ever.
For those wondering if the Orioles can duplicate their success in one-run games, there's another way of forecasting the season. Returning essentially the same team that seemed to master the art of winning close games, shouldn't the O's find themselves in fewer stressful situations?