Royals are all-in with young core but playoffs remain a longshot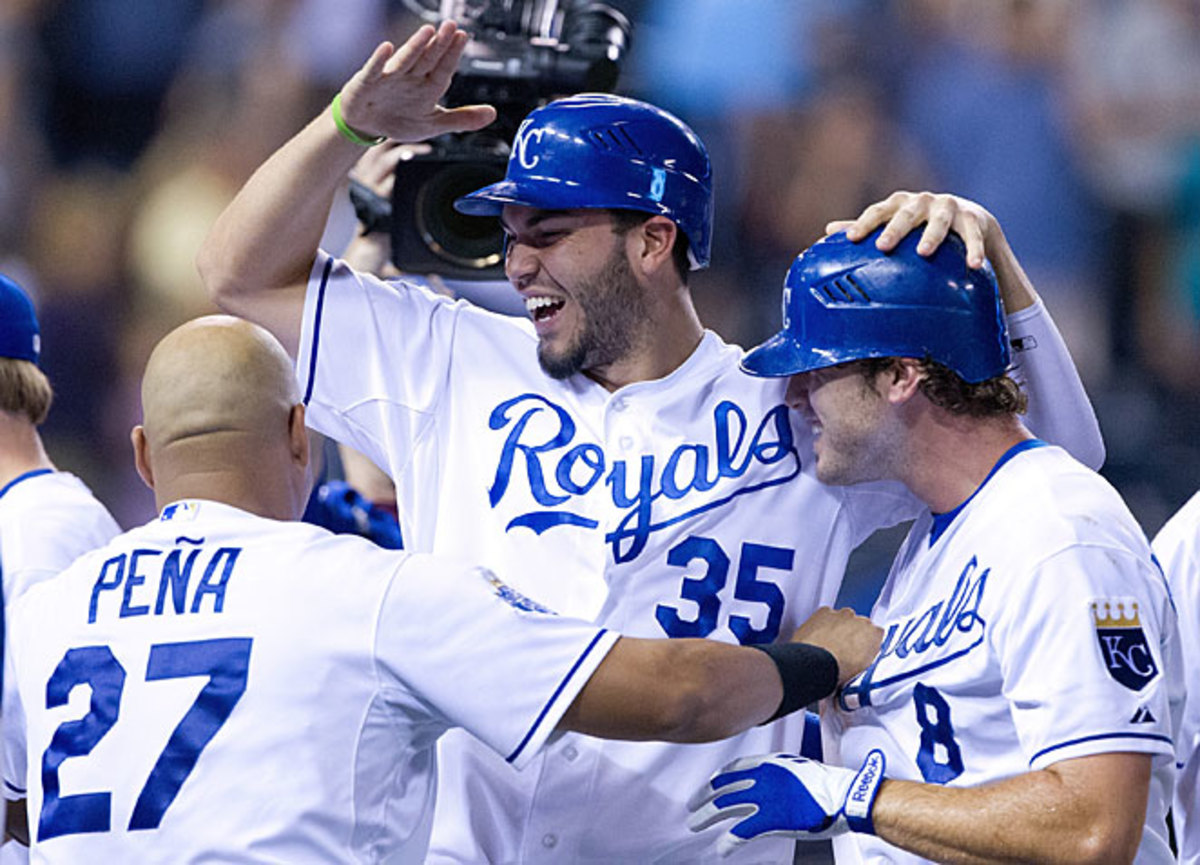 For more of SI.com's 2013 Major League Baseball season preview coverage, click here.
Kansas City Royals
2012 Record: 72-90, third in AL Central
2013 Projection: 83-79, second in AL Central
So maybe it wasn't the Best Farm System Ever.
Maybe we shouldn't have started carving out a place in Cooperstown for Eric Hosmer after he looked like the best hitter on the planet last spring, bludgeoning baseballs in the Cactus League. Maybe it was too early to call Mike Moustakas a perennial All-Star, and maybe Mike Montgomery, John Lamb and Danny Duffy weren't the second coming of Glavine-Maddux-Smoltz. Maybe Wil Myers is the next Dale Murphy -- and maybe the trade that sent the next Dale Murphy out of town will haunt Royals fans forever.
Maybe the much-hyped Royals farm system wasn't as good as we thought, but the story hasn't been written yet on the K.C. kids who were supposed to take the world by storm. There is still time for the 23-year-old Hosmer, who amid great expectations collapsed last year after a promising rookie year (.232/.304/.359 in 2012), and there is still time for Moustakas, who struggled through his first two seasons, with a .250 average and .301 OBP but is still just 24. And there's still time for Duffy, who after undergoing Tommy John surgery should be back around midseason, and Lamb, whose fastball has recently been clocked in the low 90s as he too recovers from Tommy John surgery.
But there may not be much time left for general manager Dayton Moore, who made it abundantly clear with his aggressive offseason that the Royals are all-in after a miserable fourth straight 90-loss season in 2012. There were some good signs: Salvador Perez looked like a rising star at catcher, Billy Butler and Alex Gordon continued to rake and the bullpen emerged as one of the most talented in the league.
The pitching should be better with veterans James Shields, Jeremy Guthrie, Wade Davis and Ervin Santana in the rotation, and the bullpen has a chance to be even more dominant this year, but whether the Royals are just a fringe .500 team or become real contenders in the AL Central will depend on the young guns helping Butler and Gordon in the otherwise punchless order. In other words, there's even more pressure on Hosmer and Moustakas, two of the big keys to Kansas City's season.
The Royals fielded the youngest offense in the majors last season: all their starters are still under 30. There's room for growth, and there are plenty of reasons to be patient and give new hitting coach Jack Maloof time to fix Hosmer and Moustakas -- everyone, after all, seemed give up on Alex Gordon, once The Next Big Thing, and Gordon quietly worked his way back to becoming the Royals' best player over the last two seasons.
But expectations in Kansas City haven't been this high in years -- Bob Dutton in the Kansas City Starwrote at the beginning of spring training that "this is the club's most anticipated camp in a generation." And after the Shields trade, there's never been more scrutiny on Moore, The Process, and the faces, at least the ones remaining in Kansas City, of what was supposed to be The Best Farm System Ever.
Biggest Addition: James Shields
Shields is a very good, durable front of the rotation starter, but it's hard to see him being a true ace away from the pitcher-friendly Trop (where had a 3.33 career ERA, with a 4.54 ERA on the road) and without the excellent Rays defense behind him.
Biggest Loss: Wil Myers
We don't know yet if Myers will be a superstar but he more than likely would have been an upgrade for the Royals in rightfield in 2013. Instead of one of the most promising young hitters in the game the Royals will start Jeff Francoeur and his (according to Fangraphs) -1.7 WAR.
What They Do Best: Bring the heat
The bullpen is loaded with power arms, from Greg Holland to Aaron Crow to Kelvin Herrera, the hardest thrower in the majors last year with a fastball that averaged 97.1 mph. And Yordano Ventura, with his 100 mph fastball, is on his way, too.
What They Do Worst: Score
The Royals ranked 12th in the league in runs scored last year, but if Maloof can help right Hosmer and Moustakas, if Butler and Gordon keep hitting, if Salvador Perez stays healthy, the lineup could turn into a strength.
Bottom Line
The Royals still aren't good enough to keep pace with the Tigers in the AL Central, but if Shields pitches like an ace, and the young hitters have breakout seasons, they have a shot at their first winning season since 2003. Unfortunately, when you're all-in, when you trade away the future for a few extra wins in the short-term, just finishing over .500 isn't good enough.