Twins remade pitching staff but offense will have to carry them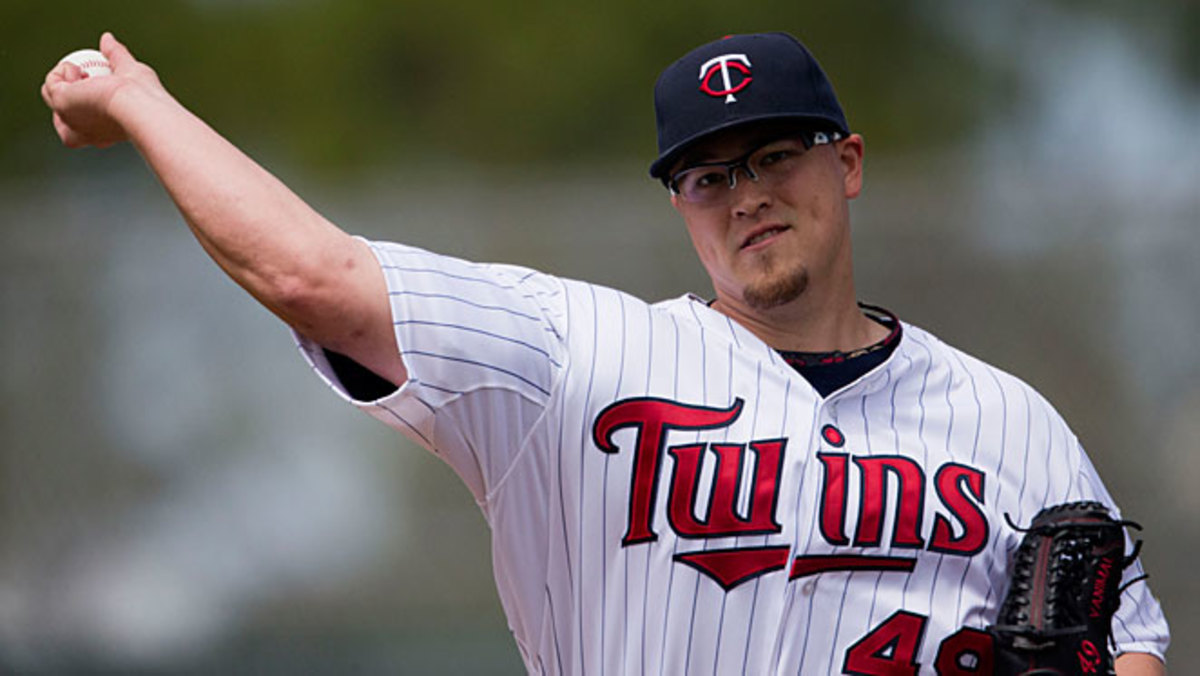 For more of SI.com's 2013 Major League Baseball season preview coverage, click here.
Minnesota Twins
2012 Record: 66-96, fifth in AL Central
2013 Projection: 60-102, fifth in AL Central
His arm as rigid as a yardstick, Vance Worley reached behind his back with an open palm facing the ceiling of the Twins' spring training clubhouse in Fort Myers, Fla. He paused a moment for dramatic effect, then swung his hand over the top of his shoulder like a third base coach waving a runner home. This, he noted with a nostalgic grimace, was essentially his throwing motion as he pitched with bone chips in his right elbow last season.
"It wasn't pleasant," he says. "I was just throwing grenades."
When Worley wasn't on the disabled list, he went 6-9 with a 4.20 ERA in 23 outings for the Phillies before having surgery in late September. It was as if hitters had figured out the third-year pro: In 2011 he went 11-3 with a 3.01 ERA in 21 starts. Worley himself will tell you that he became predictable, unable to blow fastballs past hitters and unable to throw an effective sinker because of the pain.
"I couldn't locate certain pitches," he says. "In between starts I had a hard time even playing catch."
Remember when the Twins were a model franchise for small-market clubs? They procured homegrown talent through the draft, played fundamental baseball and won the AL Central six times from 2002 to 2010 while finishing no worse than third. Doomed by injuries, sloppy defense and poor pitching, they finished dead last in each of the past two seasons. Behold them now, buying pitchers whose stock has plummeted and praying for a mind-blowing return on investment.
Acquired in the Ben Revere trade, Worley, 25, isn't the only hurler on the mend who now calls the Twin cities home. Minnesota diversified its portfolio by also signing Mike Pelfrey, who hasn't pitched in the big leagues since having Tommy John surgery last spring, and Rich Harden, who missed all of 2012 following rotator cuff surgery. (Harden inked a minor league contract.)
"We took a few gambles with guys coming off injuries. We're hoping they bounce back from them," manager Ron Gardenhire says. "We went looking for guys this winter who can give us five, six, seven innings a start. We brought people in here who have track records of being able to do that."
The Twins also added former Pirates righthander Kevin Correia to bolster a rotation that will likely be headlined by Scott Diamond, a lefty who went 12-9 with a 3.54 ERA for the Twins last season. Prospects Alex Meyer and Trevor May, acquired in the Denard Span and Ben Revere trades, respectively, are expected to start the season in the minors and might not make their big league debuts until 2014.
Even though its sluggers might be aging, Minnesota still has the ability to mash. The heart of the order is comprised of Joe Mauer (a former MVP and three-time batting champ), Josh Willingham (career-high 35 homers last season) and Justin Morneau (another former MVP). Mauer turns 30 in April and Willingham is 34. Morneau, who turns 32 in May, hasn't been the same player since suffering a concussion in 2010; he struck out a career-high 102 times last season and could become trade bait later in the season.
But the is hope that the Twins can recapture their old magic, mostly with a revamped pitching staff.
"When you have a core group made up of a Mauer and Morneau, all you ask for is a chance," Gardenhire says. "If our pitchers can give our guys a chance, we feel comfortable about it. We're going to have a chance to really irritate some people, and that's all you ever want."
If not opponents, fans are sure to feel that way on a nightly basis.
Biggest Additions: Call to arms
The Twins added several arms this winter to address their pitching woes, but none will be a top-of-the-line ace this season. Free agent Kevin Correia had a 4.21 ERA last season with the Pirates. Worley and former Met Mike Pelfrey are on the mend from elbow and shoulder surgeries, respectively. Prospects Trevor May (acquired in trade from Phillies) and Alex Meyer (acquired in trade from Nationals) may not see the big leagues until 2014.
Biggest Loss: Proven outfielders
In order to get that young pitching help, the Twins parted ways with two talented major league position players. Centerfielder and leadoff hitter Denard Span was traded to the Nationals on Nov. 29 for Meyer, a 23-year-old first round pick in 2011 who hasn't pitched beyond high Single-A. Span's apparent replacement in the outfield, Ben Revere, was traded to the Phillies a week later for May, 23, and Worley.
What they do best: Play aggressively
The Twins led the American League last season with 135 stolen bases, 57 of which were swiped by Span and Revere. Aaron Hicks, who is making the leap form Double A, won the starting centerfield job with an impressive showing in camp and will likely hit in the leadoff spot and be expected to maintain the aggressiveness on the bases.
What they do worst: Starting pitching
Minnesota's starters ranked last in the American League in ERA (5.40), strikeouts (541), innings pitched (880) and average against (.287) in 2012. The entire staff recorded only 943 strikeouts, 143 fewer than the next closest team in the majors. They did so with a defense that committed 107 errors, the fourth most in the AL.
Bottom Line
The Twins might be rebuilding, but they're not pouring a new foundation. The heart of their order has the potential to be formidable, and the bullpen (which had a 1.26 WHIP compared to the starters' 1.48 last season) should only get stronger if the rotation can eat up more innings and keep games close.
In a worst-case scenario, the starting pitching implodes and the Twins finish in last place for the third straight season, costing longtime manager Ron Gardenhire his job. More likely, the Twins finish out of the basement, taking baby steps toward turning things around while key prospects get a taste of the big leagues late in the season.