McCutchen and Martin have Pirates focused on elusive goal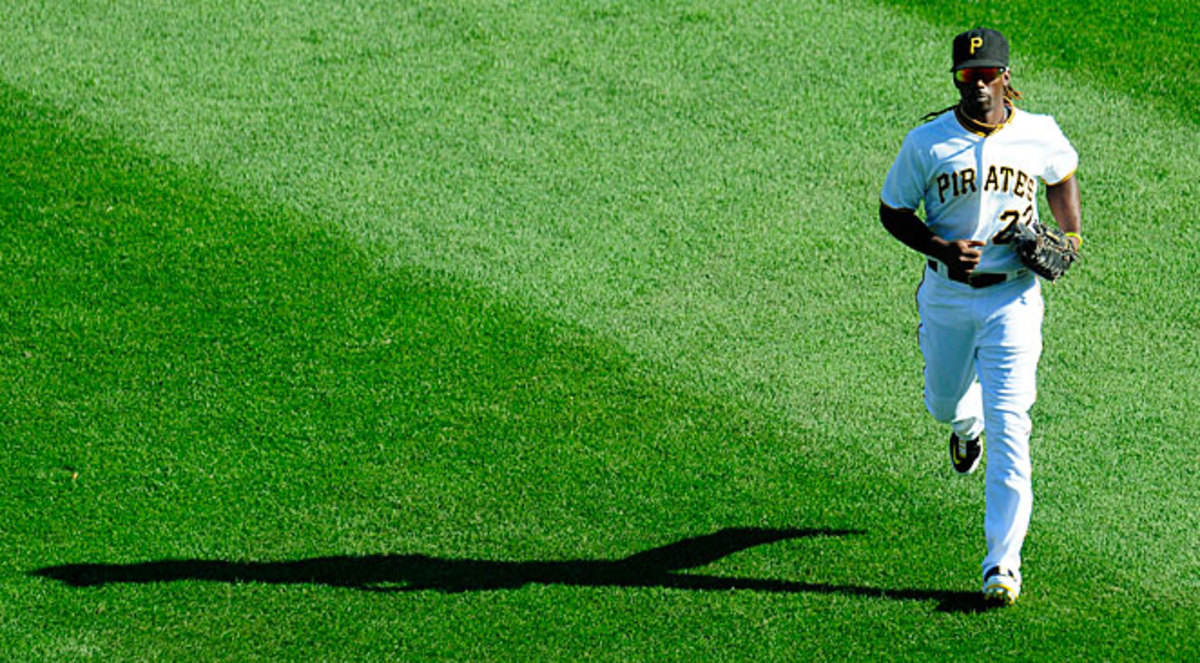 For more of SI.com's 2013 Major League Baseball season preview coverage, click here.
Pittsburgh Pirates
2012 Record: 79-83, fourth in NL Central
2013 Projection: 76-86, fourth in NL Central
Andrew McCutchen became the face of the Pirates franchise when he signed a six-year contract worth $51.5 million last spring, then backed it up by finishing third in the National League MVP voting. He had 194 hits (most in the NL), 31 homers, 96 RBIs, a .327 average and a .953 OPS. The fourth-year big leaguer also won his first Gold Glove and went to his second All-Star game. This season he adorns the cover of the MLB 2013 video game.
Yet the 26-year-old from Fort Meade, Fla., a town of roughly 6,000 about an hour away from the Pirates' spring training facility in Bradenton, doesn't fully comprehend all of the attention he's been getting.
"I never really looked at myself as being The Guy, the one person. I always wanted to be a person who just did his job," he says. "I'm from a small town. In high school there were more cows in the outfield than fans."
McCutchen was drafted by the Pirates with the 11th pick in the 2005 draft and has seen a dramatic shift in the franchise's culture -- even if a winning season has eluded Pittsburgh for two decades. He points to catcher Russell Martin's free-agent contract as a watershed moment. In years past, McCutchen says, a player like Martin probably would have taken less money to remain with the Yankees.
"It used to be that people didn't want to get traded to the Pirates and people didn't want to come here unless they were trying to redeem their careers," McCutchen says. "Now we've got guys who come here and want to be here. They see what we have and they want to be a part of it."
Even though his star is still rising and his voice is an unquestioned one in the clubhouse, McCutchen fully appreciates what Martin brings to the Pirates.
"He's a guy who's been playing for a franchise that won, that's all they did and that's what they're known for," McCutchen says. "(The Yankees are) a team that's not just satisfied to be in the playoffs, they're always trying to win a championship. He's bringing that mentality over to the Pirates. We'll be able to pick his brain and he'll be able to give insight."
Martin's wisdom alone won't make the Pirates playoff contenders. They'll need Pedro Alvarez to at least match last season's 30 homers and 85 RBIs, and Gaby Sanchez to return to 2011 form, when he was an All-Star for the Marlins, after playing last season with a surgically repaired right knee that diminished his power. But Martin fully understands his true value.
"All I've done pretty much in my career is been on a winning team," says the former Dodgers and Yankees backstop. "That's all I pretty much know. Some guys here have kind of tasted that during the season, but they haven't fully grasped what it means.
"The best players that I've been around have been so consistent in their mental approach and their routines, from hitting before the game to getting in cold tubs after the game. That's the difference between good players and good teams, versus teams that fall off at the end of the season. I haven't had to have guys ask me about it, because I just tell them."
Biggest Addition: Russell Martin
Martin is an instant defensive upgrade over Rod Barajas (now with the Diamondbacks) and Michael McKenry (still the Pirates' backup). Opponents last season stole 154 bases against Pittsburgh (most in the majors) while getting thrown out just 19 times (an MLB low) -- a stupefying 89 percent success rate by the runners. Martin, who signed a two-year contract worth $17 million during free agency, caught 128 games for Yankees and threw runners out 24 percent of the time last year.
Offensively, the Pirates hope Martin can bounce back from a poor showing in 2012. Although he belted a career-high 21 homers, he hit .211 while striking out 95 times, both the worst of his career.
Biggest Loss: Joel Hanrahan
Closer Joel Hanrahan might have struggled with control last season, averaging 5.4 walks per nine innings, but he still finished with 36 saves while going 5-2 with a 2.72 ERA. In December, he was traded to the Red Sox in exchange for reliever Mark Melancon, who worked in the closer role for the Astros in 2011 and could do the same for the Pirates on a spot basis this season.
The likely closer, however, is 36-year-old righthander Jason Grilli, the Pirates' setup man last year. Grilli has just five career saves but is coming off a season in which he struck out 90 in 58 2/3 innings and posted career bests in ERA (2.91) and WHIP (1.142).
What they do best: Look forward
The Pirates don't get weighed down by the shame of 20 consecutive losing seasons. "As a team we're not just thinking about breaking through and having a winning season -- that's not the goal," says infielder Gaby Sanchez. "The goal is to make it to the playoffs. Last year it was right there, but things got away from us. Learning from that experience and knowing what type of team we have here, we can take the next step and get to the playoffs."
"You can't alter the past," McCutchen adds. "We can't dog ourselves for 20 years of losing. We haven't been here for 20 years. Of course we're going to have that on our shoulders, but we're not worried about it. All we can do is keep pushing forward and be the team to change things around."
What they do worst: Fade
The Pirates have been on the verge of having a winning season the past two years, and advancing to the postseason seemed like a real possibility both times. In 2011 they were tied for first place on July 25 with a 53-47 record; they finished 72-90 and in fourth place, 24 games behind the NL Central champ. Last year they were tied for first on July 18 with a 51-40 record; they finished 79-83, again in fourth place and this time 18 games out.
"When we take care of business we've shown that we're able to compete with the best teams in the league," general manager Neal Huntington says. "We just need to take care of our business more consistently over a six-month stretch."
Bottom Line
At times the Pirates played good enough baseball over the past two seasons to be talked about as a playoff team, only to disappoint the black and gold faithful still turning out at PNC Park. The biggest takeaway from 2012 was that Pittsburgh didn't lose 90 games for the first time in eight seasons. That's far from being the rally cry of progress, but if the Pirates don't finish better than .500 this year, will they ever?
Pittsburgh might win early and often in 2013, but it'll be hard to get excited about this team without thinking it's just another tease and that another collapse is imminent. In a best-case scenario they earn a postseason berth in the wild-card game. In a worst-case scenario, the streak of losing and playoff-less seasons matches Roberto Clemente's jersey number (21).