Padres third baseman Chase Headley: contract discussions a distraction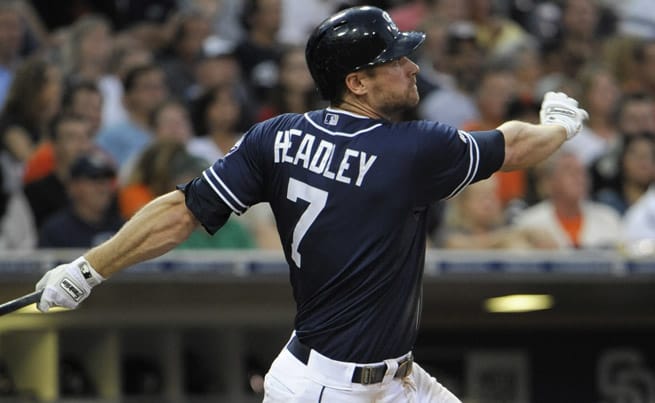 SAN DIEGO (AP) Padres third baseman Chase Headley ran into club executive chairman Ron Fowler at Petco Park on Friday and explained why he doesn't want a contract extension to be negotiated during the season.
Later, Headley told reporters that it has been a distraction ever since Fowler said Wednesday that he has given general manager Josh Byrnes permission to begin negotiations that would make Headley the highest-paid player in club history.
"I would say so. I'm trying to pour water on the fire as much as I can," Headley said. "This is why I didn't want to do it during the season. I wanted it to be about what's taking place on the field. The reasoning for my wanting to do this in the offseason and not the regular season is because I know me better than anybody else. For me to go out and play the best that I can, not only for myself but this team, more importantly, I need to be completely focused on the field. That's the sole and only purpose behind it."
Headley had one of the best seasons in team history in 2012, hitting 31 homers and driving in an NL-high 115 runs while winning his first Gold Glove and Silver Slugger awards.
He and the Padres avoided arbitration by agreeing to a one-year salary of $8,575,000.
The Padres have given several other players long-term deals but have held off on Headley, perhaps because they want to see if he's capable of another big season. Last year, Headley finally put up the kind of power numbers people expected of him. The Padres control his rights through 2014.
Headley said he and Fowler "had a good conversation. We both kind of reiterated that there is no misunderstanding the way it came out. He wanted me to know that he wasn't negotiating through the media. That was the big thing. Maybe could have done it in a better way and he didn't mean to put the spotlight on me. I appreciated that. I explained my position and why I thought it was best to hold off on it. He respected that. We're good. There's no tension between us.
"We're done with it for now," Headley added. "Mr. Fowler made it a point to say `Hey, we do want you here and we do want to keep you here a long time.' I appreciated that. I had a great conversation with him but as of right now we're focusing on the field."
Headley, who turns 29 on Thursday, is in his fifth full big league season. He was the subject of trade talks last summer before the Padres decided to keep him. He was named the NL's Player of the Month in August and September.
Fowler said in an email that he had "a brief, friendly conversation with Chase today ... that's all I can confirm. Just happened to run into him."
The Padres aren't exactly setting the bar high when saying they want to make Headley the highest-paid player in team history.
The biggest deal in franchise history was the $52 million, three-year extension Jake Peavy signed after he won the NL Cy Young Award in 2007. The Padres, then under different ownership, ended up not having to pay a penny of that deal, which ran from 2010-12, because they traded Peavy to the Chicago White Sox on July 31, 2009.
In 2001, slugger Phil Nevin signed a $34 million, four-year extension covering 2003-06. He was traded to Texas on July 30, 2005.
Asked if he's confident something can be done in the offseason, Headley said: "I'm hopeful. There's always that risk. But I think both sides entered into that risk by not getting something done during the offseason. We made it clear that this is where we stood on it. If there is a deal to be done it would be done during the offseason."
Fowler is the control person of a group that bought the Padres from John Moores for $800 million last summer. The group also includes members of the third generation of the O'Malley family, which owned the Dodgers for nearly 50 years.
Many fans are disgruntled that the Padres added little to a team that finished last in the NL West in 2012, 18 games behind the eventual World Series champion San Francisco Giants.
Perhaps hamstringing the club is the fact that Moores and Jeff Moorad, the previous minority owner who failed in his attempt to buy the Padres on a layaway basis, walked off with the bulk of a $200 million upfront fee as part of a $1.2 billion, 20-year deal with Fox Sports San Diego.