Derek Jeter has boot removed from ankle, plays catch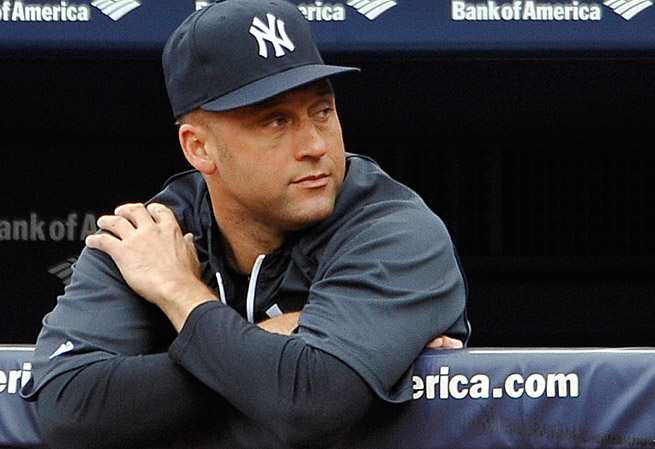 NEW YORK -- Derek Jeter was back in uniform at Yankee Stadium - but only to play catch.
The injured shortstop was on the field during batting practice Wednesday before the New York Yankees faced the Mets in the Subway Series. Still recovering from offseason ankle surgery, Jeter said he had the protective walking boot removed from his left foot last Friday and was recently cleared to throw.
"I didn't want to come out here and throw with a boot on," Jeter said. "I was here the last two homestands, so in that sense it's nothing new. I haven't been on the field, so that's good, but I've at least been around the guys. So it feels good to come here. You're kind of bored when you're down in Florida and not doing too much."
He said he has another test scheduled in the next week and a half and then hopes to be cleared for additional baseball activities, such as swinging a bat.
Jeter, who turns 39 next month, doesn't want to put a timetable on his return. The Yankees have said he will be sidelined until after the All-Star break in mid-July.
"As soon as possible. That's it,"' said Jeter, who watched Wednesday night's game from the dugout. "I'm not going to put a date on it. The last time I put a date on it, it didn't work. So as soon as I can play, I'll play."
The 13-time All-Star broke his left ankle in Game 1 of the AL championship series last October and insisted he would be back by opening day. But the Yankees' captain fractured his left ankle again while rehabbing, delaying his return.
"It was just a freak incident, I guess, which caused it to break again. I don't know why. I don't think anyone knows why. I'll do what I'm told and hopefully there's no setbacks," he said.
In other news, Yankees manager Joe Girardi said Andy Pettitte probably will return to the rotation early next week against Cleveland. The left-hander, on the disabled list since May 17 because of a strained muscle in his upper back, threw 76 pitches in a simulated game Tuesday in Florida.
"I want to see how Andy feels today and the next couple days," Girardi said.
Also, Yankees outfielder Curtis Granderson had surgery to have a pin inserted into his broken finger.
Granderson broke a knuckle on his left pinkie when he was hit by a pitch Friday night against Tampa Bay. Granderson had played just more than a week after returning from a broken right forearm sustained when he was hit by a pitch during his first plate appearance in spring training.
The pin is designed to help the finger heal. Girardi said the operation would not affect Granderson's recovery time.
"It's basically four weeks of inactivity and then you go from there. You can't expect him to go four weeks of inactivity and be in a game the next day," Girardi said. "The healing process, the time doesn't change. They just decided it was better to put a pin in there. In four weeks, he'll start doing rehab."