No-hitter against Padres showcases Tim Lincecum's new approach
Most pitchers enjoy pitching against the Padres. San Diego's lineup ranks last in the majors in virtually every offensive category that matters, usually by a sizeable margin: runs, on-base percentage, slugging percentage, fist bumps, cup adjustments, you name it. The club's cumulative batting average, .216, is on pace to be the worst of any team's since the 1968 Yankees. 
Giants starter Tim Lincecum, though, really, really likes pitching against the Padres. Last July 13, he threw his first career no-hitter against them. It took him 148 pitches, and required a spectacular diving catch by Hunter Pence at the end of the eighth inning. On Wednesday afternoon in San Francisco, Lincecum no-hit the feckless Friars again, and this time he was even more dominant. He required just 113 pitches to complete the job and walked a single batter: Chase Headley, with one out in the second inning. Headley would prove the only Padre to touch first base in a 4-0 Giants win.
Unlike last time, Lincecum's no-no (the third in the majors this season, after those thrown by the Dodgers' Josh Beckett and Clayton Kershaw) never really seemed threatened. He became the second pitcher, after Hall of Famer Addie Joss, to no-hit the same team twice.
​
Lincecum's stringy mustache and soul patch make him look different than in his clean-shaven, long-haired youth -- more Geek than Freak -- but it is obvious in ways beyond his appearance that he is not the same hurler as he once was, and Wednesday's outing underscored his transformation.  When he won back-to-back Cy Young awards in 2008 and `09, at the ages of 24 and 25, he led the league in strikeouts due to a fastball that scraped the underside of 100 mph and averaged 94.  He threw it around two-thirds of the time, because when you can throw a pitch like that, why would you throw something else?
On Wednesday, though, he threw his diminished heater -- which comes in four-seam and two-seam varieties -- just 39 times. According to Brooks Baseball, not one of them surpassed 93 mph, which is about par for the course for him now, 10 days past his 30th birthday. 
Mostly, Lincecum relied on his breaking and off-speed stuff, and he controlled it magnificently, particularly a slider that he used to throw only a couple of hundred times a season and now deploys as frequently as his fastball.  Of his 40 sliders, the pitch he threw more than any other, 29, or 72.5 percent of them, were strikes.  When he had one out in the top of the ninth and was looking to close things out, he got YasmaniGrandal to ground out weakly on a slider, and then Will Venable to do the same.
Yes, the Padres represent a nice team against which to practice, but Lincecum's outing represented an exemplar as to how he might excel in the second stage of his career, now that his once preternatural stuff has clearly deserted him for good. Two years ago, it was already more or less gone, and he had no idea where to turn. His 5.18 ERA in 2012 was by far the worst among qualified National League starters. Now, though, he seems to have accepted what he has become: a command guy. The Freak now throws junk.
Most Recent No-Hitters, By Team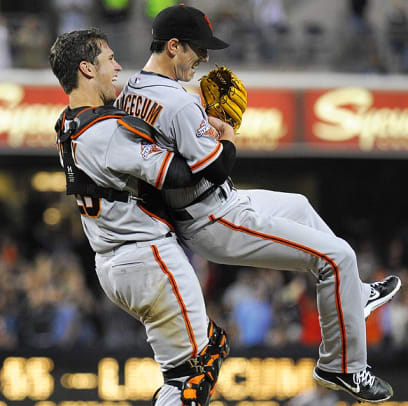 This, of course, is a transition that virtually all power pitchers must make at some point if they want to have very long careers. Fastballs invevitably fade, but Lincecum, due perhaps to the small stature that his critics always said would doom him, has had to make the shift earlier than most. It is still a learning process. Even this gem only cut his ERA to 4.42 (he began the day at 4.90), and lifted his record to 6-5. But it not only showed how very good, if different, he can still be, but also, as his pitch selection demonstrated, that he is now at peace with what he has become.
"It was not a stuff day," Lincecum said after the game. "It was a location day." Most days, from here on out, will likely be location days for him. Location days can give the Giants a desperately needed win; going into the game against San Diego they had lost 11 of their last 14 games, and had watched a 9.5 game lead in the NL West shrink to just three. Location days can also ensure that Lincecum pitches in the big leagues for a very long time.