Trade deadline roundup: Nationals upgrade infield, Red Sox stay busy
The Nationals upgraded their infield, the Red Sox made a rare deal with the Yankees, and the Astros picked up nice haul in a busy day at the trade deadline.
In stark contrast the to the 2013 trade deadline, which was one of the least-active in major league history, this year's non-waiver deadline prompted one of the most dizzying days of trading in recent memory. We've covered the biggest trades elsewhere, including the three-team deal that sent David Price to the Tigers, the blockbuster that sent Jon Lester and Johnny Gomes to the Athletics for Yoenis Cespedes and the comparable deal that sent John Lackey to the Cardinals for Allen Craig and Joe Kelly. Here's a roundup of Thursday's other notable transactions, ordered alphabetically by the team landing the biggest name in the deal.
Braves acquire UT Emilio Bonifacio, LHPJames Russell and cash from Cubs for C Victor Caratini
Atlanta wanted a lefty for its bullpen, as Luis Avilan's struggles have left them with rookie ChasenShreve as the team's only southpaw reliever. James Russell, son of former Rangers closer Jeff, is indeed a left-handed relief pitcher, though he has an unimpressive 1.63 strikeout-to-walk ratio and hasn't been very effective against lefties, who are hitting .295/.358/.525 in 70 plate appearances against him this season. Russell, who has one more year of arbitration remaining before hitting free agency, was properly dominant against lefty hitters last year, but his platoon split was minimal prior to that.
The well-traveled Bonifacio, a utilityman who will be a free agent this fall, brings versatility as a switch-hitter who can play second base, third base and all three outfield positions and spot at shortstop. But he isn't much of a hitter from either side of the plate or the stolen base threat he has been in the past, swiping just 14 bases in 20 attempts thus far this season. He'll come off the bench for the Braves.
A's leading the revolution again, plus more lessons from Deadline Day
​​As for the Cubs' end of the deal, Caratini is a 20-year-old Puerto Rican who was drafted in the second round last year out of Miami-Dade College and played third base almost exclusively in Rookie ball last year. Converted to catching this year, he has hit .279/.352/.406 in the Sally League. He's a prospect only if he takes to his new position; if he doesn't, chances are he's not. Given how recent his conversion is, he's a long way from either outcome.
Brewers acquire OF Gerardo Parra from the Diamondbacks for OF Mitch Haniger and LHP Anthony Banda
Though just 27, Parra is having an off-year on all fronts. He's not playing his usual sparkling defense, he has stolen just five bases and been caught as many times, and he's having his worst season at the plate since his sophomore year of 2010. That's a far cry from the all-around value he has provided to the Diamondbacks in the past, and one assumes that ability is still there. At the very least, he's an excellent fourth outfielder who could spell Khris Davis against the occasional righty and should be a big upgrade on Logan Schafer in that role for Milwaukee. And with one year of team control left, Parra could experience a walk-year rebound in 2015.
Haniger was one of the Brewers' better prospects, but that's not saying much. A 23-year-old bat-first rightfielder, he is hitting .255/.316/.416 with 10 home runs in Double A this year. Banda is a 20-year-old lefty starter with control problems whose 3.66 ERA in the Midwest League is skewed by that pitching-friendly circuit.
Marlins acquire RHP Jarred Cosart, CF Enrique Hernandez and OF Austin Wates from the Astros for 3B Colin Moran, OF Jake Marisnick, RHP Francis Martes and a compensation pick
This is arguably the fourth-biggest trade of the day, as the Astros landed the Marlins' second- and third-best prospects coming into the season in Marisnick and Moran, respectively. Miami, which was reportedly looking for another starting pitcher earlier this week, made Cosart its primary target, but he is an underwhelming solution.
Henderson Alvarez emerges as surprise star for the Marlins
​As a prospect, Cosart headlined the deal that sent Hunter Pence to the Phillies at the 2011 non-waiver deadline, but he has failed to impress since then due largely to his poor peripherals. He hasn't posted a strikeout-to-walk ratio above 2.00 since he was in A-ball, and despite his sparkling 1.95 ERA in 10 starts for the Astros as a rookie last year, he actually walked more men than he struck out without issuing a single intentional pass. This year, Cosart's ERA is up to 4.41, and he has struck out just 5.8 men per nine innings in 20 starts while walking 3.9 men per nine for a lousy 1.47 K/BB. In four July starts, he's posted an 8.02 ERA while walking 14 men against 13 strikeouts. Cosart has five team-controlled years left beyond this one, but at 24, he's not that young, and he's certainly not the pitcher that is going to bring Miami back from a 4 1/2 game deficit in the wild-card race.
Enrique Hernandez, who goes by the unfortunately-spelled nickname Kiké (accent a must), may be the superior addition here for the Marlins. The former sixth-round pick out of Puerto Rico is not a prospect, but he's just 22, can play everywhere but pitcher and catcher, and has done a surprising -- and uncharacteristic -- amount of hitting this year. Starting the year at Double A, Hernandez was promoted to Triple A in mid-April and hit .337/.380/.508 in 67 games there before getting called up to the majors, where he has since hit .284/.348/.420 in 89 plate appearances. The Triple A line owes at least a little to the hitting-friendly Pacific Coast League, but Hernandez is young enough that the jump in production could reflect something real. More likely the Astros have sold high on him, but Hernandez should get a chance to solve Miami's hole at second base and could run away with the position.
The Astros, meanwhile, receive Moran, Marisnick and 18-year-old Dominican righty Francisco Mates. Moran, the sixth overall pick in the 2013 draft out of the University of North Carolina, is a bat-first third baseman who has hit .294/.342/.393 in High A this year. He's not much of an athlete, but he is a legitimate hitter who should be able to stick at third base. At 6-foot-4, he certainly has the frame to hit for more power than he's shown so far as a professional, with four home runs last year and five this year. Whether he ever figures that out is likely to be the big question about his development. 
Marisnick, a 23-year-old centerfielder, was originally acquired by the Marlins in the Jose Reyes/Mark Buehrle trade after the 2012 season. He has struggled in his major league opportunities, but that's not shocking given that he has yet to play a full season at Triple A. Marisnick is a good fielder with a strong arm, speed and developing power, and there's hope that he could be a very good everyday major league centerfielder. However, he has been jerked around a lot over the last year, being called up straight from Double A last July, bouncing between Triple A and the majors this year and now being traded. What he needs most is the consistency that will allow him to make adjustments to opposing pitchers, though he may not find it in Houston. For now, Marisnick will go directly to the Astros, where he will be the injury replacement for Dexter Fowler.
Overall, Houston appears to have done exceptionally well in this trade. Moran and Marisnick aren't slam-dunk prospects, but they have high upsides, and given that the team is still deep in its rebuilding phase, the compensation pick it received only adds to the value of the club's return here.
Mariners acquire OF Chris Denorfia from the Padres for OF Abraham Almonte and RHP Stephen Kohlscheen
A career .301/.367/.443 hitter against lefties and a slick fielder who can steal a few bases, Denorfia is a solid fourth outfielder who can spell Dustin Ackley or Logan Morrison against the occasional righty. His bat has been ice cold all season (.242, one home run), but the Mariners are hoping it will thaw with a change of scenery and his approaching free agency. Of course, for a righthanded hitter, escaping Petco Park to land in Safeco is akin to being arrested just outside the prison gates.
With David Price trade, Detroit Tigers make bid for AL supremacy
​​​Almonte is a 25-year-old centerfielder who has hit a bit in Triple A but didn't hit at all in a stint as the Mariners' starting centerfielder at the beginning of the year. Kohlscheen is a 25-year-old righty reliever who has appeared in 15 games above Double A.
Nationals acquire IF Asdrubal Cabrera and cash from the Indians for SS Zach Walters
I wrote yesterday that, with Ryan Zimmerman suffering a Grade 3 strain of his hamstring that could cost him most of the rest of the season, the Nationals needed to make a trade to upgrade on Danny Espinosa in their lineup. Here it is. Cabrera will shift to second base for Washington, keeping Anthony Rendon at third base and pushing fellow switch-hitter Espinosa to the bench. Cabrera isn't the star player he briefly promised to be, but he's a league-average bat capable of some jaw-dropping plays in the field. Those highlights belie his limited range, but the Nationals are asking less of him by moving him back to second base, where he's made 149 career starts. What's more, Cleveland will pay the remainder of his salary this season, estimated at $3.3 million.
Walters is something just shy of a shortstop prospect who will turn 25 in September. He has a lot of power but a lousy approach that limits his overall value at the plate; his .234/.308/.489 career line in the majors is a good indication of what to expect, despite coming in just 52 PA​. With Francisco Lindor, who was just promoted to Tripe A last week, as the Indians' shortstop in waiting, and Carlos Santana, Jason Kipnis and Lonnie Chisenhall having secured the rest of the infield from first to third, Walters will likely be used more as a utilityman. As such, he's more of a replacement for impending free agent Mike Aviles than for Cabrera, though Walters may get to keep shortstop warm for Lindor for the rest of this season and part of next in the meantime.
Orioles acquire LHPAndrew Miller from the Red Sox for LHPEduardo Rodriguez
David Simon, creator of The Wire, has infinite hope this is the Orioles' year
​The Orioles needed a catcher or a second baseman far more than another lefty reliever, but Miller has been legitimately dominant this season, striking out 14.7 men per nine innings with a 5.31 strikeout-to-walk ratio and a 0.90 WHIP. Lefties have hit .150/.203/.217 against him, and righties haven't fared particularly well, either. He'll be a free agent at the end of the year and could very well bolt back to Boston, but with a 2 1/2-game lead in the American League East, at least Baltimore did something.
In Rodriguez, the Orioles gave up a second-tier pitching prospect who has struggled since reaching Double A a year ago but is still just 21 and lefthanded. That's a good get for the Red Sox, who traded four major league starters at this deadline in Lester, Lackey, Jake Peavy and Felix Doubront. They can now turn their attention toward free agency and their own minor league prospects, a group which now includes Rodriguez, to piece the rotation back together.
Twins extend C Kurt Suzuki, two years, $12 million with $6 million vesting option for 2017
This wasn't a trade, but given that Suzuki was considered the top catcher on the market, it's worth noting that the Twins wound up extending him rather than trading him. With the Cardinals and Orioles in need of catching help, Minnesota should have traded high on Suzuki, who is having a career year. But given the dearth of catching around the league and the team's fondness for Suzuki, who has reportedly emerged as a team leader, the club's impulse to lock him up is understandable. Suzuki's option can vest based on plate appearances and would cover his age-33 season.
Yankees acquire IF Stephen Drew and cash from the Red Sox for UT Kelly Johnson and UT Martin Prado from the Diamondbacks for C Peter O'Brien and a player to be named later or cash.
You know things have changed in the AL East when the Yankees and Red Sox pull off a trade. The last time that happened was August 1997, when Boston returned catcher Mike Stanley to the Bronx along with minor league infielder Randy Brown for pitchers Tony Armas Jr. and Jim Mecir. In this case, the Red Sox appear to have taken pity on their rivals, effectively trading down from a shortstop whose bat is coming around to an injured utilityman who can't play shortstop. Johnson, who is out with a groin strain and now needs only to join the Orioles to complete his tour of the division, will be little more than roster filler when he returns.
Drew, meanwhile, will be the Yankees' new second baseman, because there's no way New York is moving Derek Jeter off shortstop two months before his retirement, even if it costs the team a trip to the postseason. Like Jeter, Drew has never played a position other than shortstop or designated hitter in his professional career, but he should adapt well given his ability in the field. That said, one wonders what effect the midseason position change will have on Drew's hitting.
Drew, who didn't re-sign with the Red Sox until late May after his holdout for a better deal in free agency backfired, didn't hit a lick in June, but he has come on of late. He has hit .215/.329/.477 in 76 plate appearances since July 5, a performance dragged down by an unlucky .244 batting average on balls in play. Given that, the shift to the lefty-friendly Yankee Stadium would seem to be exactly what Drew needs, especially given that he is hoping to make a big push toward his second-chance free agency. 
With Drew in place at the keystone, the 30-year-old Prado will do what he does best, which is bounce around the diamond as needed. That makes him an upgrade on Johnson (or Zelous Wheeler) in the short term, and also the potential 2015 starter at second or third base for New York, given that he's signed for two more years for $11 million each. The Yankees obviously hope that will come with a return to his previous level of production (.293/.343/.434, 109 OPS+ from 2008-13), or that they can sell another team on that possibility in the offseason. If Prado's bat rebounds sooner, he could spend significant time in rightfield and will likely spell Ichiro Suzuki there against lefties either way.
Arizona gets O'Brien, who appeared in this year's Futures Game and was a second-round pick in 2012 out of the University of Miami. The 23-year-old has a ton of power — 33 home runs already this season split between High A and Double A — but a terrible plate approach and is unlikely to remain a catcher much longer. His best-case scenario is probably becoming the next Mark Trumbo as a hitter whose shortcomings elsewhere are masked by his power. The Yankees did well to cash in O'Brien, though they'll also be sending a player to be named later or cash to the D-backs.
Blockbuster Trades in Baseball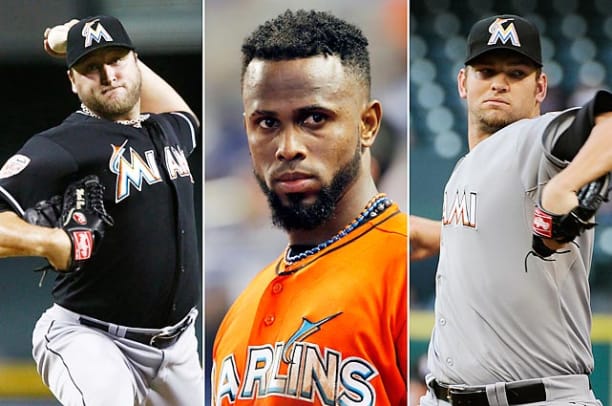 ​