A son carries on his love of the Royals even after his father's death
Mike McHugh and his father bonded over Royals baseball, and even after his dad was killed in Afghanistan, Mike's connection to his team and his dad remains strong.
The fountain, the grass, the memories – all of it makes Kauffman Stadium more than just a ballpark for my big brother.
The story of Mike McHugh, a U.S. Army Warrant Officer, is different than that of most Royals fans, and so is his passion for the team. To Mike, every pitch, every hit, every moment of this postseason has been emotional. It's been personal.
Growing up with our father in the military, Mike never had a baseball team to call his own. Our family -- which includes my mom, Connie, my sisters Kristen and Maggie and my younger brother, David -- moved often, and with every new station came a new favorite team. Until 1999.
That's when my father, John, a major stationed at Fort Leavenworth, Kans., and my then fifth-grade brother took their first trip to Kauffman. From then on, they would go see the Royals every chance they got.
"I was always a baseball fan, so I knew of the Royals like any other team, but it wasn't until we moved there that I really became a fan," Mike, now 26, explained earlier this week. "After being in the military for so long and moving around, they were the first 'home team' that we got to support."
The two of us were sitting on his patio at his house in Fort Riley, Kans. The chilly October air began settling in. Mike pulled his Royals sweatshirt over his head.
"He took me to one for my birthday in 2000, and they played the Cubs," Mike continued. "Sammy Sosa hit a home run, and then Johnny Damon robbed someone of a home run. The Royals ended up winning, but I just remember the big highlights were Sosa's homer and Damon robbing a home run by making a big catch against the wall."
From 1999 to 2001, the years my family spent stationed at Fort Leavenworth, he and my dad fell in love -- hard -- with the Royals. Despite moving halfway around the world, to Hohenfels, Germany from 2001-04, the two of them continued to follow the team religiously. They would even wake up in the middle of night to follow games. After three years in Europe, our family moved to southern Alabama, where my father and brother proudly wore powder blue T-shirts and royal blue jerseys that stood out among the sea of red clad Alabama football and Atlanta Braves fans.
After finishing high school in 2007, Mike followed in our dad's footsteps and joined the military. In April 2009, after going through basic training, warrant officer school and flight school, he was given his first duty station: Fort Riley, a two-hour drive west of Kauffman Stadium. That same spring, my dad found out he would be reassigned to Fort Leavenworth. They immediately knew what that meant.
"That was the first thing that we thought of," said Mike with a smile. "We talked about how we'd get to go to ballgames together again. That was the best part of moving back to Kansas for me."
It was great. It was perfect. It was temporary.
*****
ALCS preview: Player to watch, key matchup, and more for Royals-O's
During the summer of 2009 and the early spring of 2010, Mike and my dad were back at Kauffman Stadium. The Royals were their opportunity to get away from their day-to-day military lives. At the K, the two of them could let it all go.
They were there for the second game of the 2010 season, on April 2. "It was 40 degrees out and there was a rain delay, so when they finally started the game up again there was nobody in the park," said Mike. His eyes wandered. "The Royals ended up winning in extras – it went to like 10 or 11 innings – and we hung out to see them walk off with the win. There was [almost] nobody else there, but it was fun. We wanted to stick it out to the end."
That would be the final Royals game they attended together.
Mike had already known he would be deployed to Iraq, and he left later that month. Before he did, he and my dad made plans to return to Kauffman Stadium the following year.
We said goodbye to Mike and we wished him well as he boarded the plane to go to war. Little did we know, we would be seeing him only one month later. 
In May, our dad, by then a colonel, took a trip to Afghanistan with a group called BCTP (Battle Command Training Program). He wasn't deployed; he was only supposed to be gone two weeks for a NATO peace conference meeting. However, on May 18, he was killed on the streets of Kabul. A suicide bomber took the lives of 18 people after driving a Toyota minibus packed with explosives into a U.S. military convoy. Five American soldiers, including my father, were killed, along with a Canadian colonel.
Mike had to make his three-day trip home from Iraq early.
The week after my dad's death was a blur. Every day flowed into the next one and, as friends and family came and went, nothing seemed to dull the pain.
Until our first trip back to Kauffman Stadium.
On May 25, the team invited Mike to throw out the first pitch. Our entire family was there and we were treated like Royals' royalty.
After a week of incredible pain and emotion, we all walked onto the field. Mike's steps to the pitcher's mound that day marked the first ones of a long healing process.
From that moment on, the Royals' organization took on a new meaning to my brother. He wasn't just a fan anymore. The game, the team and the ballpark all became personal.
"It was emotional," says Mike. "Even though we weren't from Kansas City, they found out we were big fans and they were there for us during those tough times. It was pretty cool to know that the team I had been rooting for the past 10 years had my back."
The support from the Royals didn't stop with just that first pitch. Kansas City's Billy Butler, Eric Hosmer and Mike Moustakas recorded a surprise birthday message for my younger brother, David – who is also growing up a passionate Royals fan – when he turned eight in 2013. Seeing that his favorite players were there for him meant the world to David, and it meant just as much to my entire family to see they still cared.
The summer following our dad's death, we all became regulars at Kauffman Stadium. It was what we did to get away from the house and have a good time. We cheered when Kansas City won and booed when it lost. We laughed. We cried. We remembered.
*****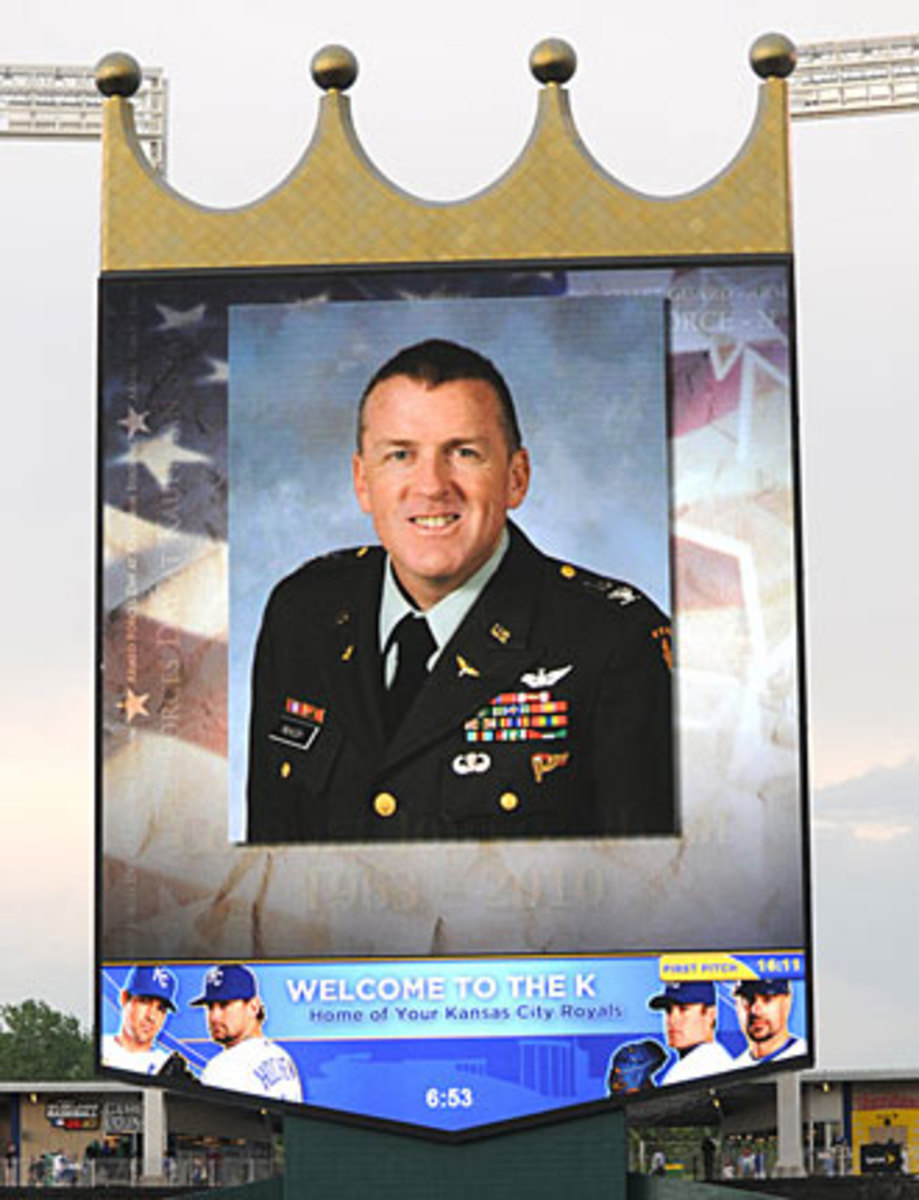 A year after my father's death, Mike and his family were transferred to Fort Rucker, Ala. He carried his passion for the Royals with him. He bought the MLB package for his TV so he didn't have to miss a game. If he couldn't watch, he would listen on the radio. Though our dad was gone, Mike's passion for their team never waned. Instead, it grew.
"He's always been a huge Royals fan," said Mike's wife, Angela, "but I think after John died, it was something he had that he could always remember his dad by."
The whole family took notice.
"His passion isn't like the average fan," says my dad's brother, Frank. "Mike's passion is so much more rooted in his relationship with his father. There's more to it than just being a baseball fan and having been in Kansas City for a number of years. He's kind of carrying the torch for his father. He's not replacing him as the fan, but the education he got from John taking him to baseball games there is irreplaceable, and now it's the passing of the torch for him to carry on with it."
My dad was from a small town in New Jersey not far from the heart of New York City. Though he and his family were Yankees fans, it came as no surprise to my uncle when his younger brother decided to adopt the Royals – the Yankees' polar opposites in payroll and success – as his new team.
"John was the constant optimist," said Frank. "He would always look at their young talent and say, 'If they grow these young guys, get a little pitching, they'll be good.' They might be 20 or 25 games under .500 that year, and he'd say. 'Just wait 'til next year.'"
*****
After three years in Alabama, Mike is back at Fort Riley – just in time to cheer his favorite team through its first postseason since 1985.
With his hands clenched and excitement in his eyes, Mike watched every second of the Wild-Card Game against the A's, an extra-inning affair in which the Royals came from behind three times, including once in the ninth and again in the 12th, before winning 9-8.
"That was the story of this whole season: ups and downs, highs and lows," said Mike. "It was without question the best baseball game that I've ever watched. It was awesome."
Five days later, after a pair of 11-inning wins against the Angels in Anaheim, the Royals were back at Kauffman Stadium for Game 3 of the Division Series. Mike wouldn't miss it. The Royals had been there for him, so he would be there for the Royals.
"The seats I sat in were actually pretty close to the seats we had for that Cubs game Dad took me to on my birthday when I was a kid," he says. The emotions began to seep in. Mike swallowed and paused before continuing. "It's the memories, you know? You look around the park and remember, that's where we sat for that game, or, that's where we sat for that game.
At times it's painful for Mike to watch. He can't see a game without wishing our dad was by his side, but he's never wavered in his devotion to the Royals. "It's been the positive side of things," he says. "From throwing the first pitch to going to the All Star Game [at Kauffman] in 2012 to now this, it's been the part of the past four years that has kept our spirits up. It's just been fun following them."
Mike will continue to follow the Royals in the ALCS. He's hoping to make it to the K again, but even if he doesn't, he will continue to laugh and yell and cheer. He'll continue to remember the good times and the bad times. And the Royals – every pitch, every hit, every game – will continue to help him heal.
"There are only four times I have ever seen Michael cry: at our wedding, when John was killed and when each of our two daughters were born," says Angela. "I wouldn't be surprised if the fifth time would be if the Royals win the World Series. He's that passionate about this team."
As I have watched my older brother celebrate during this monumental time in the team's history, I can't help but realize how much he reminds me of my dad. Win or lose this October, Mike will continue to love the Royals. Watching them with our dad was their thing. Our dad may be gone, but it is still, and always will be, their thing.
Kelly McHugh is a freelance writer based out of Manhattan, Kans. Follow her on Twitter @kmchugh07.