David Eckstein thrives post baseball with an out-of-this-world business
David Eckstein always seemed a little out of place in the baseball world. He was listed, generously, at 5-foot-7, 175 pounds, and seemed closer in stature to the batboys than to his peers. He crowded the plate in a low, wobbly crouch while choking up nearly three inches, and he fielded his position with even less grace: a shortstop and second baseman, he didn't throw the baseball as much as shot-put it, as if every toss across the diamond required the physical effort of scaling Kilimanjaro. "My arm looks terrible," says Eckstein, now 39 and four years into retirement. "I still hate watching myself throw on old highlights."
The numbers from his itinerant 10-year major league career tell the story of a solid and steady, if not spectacular, infielder: 1,414 hits, .280 career average, five teams, two All‑Star elections and two World Series rings (one with the Angels in 2002, the other with the Cardinals in '06, when he was Series MVP). But the story of Eck -- the one about a 19th-round draft pick out of the University of Florida in 1997 who became something of a baseball folk hero -- was always told not with statistics but with adjectives from The Little Engine That Could. It's the tale of the undersized overachiever who, by sheer effort and determination, overcame his limitations and made it to the big leagues.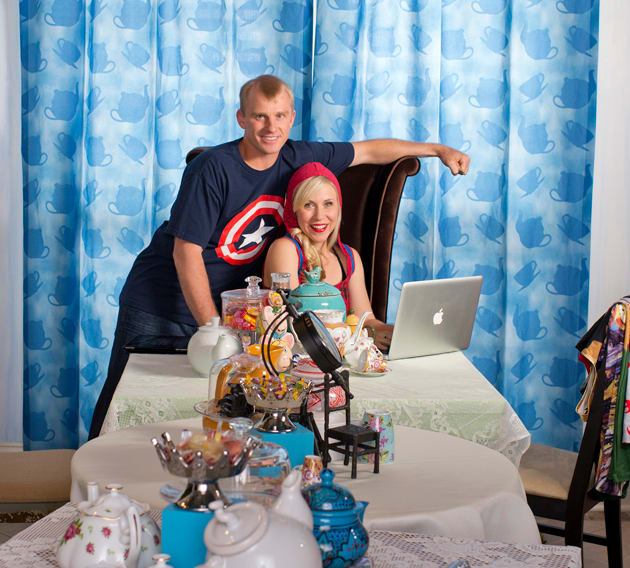 If his career in baseball was unconventional and surprising, his postplaying life is turning out to be even more so. After an injury-plagued final season with the Padres in 2010, he received multiple contract offers (he even got a call from one team in '12, after a year away from the game), but he wanted to turn his full attention to the business that he and his wife, Ashley, had founded in '10. Her Universe, a company that produces a fashion and accessories line for female sci-fi fans, was Ashley's brainchild, and it was entering what Eckstein saw as its make-or-break third year. Says Eckstein, "After all the years of her making my career a priority, it was time to make *hers a priority."
Yes, their husbands are paid well, but baseball wives still get a raw deal. Their spouses are on the road half the time for all but four months of the year. Even when they're home, they work nights and weekends and sleep late. Two years after the Ecksteins were married in 2005, Ashley took a step back from her on-camera acting career -- she'd appeared in small roles in film and TV -- to move wherever David's career took him, from St. Louis to Toronto to Arizona to San Diego. As she hopscotched around the country, she landed a gig doing voice-overs on the animated series Star Wars: The Clone Wars playing the character Ahsoka Tano.
After storied career, Cal Ripken Jr. finds success in business
David jokes that she came up with the idea for Her Universe "because Ashley wanted a T-shirt," though it's not much of an exaggeration. After beginning work on The Clone Wars, Ashley noticed that almost all of the apparel for the Star Wars franchise was designed for men. Using actress Alyssa Milano's successful business designing and creating MLB merchandise for women as a model, Ashley did some research. She found that close to half of all sci-fi fans are women, as are 45% of sci-fi convention-goers. "Eighty-five percent of all consumer purchases are [made by] women," she says. "So why wouldn't you give us something to buy?"
Ashley asked that question while sitting in a conference room in a warehouse in the San Fernando Valley. The Ecksteins live in central Florida, but the company is based out of the New York and L.A. offices of The Araca Group, their corporate partner. Most of the small group of about 10 people who design and produce Her Universe merchandise work out of the L.A. office. Sitting at her side was her husband and business partner, who matched her enthusiasm and finished her sentences.
Dressed in jeans and sneakers, the pair resembled extras from the set of Glee, and they might be just as unlikely to run a successful business. Before they started Her Universe, neither had any background in business or even imagined that they would be entrepreneurs one day. Ashley's career had been spent in front of cameras. David's only business venture did not exactly secure his future: In 2006, fresh off his World Series MVP, he partnered with a food company to start his own brand of cereal. A few months after Eckso's! went on sale, Eckstein was in a supermarket in St. Louis when he saw boxes of the cereal...in the discount aisle. He brought a box to the checkout counter, and the cashier said, "When are these athletes going to learn that this stuff just doesn't work?"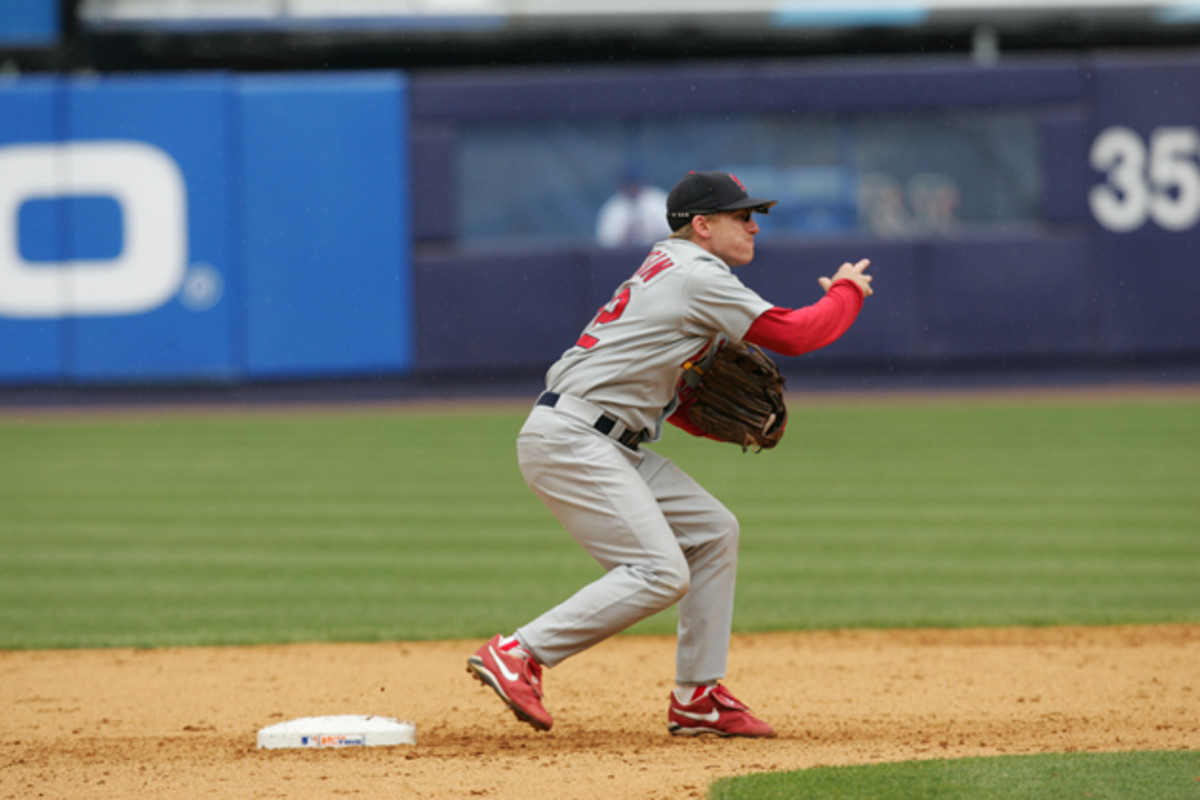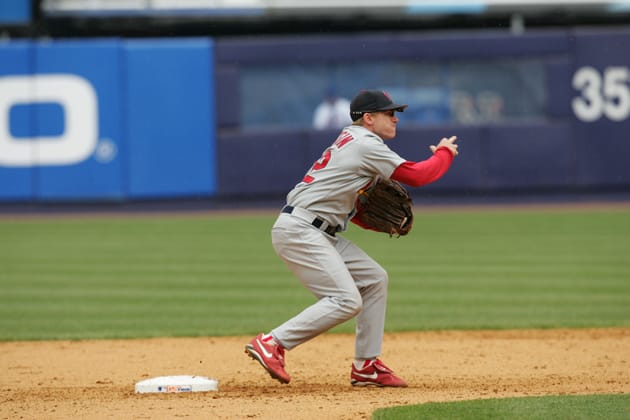 ​Sci-fi merchandise -- T-shirts, dresses, hats, scarves, hoodies -- for fangirls may sound as doomed as Eckso's!, but Her Universe has been more successful than the Ecksteins could have imagined. It's grown into a multimillion-dollar business, and it's expanding.
"Similar to David's career, we really had to defy the doubters and defy the odds," Ashley says. "The giants in the industry, they wanted to squash us." At the outset Ashley approached LucasFilm about a licensing deal, but the company told her no. Twice. It was only after she partnered with The Araca Group, a large brand management company, that LucasFilm took her seriously, eventually granting her licensing rights. Her Universe now includes merchandise from Marvel, Star Trek, Battlestar Galactica, Doctor Who and The Walking Dead, among others. The bulk of the Ecksteins' time is spent in meetings with potential partners as they seek new licenses. Says Ashley, "Once David retired, it was unreal. I didn't realize it, but I did need his help. He isn't in on every call, but he's in on all the financial decisions and comes to all the big meetings. If we have a new deal, he's my closer."
While Ashley is a cult celebrity for her role in The Clone Wars, in its seventh season, David is truly an alien in the sci-fi world. At conventions, where Ashley is hounded by autograph- seekers, David stays in the background. When he's pulled into conversations with fans who have no idea that they are talking to a former major leaguer, Eckstein tries to hold his own.
At his first convention he called a light saber from Star Wars a life saver. "That was mortifying," says Ashley. Says David, of fitting in, "It is getting easier. I was once having this conversation with this guy about how excited he was to go play Dungeons and Dragons in the basement. He kept referring to LARPing" -- live action role playing -- "and let's just say the conversation was very quiet from my end. Now? I know all about it. It's funny, LARPing in the basement may sound strange to a lot of people but when you boil it down, it's really the same thing as playing fantasy football -- you tell someone who's not a sports fan what you do, and they're like, You draft what and you do what? The two worlds don't really mix, they would never admit that they're alike in any way, but with the level of passion, they're exactly the same."
He is not yet spending his nights LARPing, but Eckstein clearly enjoys his new life, immersed in Her Universe. The business part of the job feeds the competitive side of him. "Playing for managers like Tony La Russa and Mike Scioscia, they break down games and they foresee something that may be a 1% possibility, but they've already thought that through," he says. "To take that to the business world when you're trying to launch your own company—to try to explore and think out every possible outcome—has
been invaluable."
'Golden Bear' Jack Nicklaus is cultivating an empire built on golf
Still Eckstein's true love remains baseball. At the warehouse -- while Ashley was on a conference call -- he was far more interested in talking about the pennant races than the new season of Doctor Who, touching on every baseball topic from bean balls ("The game is best when it's policed by the players") to the rise of statheads.
Eckstein volunteers as a coach at local high schools and for Team USA baseball, and it seems inevitable that sooner or later he will be back in baseball full time, likely as a front-office executive. "I'm waiting for that call," says Ashley, "when a team comes calling and I say, You have to take that job."
At the moment, though, David and Ashley have a business to run. They still see their company as the little T-shirt operation that could. What fuels David in his baseball afterlife is not unlike what motivated him all those years in the game. "The one thing you should not tell us is no—that we can't do something," he says. "Because we'll do everything we can to prove you wrong. That's the story of my life."