A's radical roster re-do just part of larger trend around baseball
The Oakland A's are revamping once again, but for Billy Beane, there's a method to all this madness, and it's part of a bigger trend in baseball.
Oakland general manager Billy Beane traded five All-Stars in six months, turned over his entire infield and half his roster, sent packing half of his top 10 prospects and lost so much power he has nobody left who hit more than a dozen home runs last year. All of which somehow leaves the Athletics with a team that can compete for a fourth straight playoff spot, even if today the AL West rival Mariners and Angels look better on paper.
Just don't blink. It could change again any day now. Beane operates in constant makeover mode. Running one of the last two franchises with an outdated ballpark (Tampa Bay is the other), Beane makes no long-term plans. He operates in six-month cycles. Turn over the roster in the off-season and re-assess the state of the team at the trading deadline, which invites more churn. Ben Zobrist is here today and, like Yoenis Cespedes last July, could be gone in six months.
Athletics in 'win now' mentality with acquisitions of Zobrist, Escobar
"I'll say this about Billy: He's trying to win in the major leagues every year," said a rival talent evaluator. "He's not so concerned about the minor leagues. He doesn't care if people say, 'You have a great minor league system,' the way some GMs do. He's focused on winning in the major leagues. That's it. [Brian] Sabean operates the same way with the Giants. They don't care what people say about their minor league system."
Over the past two years, Baseball America has picked 18 different players among the top 10 prospects in the Oakland system. Beane has traded nine of them, including five of the 10 names on the list at the start of last season. Who else would trade his organization's two best shortstop prospects (Addison Russell and Daniel Robertson) six months apart? Robertson helped get the double-play combination from the Rays, Yunel Escobar and Zobrist, who join third baseman Brett Lawrie and first baseman Ike Davis in the all-new Oakland infield.
• JAFFE: Winter Report Card: Rangers flunk off-season with puzzling inaction
Beane's greatest fear is not a trade that haunts him; it is a rebuilding trough. From 2007 to 2011, for instance, Oakland failed to put a winning team on the field for five straight years, and the Athletics finished in the bottom three in attendance in the league every year.
So he makes do with pieces, like a kid with a bucketful of Lego blocks and a creative mind. He does not have a single player an opponent can tout for ticket sales when Oakland comes to town, but what he lacks in stars he makes up for with flexibility: five or six outfielders, three first basemen, three middle infielders, 10 starting pitchers, an all-righthanded and an all-lefthanded lineup. Mark it down right now: Manager Bob Melvin, who has a deft touch for this kind of creativity, will lead the league in lineups used this year.
"The one move I question is the trade of [third baseman Josh] Donaldson," the rival said. "You can have all the complementary pieces you want, but you still need the one guy in the middle of the lineup. You still need a hub to the wheel. They will miss those 30 home runs."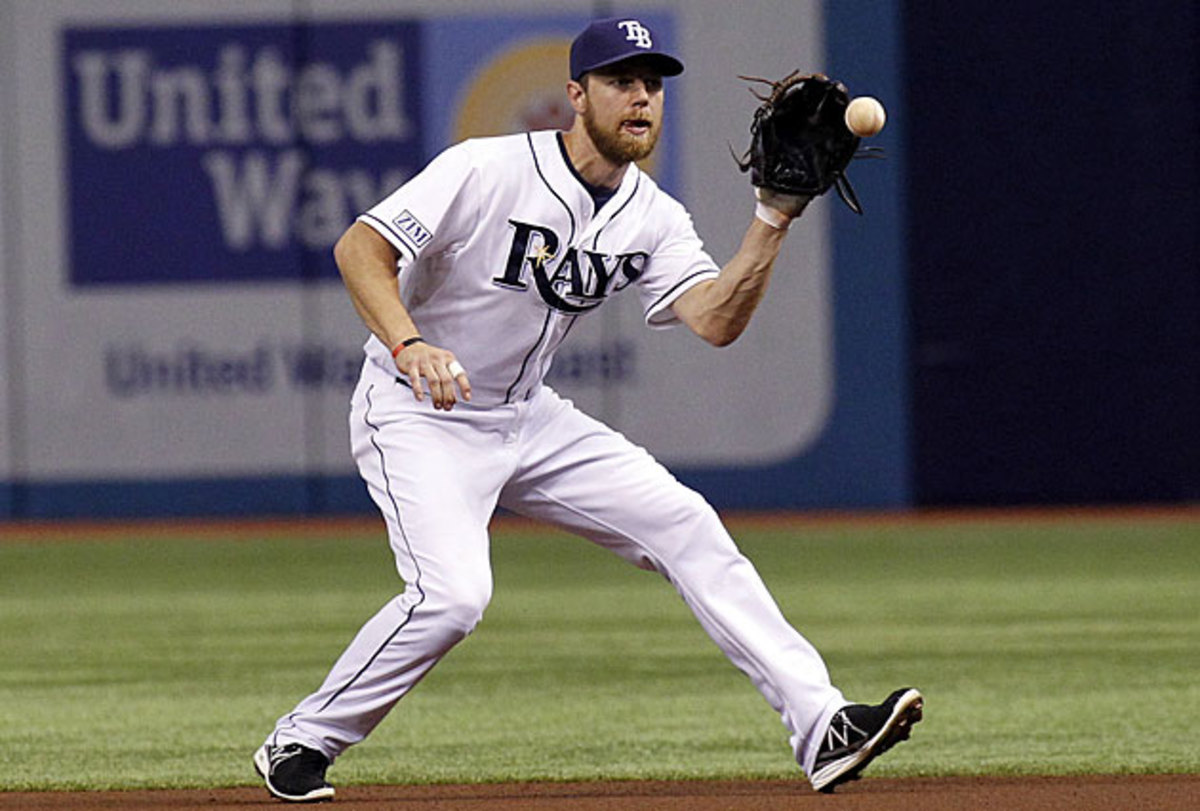 Beane's methodology is extreme because he works in a unique market. But other teams show some of the "flexibility" dynamic on which he has built his roster. Yankees GM Brian Cashman, having so far this winter resisted the usual big-ticket item, is touting the team's multi-purpose players and lineup options. Baltimore and Pittsburgh have built playoff teams in recent years by relying on quantity in the rotations rather than prototypical aces — having pitchers with minor league options in the fourth and fifth spots essentially creates a fluid six- or seven-man rotation. The Red Sox are deploying a similar approach in life after Jon Lester.
As pitching staffs have grown from having nine or 10 men to 12 or 13, in order to accommodate specialized relief pitching, the fewer spots left for bench players must be filled by players who can handle multiple positions. The results are thin benches and a decrease in offense. Since MLB expanded to 30 teams in 1998, the six seasons with the fewest plate appearances by substitutes have all come in the past six years. Everybody wants a "super-utility" guy. Beane's is Marcus Semien.
Beane may be the extremist when it comes to roster shuffling, but when you look around baseball, you see something happening that does put a premium on roster flexibility: The set lineup is losing its hold. Last season, only 56 players appeared in 150 games — the fewest such players in 22 years (back to when there were four fewer teams) — and down from 90 such players in 1998. Only 37 players took 650 plate appearances — the fewest in any full season since 1991 — and down from 64 in 1998.
• CORCORAN: Winter Report Card: Astros bolster 'pen but not much else
Once traded, Johnson, Martinez and Smoltz headline Hall of Fame class
How can it be that training methods have improved and yet players hold up worse over six months? The answer might be traced to Nov. 16, 2005. That was the day Major League Baseball and the players association agreed to stricter steroid penalties (first offenses, for instance, called for 50-game suspensions, up from 10). But, with far less fanfare, that was the day the two sides also agreed to ban amphetamines.
Steroid testing has changed bodies and helped to dial back ridiculous offensive numbers. But the ban on amphetamines also has changed the game, albeit in more subtle ways. Teams can't run their regulars out on the field day after day without the illegal performance enablers once so common in the game.
"All you have to do is look how different the day games are," said one club executive. "The games go faster. There's no offense."
Said one infielder, "People don't understand what a grind it is. Say you play a night game. Well, you're still wired when the game ends. It's not like you go to bed right away. You need time to wind down, and maybe you have a beer or two or Nyquil to help. That next morning when you have a day game comes real quick."
Joe DiMaggio played 87 percent of his career in daylight and said the increasing popularity of night baseball hastened his retirement. DiMaggio hit 37 points higher in day games (.329) than at night (.292).
What's He Really Worth: James Shields a stretch at $100 million
Throughout most of baseball history, offense went up in day games. Hitters would tell you they could see the ball better in daylight than under the lights. In many ballparks, the baseball carries better in warmer, daytime air than at night. Every year from 1998 through 2005, runs per game were higher during the day than at night. That changed in 2006 — the first year of the amphetamines ban. Since 2006, night games have seen more runs per game than day games in seven of the nine years. In some cases, the margin is minimal (8.14-8.12 last year, for instance) but the trend holds up. Night OPS has exceeded day OPS 10 straight years.
"I notice it late in the year," said one pro talent evaluator. "The dog days are the dog days again. You can see guys dragging in August."
Major league hitters batted .250 last August. Only five seasons in the past century saw worse hitting in August: one in the Deadball Era (1916) and four in a window of such poor hitting (1967-72) that the owners invented the DH.
The prevalence of better pitching, defensive shifts and a lower strike zone have been the biggest contributing factors to this pitching-dominated era. But more days off for regulars are a factor, too. The average number of players who took 650 plate appearances in the nine years since the ban has dropped 20.4 percent as compared to the eight years before it; the average of 150-game players has dropped 10.4 percent.
What's He Really Worth: Can Scherzer live up to big money demands?
Owners and players moved to ban amphetamines in part because of pressure from Congress and in part because commissioner Bud Selig was moved by the input from team doctors and trainers, who spelled out the health hazards (heatstroke, heart attacks, addiction and even death). When the amphetamine ban took effect in 2006, Toronto manager John Gibbons told reporters, "I'm sure there's been some guys who have been using it for a number of years. Like anything else, some do, some don't. I guess we have to see when there's day games after night games."
We are entering the 10th season since the ban on amphetamines. Everybody would prefer a set lineup, but the days of teams such as the 1977 Reds, 1978 Expos and 1989 Cardinals — the only NL teams with eight position players to appear in 140 games — are long gone. In times like these, a flexible roster stocked with players who can play multiple positions and pitchers who can start or relieve has some value.
These Athletics may lack enough power, especially if outfielder Josh Reddick, newly acquired designated hitter Billy Butler and Davis don't have bounce-back seasons. And they are not as good as the Oakland team last year that had best record in baseball on July 31 (66-41). But they do have a flexible roster, and they have done enough to keep themselves in the thick muddle of teams in the age of the second wild card: the many teams just good enough to win a few more games than they lose, which is good enough to get to July with a chance.