Max Scherzer's massive contract proves that his big bet paid off
Players and executives called Max Scherzer a fool for turning down the Tigers' $144 million offer last year. But as his $210 million deal with the Nationals proves, it's a bad idea to bet against Mad Max.
One afternoon last April, Max Scherzer sat in a room at Comerica Park and, like the guest you're glad to be seated alongside at a party, held forth on a range of subjects. He talked about everything from tearing through an entire season of Breaking Bad in between games during the Tigers' 2013 postseason ("Great show, but I wish Walter White would have gotten away with it") to his time-sucking habit of tumbling into "Google free falls" ("When you start reading one story, click a link to another, and then two hours later you're still reading — the other day it was this new material they discovered, graphene"). There was only one topic that he steered clear of on this day: the little matter of him turning down $144 million.
"If you want to know the truth, I really couldn't care less what anyone thinks about it — and that's pretty much all I'll say," he said of his much buzzed-over, much-criticized decision a few weeks earlier to decline a contract offer from the Tigers.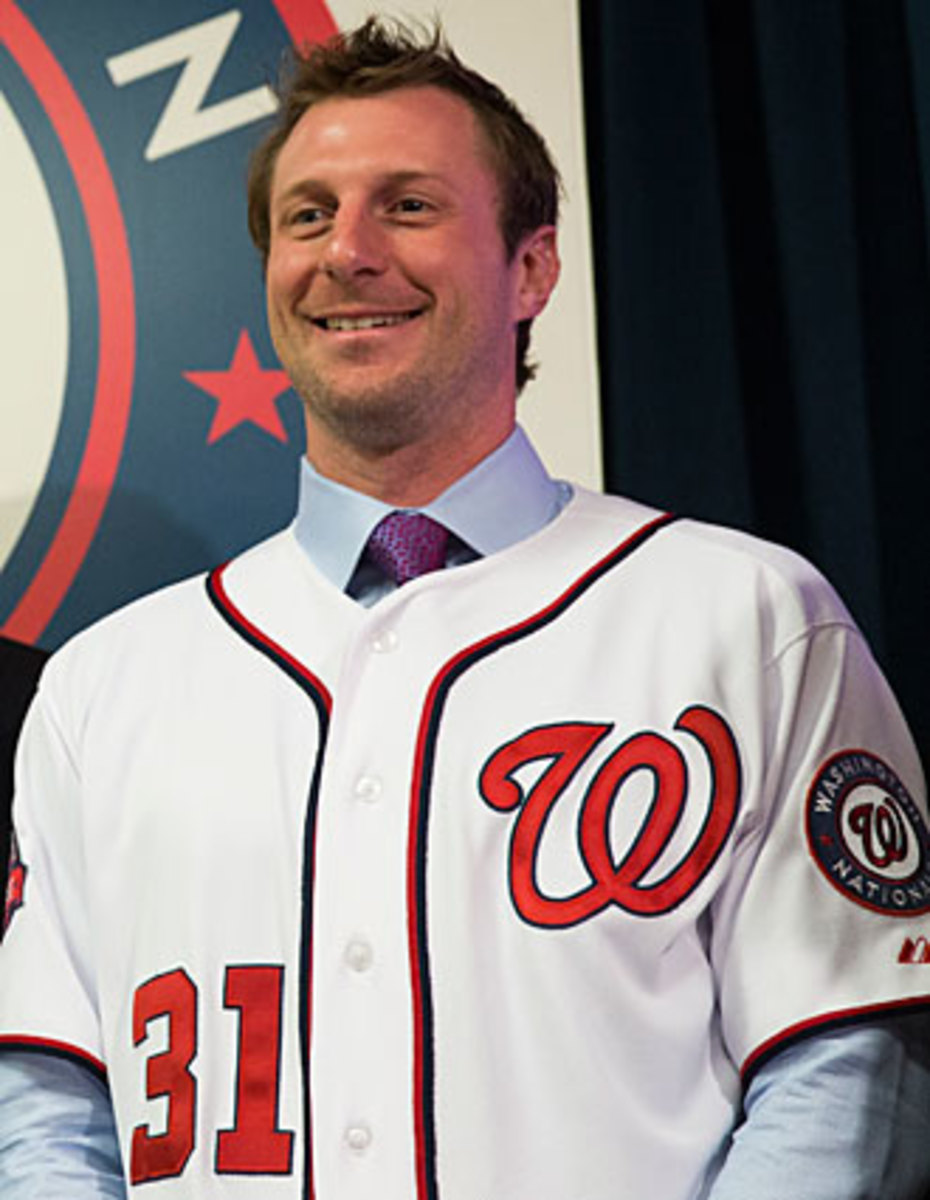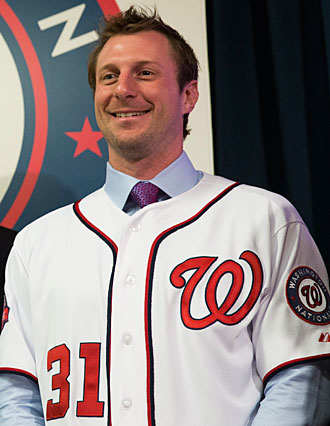 ​He had just made one of the gutsiest bets by a ballplayer in recent memory, but Scherzer's face bore the calm self-assuredness of someone who was certain he held a winning hand. Of course, he didn't know then that he would stay healthy through the 2014 season, nor did he know that he would go on to have another stellar year, a strong follow-up to his 2013 AL Cy Young season. He didn't know yet that the Nationals would enrich him with a seven-year, $210 million contract, the largest ever given to a righthanded pitcher and the biggest ever for a pitcher in free agency. At the time, Scherzer was being second guessed by the media, by opposing team executives, by his own peers, for a move that to many seemed like a reckless roll of the dice.
"You want to know the truth? I think he's crazy," said one former All-Star pitcher last summer. "To turn down that kind of money… let's just say I wouldn't be able to do it. Not many people would."
Anyone who knows the 30-year-old Scherzer is aware that there are few players as competitive and cerebral as he is. He had a 3.9 GPA in high school, was a finance major at Missouri and, with his mathematical background, can talk every advanced stat in the sabermetric dictionary and break the game down into a string of probabilities. Scherzer's big bet was a shrewd, calculated business decision that factored in the inherent risk (an injury or regression in 2014 could have cost him millions) and also the recently signed seven-year contracts of Dodgers ace Clayton Kershaw ($216 million, the most ever for a pitcher) and Detroit teammate Justin Verlander ($180 million).
Max Scherzer agrees to seven-year, $210M deal with Nationals
You can argue about the true value of Scherzer's deal, but there's really no way around the bottom line: Mad Max's bet paid off, big. Not only is he getting more money than he would have a year ago, but he has also landed in an ideal situation, with a franchise that has won two of the last three NL East titles and is positioned to contend for years to come. That the window for winning a World Series championship in Detroit was clearly closing certainly factored into the decision. For Scherzer, this could not have played out any better.
"When he walked away from the money, I was certainly one of those whose eyebrows were raised," one AL executive said this week. "And you have to remember the climate in the game: with all the pitchers breaking down and the talk about the Tommy John epidemic."
What are Tigers' options for replacing Max Scherzer in rotation?
On Wednesday, Scherzer met the media in D.C. and looked and sounded like a very happy man. "This organization is capable of winning, and winning a lot," he said in his press conference at Nationals Park. "This is a team that can win now, and in the future. When you sign up for seven years, that's something you want to be a part of. You can offer as much money as you want, but if you're going to lose, it's not worth it. When you talk about the next three to five years, this is the team you want to go to."
In the end, Scherzer's big bet was based on his belief that his Cy Young campaign wasn't an outlier but rather the start of a new chapter in his career. To hear him tell it, he became a different pitcher when his curveball developed into a weapon against lefthanders. He hadn't thrown the pitch since high school and only stumbled onto it during a 2012 bullpen session with pitching coach Jeff Jones, but over the last two years, the curve has become an essential part of Scherzer's repertoire. "As far as me being able to take the next step and reach a new level, that moment was huge," he said.
Scherzer has always been something of an odd duck, an outlier and a contradiction. He is one of the top strikeout artists in the game — his 723 strikeouts the past three seasons combined are the most in baseball — despite throwing one pitch (his fastball) more than half the time (53.1 percent in 2014, according to Fangraphs). He can be overpowering, yet, as has been pointed out elsewhere, he has been hit hard by the balls he has allowed to be put into play. And then there's his delivery, which has always looked like a horrific arm injury waiting to happen. Standing on the mound with his 6-foot-3, 220-pound frame, he can look like a prototypical pitcher, and then he begins his delivery, and it's apparent that he's anything but: All the stored energy is released with a violent flourish in which his head jerks at the release, like a doll's, as if it's about to snap off.
The motion is a Category 5 hurricane of rotational velocity, with extreme momentum. Even though there's no hard evidence that certain types of deliveries are more of a health risk than others, there's an still an assumption that mechanics like his put a hurler at risk of injury. The truth is, when it comes to how throwing motions relate to arm injuries for young pitchers, the industry is just about as clueless as it is about pitch counts, and Scherzer has started 30 games in all six of his full seasons and logged at least 187 innings in each of the past five years.
Strasburg or Zimmermann: Who is better bet to stay with Nationals?
The best predictor of future injury is past injury, and as long as Scherzer continues his trend of staying healthy, he will be one of baseball's top pitchers in in 2015. There are other reasons to think he is headed for a monster season: He's going from the AL to the NL; from a club with one of the the worst defenses in the game in Detroit to one of the better ones in Washington; and from the AL Central to the NL East, which has two teams — Philadelphia and Atlanta (both of whom look like they could have historically bad lineups in 2015) — in tear-down mode. In fact, given the ballpark, the league and the team behind him, Scherzer could be a top-end starter well into his 30s.
Five years ago, the Diamondbacks, the team that made Scherzer a first-round draft pick in 2006, dealt him away because they thought it was a matter of time before he broke down. So far, they've been wrong. We know that pitchers are as volatile as tech stocks. We know that these types of contracts don't usually end well.
But by now we should all know this, too: You shouldn't bet against Mad Max.