SI cover: 2015 MLB Preview: It's anyone's year
SI cover: 2015 Major league baseball Preview issue: It's anyone's year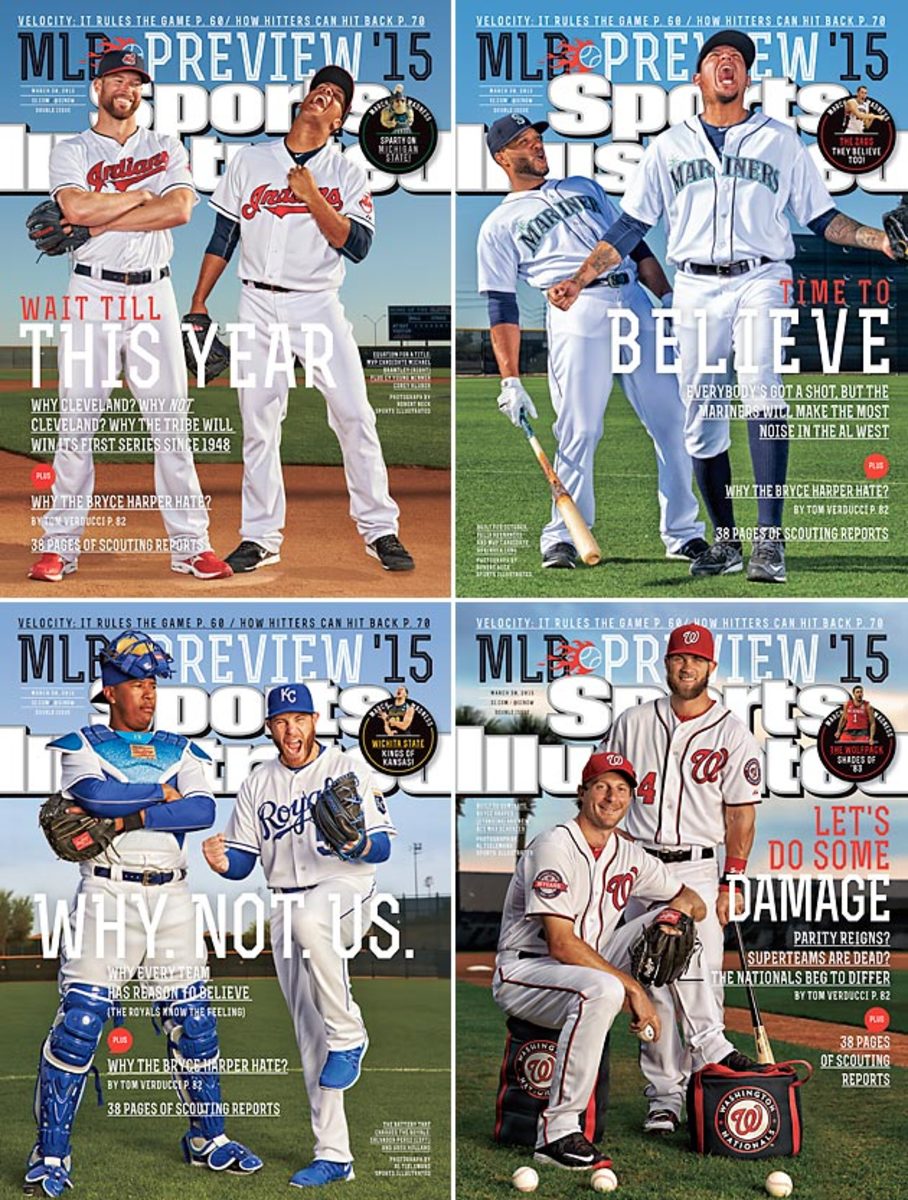 In 1987, Sports Illustratedanointed the Cleveland Indians as favorites to win the World Series.
With Joe Carter (who would have his own World Series moment years later) and Cory Snyder on the cover, SI declared that "Cleveland is the Best Team in the American League."
No, this is not the script of the movie Major League, as the previous five seasons before 1987, Cleveland finished 5th, 7th, 6th, 7th and 6th in the American League East.
The 1987 season was no different. An Indians pitching staff that featured two aging future Hall of Famers was pummeled, allowing an absurd 957 runs with a team ERA of 5.28. Cleveland finished with baseball's worst record at 61-101, 37 games behind division winner Detroit.
The losing would continue for the next seven years before a breakout season in 1995, when the Indians went to their first World Series since 1954. (The Indians were beaten in six games by the Atlanta Braves).
So what makes this year any different?
Cleveland hasn't won a World Championship since 1948 but boasts loads of talent, with leftfielder Michael Brantley, first baseman/designated hitter Brandon Moss, first baseman Carlos Santana and reigning AL Cy Young award winner Corey Kluber, who went 18-9 with a 2.44 ERA, 1.09 WHIP and 269 strikeouts last season.
It could be anyone's year in 2015, when smart free agency moves and development of young talent can be bring perennial cellar-dwellers to the pinnacle of a title.
The Washington Nationals, Seattle Mariners and World Series runner-up Kansas City Royals (all featured on covers of SI this week) each have the potential to hoist the crown this season.
For more on the 2015 MLB Preview, check out this week's Sports Illustrated (subscribe here).
Also in this double issue: Continuing coverage of the NCAA tournament, the legacy of Steve Nash, 38 pages of MLB scouting reports, and profiles of Pittsburgh Pirates manager Clint Hurdle and Nationals outfielder Bryce Harper.
Subscribers and newsstands on the East Coast will receive the Nationals cover.
Subscribers and newsstands in Ohio, Michigan, Indiana, Illinois, Western Missouri, Iowa, Minnesota, Wisconsin, North Dakota, South Dakota and Nebraska will receive the Indians cover.
Subscribers and newsstands in Missouri, Montana, Wyoming, Colorado, Kansas, Oklahoma, Arkansas, Louisiana, Texas and New Mexico will receive the Royals cover.
Subscribers and newsstands in Washington, Oregon, Idaho, California, Nevada, Utah, Arizona, Hawaii and Alaska will receive the Mariners cover.
Not in the area to buy the regional issue? Buy single issues here.
2015 Sports Illustrated Covers
2015 Sports Illustrated Covers