Opening Day: Season-long storylines from coast (Trout) to coast (Tanaka)
Mike Trout, with a home run but three strikeouts in the Angels' Opening Day loss, was the biggest storyline to keep an eye on after the first full day of the season but far from the only one.
Opening Day is the ultimate small sample, just one spoonful from a 162-game barrel. But it also gave us plenty of storylines to watch as the season unfolds. Here are a few of the biggest first impressions.
1. Mike Trout
He is the best player in baseball, but imagine if Trout, a career .361 hitter when he puts the ball in play, struck out "only" 134 times—which would be 50 fewer punchouts than he had last year.
"It's something we're working on—not only Mike, but the whole team," Angels hitting coach Don Baylor said recently. "He's too good of a hitter to strike out 184 times."
Last year Trout joined Bobby Bonds of the 1969 Giants as the only players to lead the league in runs while striking out more than 180 times. His extraordinary skills and the one flaw in his game were both on display Opening Day in Seattle. Trout crushed a first-inning home run off Mariners ace Felix Hernandez when Hernandez didn't elevate his fastball enough and he later robbed Logan Morrison of a home run with a leap at the centerfield wall. Alas, he also whiffed three times—twice on his Kryptonite: high fastballs.
"He's working on it," Baylor said of the weakness against high fastballs. "You can do high tee drills, but the important thing is what Carl Yastrzemski told me years ago: keep your hands above the baseball."
Trout's strikeouts also are a product of his selectivity at the plate. Last year only two hitters in the league swung at the first pitch less often than he did (J.J. Hardy and Dustin Pedroia). Only six hitters in the league looked at a greater percentage of strikes than did Trout (who took 36 percent of his strikes without swinging.)
"When I asked him about it he said it's something he's done his whole life," Baylor said. "I think he's getting better, but he's just very comfortable taking strikes early."
It was the 27th time in his career Trout has struck out three times in a game. Hank Aaron did so only 20 times in his 23-year career, and Joe DiMaggio did it just once in his 13 seasons.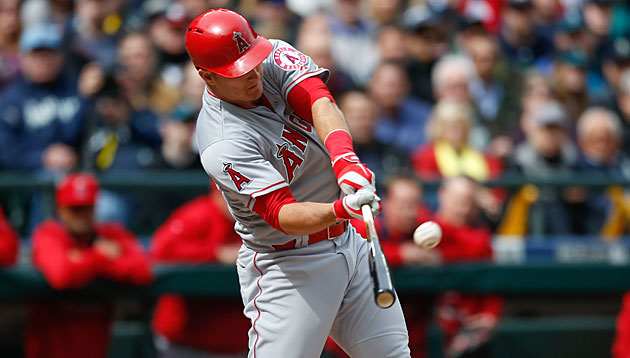 Yes, the Yankees ought to be concerned. Forget that Tanaka threw only six four-seam fastballs against Toronto. The four-seamer is his worst pitch. Hitters slugged .683 against it last year. As a drop-and-drive pitcher, Tanaka doesn't generate much of an angle on the pitch, and scouts had predicted it would create home runs. (He gave up eight homers last year on four-seamers, as many as all of his other pitches combined.) Anyway, he had said in spring training that he would not have the same velocity this year and would rely more on the two-seamer.
The concern is that the tear in his ulnar collateral ligament, which forced him to miss almost all of the second half last season, is not just affecting his four-seamer but all of his pitches. When you compare his stuff Monday to his first start of last season (also against Toronto) you find that his slider also lost velocity (84.9 mph to 82.4 mph) and so did his splitter (88 mph to 86.4 mph). His pitches simply didn't have the same finish to them.
It's only one outing, but it recalled what Pedro Martinez said on Sirius XM's Mad Dog Radio last week: that Tanaka was "hesitating to throw his fastball, and he's hanging every breaking ball he's throwing out there." Said Martinez, "I don't see him healthy all year."
3. Pace of Game
A very odd but welcome sight occurred in Oakland on Monday night: an umpire (Bill Miller) actually told a batter (Texas' Adrian Beltre) to stay in the batter's box between pitches. Now, some umpires are choosing to do nothing about wandering hitters, but the keep-one-foot-in-the-box rule at the very least has heightened player awareness about ridding the game of some of the unnecessary dead time caused by player dawdling.
Opening Day recap: best games, top performances, top plays, more
Will the pace of games rules, which included a countdown clock between innings and pitching changes, make a difference? The first impression is an emphatic yes, even if the difference is small.
Last year only 14 percent of all games were completed in less than 2 hours, 40 minutes, while 81 percent of games took at least 3 hours, 10 minutes.
Including Sunday's Cubs-Cardinals game, 47 percent of Opening Day games this year (7 of 15) were completed in 2:40 or less, and only one game took longer than 3:04, the average time from last year.
Ok, ok; small sample, ace pitchers, yada, yada, yada . . . Go ahead and scoff, especially when we start to see number five starters take the mound. But the point is that baseball is doing something about moving games along, and if we're lucky, this trend in average time of game will turn around:
2010: 2:55
2011: 2:57
2012: 3:00
2013: 3:04
2014: 3:08
2015: 2:49
No, they are not the same pitcher, though you can be excused for thinking so based on their career statistical similarities:
| | | | | | |
| --- | --- | --- | --- | --- | --- |
| Pitcher | W-L | ERA | FIP | IP | ERA+ |
| Phil Hughes | 72-60 | 4.32 | 3.96 | 990 1/3 | 97 |
| Rick Porcello | 76-63 | 4.30 | 4.03 | 1,073 1/3 | 97 |
You know the real difference: Hughes signed an extension with Minnesota four months ago that will pay him $58 million over five years. Porcello signed an extension with Boston on Monday that will pay him $82.5 million over four years.
How is it possible that Hughes is worth $11.6 million per year and Porcello is worth $20.6 million? For one, Hughes was under contract to the Twins for two more years; Porcello was six months away from hitting free agency, so he had more leverage. But the big difference is age. Porcello, 26, is two years younger than Hughes, 28. The Red Sox placed a premium on buying the prime free agent years of his career: his age 27, 28, 29 and 30 seasons. To buy up those years—and to limit their risk to four years rather than the six-, seven- and eight-year deals that tend to go badly quickly for pitchers—Boston paid a premium in the average annual value.
Picking surprise teams, breakout players and more for 2015 season
Here's another way to look at it: Just 13 months ago the Reds gave $105 million over six years to Homer Bailey, another Porcello look-alike at the time (49-45, 4.25 ERA, 4.00 FIP and 95 ERA+. Cincinnati bought one arbitration year and five free agent years.) The Bailey contract has more risk because it covers ages 28-33.
It may take some getting used to when it comes to valuing a number two or three starter at $20.6 million per year. But two huge factors in player valuation are age and exposure. Boston, ever since getting burned on the seven-year, $142 million contract it gave Carl Crawford after the 2010 season, prefers to overpay on average annual value if it can keep the length of the deal shorter.
How important is age for starting pitchers these days? Among the top 27 qualifiers last year in ERA, 26 of them were 30 or younger. The only exception was 32-year-old Adam Wainwright of the Cardinals.
• SHEEHAN: Presenting SI.com's All-MLB team for 2015
5. Extra Innings
• This is no glove story: David Ortiz of Boston went 0-for-4 while playing first base in Philadelphia, dropping his average while playing the field since 2007 to .214, including .143 over the past two years.
• Not only did umpire Joe West call out the Twins' Torii Hunter on a check swing to end the Minnesota-Detroit game, he also rang up the Tigers' Victor Martinez on a third strike. How rare is that? Martinez looked at strike three only eight times all of last year.
• Chris Tillman of Baltimore picked up where he left off last season, when he went 6-1 with a 2.33 ERA in 14 second-half starts, by allowing just one run in 6 2/3 innings to beat the Rays in St. Petersburg. And common wisdom says the Orioles don't have an ace.
• Jason Heyward looks like a completely different hitter. After being traded to St. Louis in November, Heyward is standing closer to the plate and using a more neutral stride, but the big difference is that he no longer completely re-grips the bat just before the pitcher releases the ball. The result is a much quieter, more efficient swing. Heyward had three hits, two of them doubles, in the Cardinals' 3-0 shutout win over the Cubs on Sunday,
• The pull-hitting Yankees choose to use an old-school offense (lefthanded pull hitters) in a new school game (shifts have cut the batting average on balls in play for lefties to the pull field by 27 points in just the past four years). On Monday the Blue Jays shifted against Carlos Beltran, Stephen Drew, Chase Headley, Brian McCann and Mark Teixeira. New York will be fine as long as it hits home runs—it led the majors with 84 pulled home runs by lefties—but hitters who use only half the field are less valuable in today's game. Last year the Yankees ranked 25th on batting average on balls in play by lefties to the pull field. On Opening Day their lefthanded hitters went 1-for-14 on balls in play to the right side.