Greinke, Kershaw among NL aces hurting as All-Star Game nears
Several of the best pitchers in the National League are hurting, leading to questions for their teams and who will make (and, perhaps, start) the All-Star Game.
Your teams. Your favorite writers. Wherever you want them. Personalize SI with our new App. Install on iOSor Android.
You could form an elite rotation with the NL pitchers who are ailing right now. On Sunday, the Nationals put Stephen Strasburg on the disabled list. On Monday, the Mets revealed that Noah Syndergaard and Stephen Matz both have bone spurs in their elbows. On Tuesday, the Diamondbacks' Zack Greinke left his start with tightness in his left oblique. On Wednesday, Clayton Kershaw will fly back to Los Angeles to consult with team doctors about his lower back woes. Somebody might want to think about wrapping Jake Arrieta and Jose Fernandez in bubble wrap so that the NL has some top-shelf pitchers available for the All-Star Game.
As of Wednesday afternoon, only Strasburg is officially out of service, but it would not be a surprise if at least a couple of those other hurting hurlers wind up on the DL, particularly given the chance to steal a few extra days of rest via the upcoming All-Star break (July 11-14). Here's a rundown of what we know about each pitcher's situation, with the caveat that information about their injuries and prognosis may still be emerging.
Stephen Strasburg, RHP, Nationals
Strasburg last pitched on June 15 against the Cubs. Though he failed to secure a win that would have run his record to 11-0, he did throw seven innings of one-run ball against the NL's top team while striking out eight, his strongest start of the month. He was scratched from his June 20 start, a marquee matchup against Kershaw, due to an upper back strain caused by a weightlifting incident in which he dislocated two ribs, which were then popped back into place by a chiropractor. While Strasburg was able to throw a light bullpen session on June 24 in hopes of taking the ball against the Brewers this past Sunday, his lack of improvement led to another scratch and a DL move retroactive to June 16.
That means he'll be eligible to return July 1, though the Nationals aren't going to rush Strasburg back given his injury history, which has included multiple neck and back issues as recently as last year. The bummer is that he's in the midst of the best season of his six-year career, with a 2.90 ERA (146 ERA+), 2.86 FIP, 11.4 strikeouts per nine (third in the NL) and 3.0 WAR (ninth), the last of which is just 0.5 off his career high, set in 2014, his only season of at least 200 innings.
Straburg's absence did have one benefit for Washington, as it allowed 2012 first-round pick Lucas Giolito to get called up to the majors. In his major league debut on Tuesday. Giolito, a 21-year-old righty who was a consensus top-five prospect coming into this season, threw four innings of one-hit shutout ball in a rain-shortened outing against the Mets; he could get another look on Sunday against the Reds.
Clayton Kershaw, LHP, Dodgers
The three-time NL Cy Young winner leads the league in just about every meaningful pitching category: WAR (4.6), strikeouts (146), innings (121), ERA (1.79), ERA+ (219), FIP (1.68) and walk rate (0.7 per nine). In his Sunday night start against the Pirates, however, he gave up four second-inning runs, and while he finished his six-inning stint without allowing another, it was still his worst outing in two months and just his second non-quality start out of 16 this season. After the game, Dodgers manager Dave Roberts revealed that Kershaw had been dealing with an "off-and-on issue" with his back for the past few weeks. Given that he was still experiencing lower back stiffness in the wake of treatment on Monday and isn't scheduled to start during their current series in Milwaukee, the team sent him back to Los Angeles to see back specialist Robert Watkins.
Dodgers brass believes that Kershaw will be able to take his turn against the Rockies on Friday, and they desperately need that to be the case given the shape of the rest of their rotation, as well as their hopes of contending; at 43-36, they're atop the NL wild-card race but six games behind the Giants in the NL West. Teenage rookie Julio Urias, who notched his first major league win on Tuesday night, is on a start-to-start basis due to his innings limit. Fellow rookie Ross Stripling, who made eight starts and one relief appearance for the team in April and May, was just activated off the minor league DL after having the brakes thrown on his innings pace. Alex Wood is on the DL until at least mid-July due to impingement in his elbow, while Brandon McCarthy and Hyun-Jin Ryu are both at Triple A Oklahoma City, nearing returns from rehab assignments; the former threw 72 pitches on Monday, the latter just 26 in a rain-shortened outing on Tuesday.
Given all that, L.A. is recalling 24-year-old righty Brock Stewart, a 2014 sixth-round pick who began this year at High A Rancho Cucamonga and has since posted a 1.47 ERA with 10.4 strikeouts per nine across three levels, to make his major league debut in Milwaukee on Wednesday.
• Subscribe to get the best of Sports Illustrated delivered right to your inbox
Zack Greinke, RHP, Diamondbacks
Greinke left Tuesday night's start against the Phillies before completing his warm-up tosses in the top of the third inning with what was described as tightness in his left oblique muscle. The 32-year-old righty said after the game that the problem stemmed from swinging the bat in the bottom of the second, when he hit a game-tying sacrifice fly. The injury comes just as Greinke was rounding into form; rocked for a 6.16 ERA in his first five starts after signing a six-year, $206.5 million deal during the off-season, he had posted a 2.58 ERA with eight quality starts out of his next 11, though he's already allowed more earned runs in 109 1/3 innings this year (44, for a 3.62 ERA) than in 222 2/3 innings last year (43, for a league-best 1.66 ERA).
After the game, manager Chip Hale sounded optimistic about pulling Greinke before a minor injury became a major one, saying, "It's something that maybe he can miss a start, possibly not miss a start, possibly at the worst miss 15 days on the DL. You never know. But if you go out and really yank it bad, you're talking about a month or two." Greinke will be re-evaluated on Wednesday.
The underachieving Diamondbacks (36-44 6 1/2 out in the wild-card race) can ill afford a long absence given that none of their other active starters has an ERA below Archie Bradley's 4.50, with Patrick Corbin (4.99) and Shelby Miller (6.79) particularly disappointing thus far.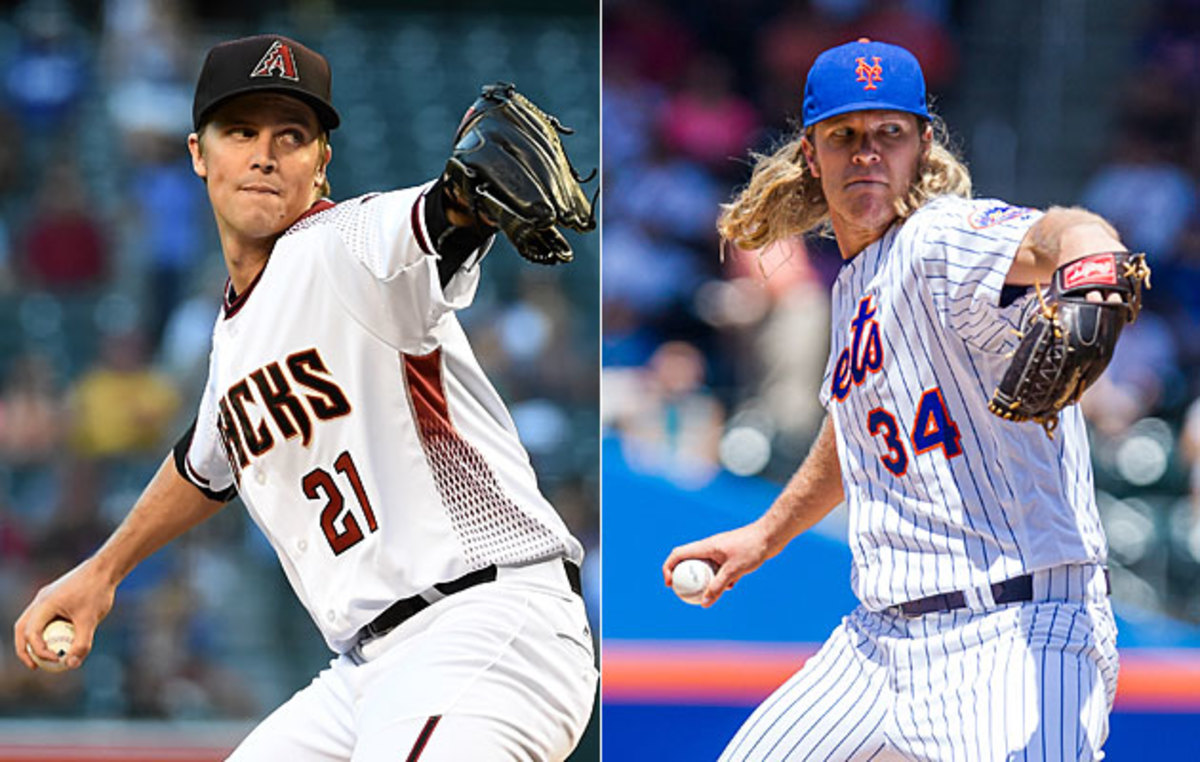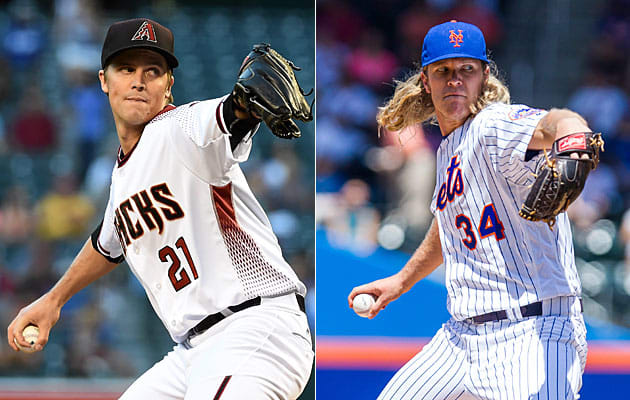 Stephen Matz, LHP, and Noah Syndergaard, RHP, Mets
Mets fans already curled up into the fetal position over the mounting injury toll to their lineup and their subsequent offensive woes (3.09 runs per game in May and June while going 25-29) can't be happy with what's unfolded over the past week and a half. After reporting some tightness in his elbow following his June 18 start, Matz was cuffed for nine hits and six runs in 4 1/3 innings on Friday, after which he spoke of more tightness. On Monday, the Mets confirmed reports that the 25-year-old lefty has been diagnosed with a bone spur at the back of his elbow, one that pushed Wednesday's scheduled start back a day and will eventually require surgery; the question is when, based upon how long he can manage the situation with anti-inflammatories, including a recent cortisone shot. Matz has been assured by doctors that he will not cause further damage to the elbow by continuing to pitch. He's been impressive thus far, posting a 3.29 ERA and 2.94 FIP with 8.6 strikeouts per nine. Surgery would mean six to 12 weeks before he could begin a throwing program, with around another month needed to build up to a starter-level workload.
Like Matz, Syndergaard has shown signs of minor trouble in recent days. He was pulled from last Wednesday's start against the Royals after 91 pitches due to elbow discomfort and underwent an MRI, after which he was prescribed anti-inflammatory medication and allowed to continue his regular routine. Though he reached 100 mph with his fastballs several times in Monday night's start against the Nationals, he lasted just three innings, yielding seven hits and five runs while throwing 71 pitches. After the game, multiple outlets reported that he too was dealing with a bone spur, and while he denied it, on Tuesday general manager Sandy Alderson confirmed that he does have a "very small" spur. Via ESPN's Adam Rubin, Alderson said of Syndergaard, "He doesn't have the level of discomfort that Steven does. And it's really insignificant… I think really what he's been trying to do is not use that as an excuse for the fact that, for example, last night he didn't pitch particularly well."
• 'Out of control': MLB execs on Royals' Yordano Ventura
With Matt Harvey (4.55 ERA) continuing to scuffle, the 23-year-old Syndergaard has emerged as the staff ace, posting a 2.49 ERA (eighth in the league) and 1.91 FIP (second only to Kershaw) with 11.0 strikeouts per nine (fourth). New York is just 40-36, however, five games behind the Nationals in the NL East and half a game behind the Marlins in both the division and wild-card races.
None of these injuries qualifies as major, but it appears quite possible that any of these pitchers selected for the All-Star team could spend that game on the sidelines in hopes of a few extra days of rest. The same probably goes for the Pirates' Gerritt Cole, who left his June 10 start with a triceps strain and last threw 35 pitches in a Tuesday bullpen session, suggesting he's weeks away from a return. We'll get a better idea next week about how this will shape the Senior Circuit's roster for the All-Star Game.