ALDS Rangers vs. Blue Jays preview: Expect another classic brawl in rematch
After last year's memorable ALDS and May's epic fight in Arlington, Texas and Toronto get another crack at one another in the Division Series.
Get ready. Tensions will be high as the Toronto Blue Jays, who beat the Baltimore Orioles 5–2 in 11 innings in the AL wild-card game Tuesday night, face off against the Texas Rangers in the ALDS, in a rematch of last year's frenetic five-game tilt, which the Jays won 3-games-to-2. Toronto is hoping to ride its surprising pitching past the high-octane Rangers offense. Here's the schedule:
Game 1: Thursday, Oct. 6 in Texas, 4:30 p.m. ET, TBS
Game 2: Friday, Oct. 7 in Texas, 1:00 p.m. ET, TBS
Game 3: Sunday, Oct. 9 in Toronto, 7:30 p.m. ET, TBS
Game 4 (if necessary): Monday, Oct. 10 in Toronto, Time TBD, TBS
Game 5 (if necessary): Wednesday, Oct. 12 in Texas, Time TBD, TBS
The Blue Jays won the regular season series 4–3, but Texas won the most recent game, on May 15 in Arlington, one that will be remembered forever for the punch Rangers second baseman Rougned Odor landed on the jaw of Toronto slugger Jose Bautista in retaliation for Bautista's epic bat-flip after his series-clinching homer in the 2015 ALDS. Fisticuffs aside, here are Three Strikes about what to watch for in the rematch.
• MLB postseason preview: Cubs are not the only team chasing history
1. Heavy Hitters
The Rangers slugged their way to 95 wins this year, the most in the American League, and they'll look to beat the Blue Jays the same way. Texas's best hitter is 37-year-old future Hall of Famer Adrian Beltre, who hit .300/.358/.521 with 32 home runs and 104 RBIs. He's the anchor on a well-balanced offense that led the AL in runs scored. Odor landed plenty of blows to opposing pitchers, batting .302 with 164 hits. Centerfielder Ian Desmond, one of the best bargains from last year's free agent class, has revitalized his career at a new position, batting .285/.335/.446 with 22 home runs. And with deadline pickups Carlos Beltran (.280/.335/.451 in 52 games since coming over from the Yankees) and catcher Jonathan Lucroy (.276/.345/.539 in 47 games after a trade from Milwaukee) and scrap heap find Carlos Gomez (.284/.362/.543 in 33 games), the lineup is deep and spread out.
The Rangers balance that out with good—but not great—pitching. Yu Darvish has bounced back nicely from Tommy John surgery, going 7–5 with a 3.41 ERA, and Cole Hamels went 15–5 with a 3.32 ERA and a 1.306 WHIP. The real strength, though, lies in the bullpen. Matt Bush, the No. 1 overall draft pick as a shortstop in 2004, has been the best reclamation project of the season, posting a 2.48 ERA in 61 innings, and closer Sam Dyson had 38 saves and a 2.43 ERA.
If manager Jeff Bannister can get good outings from starters Colby Lewis (3.71 ERA in 116 innings) and Martin Perez (4.39), Texas will hope its late-game strength and consistent hitting can get them to the ALCS for the first time since 2011.
MLB Benches Clearing in 2016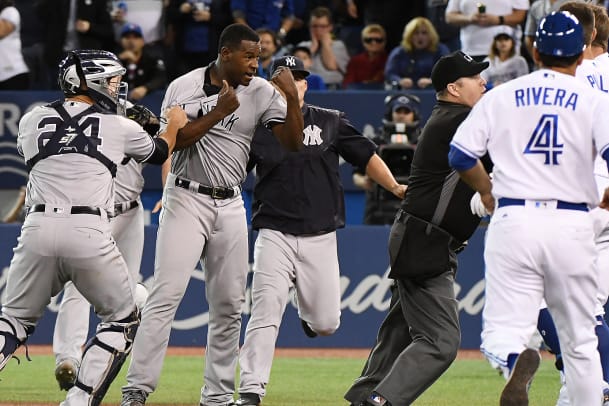 2. Pitching In
The Blue Jays have six players who hit 20 or more home runs, and they beat the Orioles by scoring four of their five runs on homers—the last three on Edwin Encarnacion's walk-off blast—but Toronto is a threat to win its first pennant since 1993 mostly because of its pitching. The Jays finished first in the league in ERA (3.78) and batting average against (.242). Leading the charge is 24-year-old Aaron Sanchez, who emerged this year as an ace. He finished with a 3.00 ERA and a 1.16 WHIP. He finished the regular season strong, taking a no-hitter into the seventh inning of his start last Sunday against Boston. J.A. Happ won 20 games and veterans Francisco Liriano (2.92 ERA) and Marco Estrada (3.48 ERA) give the rotation enviable depth.
The bullpen is led by 21-year-old closer Roberto Osuna (who left the wild-card game in the 10th inning due to a shoulder problem that he said would not keep him from playing in the ALDS) and solid contributors Jason Grilli and Joe Biagini. Toronto's relievers delivered five hitless innings in the wild-card game, which should give manager John Gibbons additional conference in the unit going forward. Unlike last year's Bash Brothers, this iteration of the Blue Jays has the arms to keep up with the team's bats, which makes Toronto very dangerous in a short series.
Hitting Pay Dirt: Ian Desmond lost a big bet, but now he's a star again in Texas
​
3. Fight clubs
Maybe there won't be any Jose Bautista bat flips. Maybe there won't be any brawls, or brushbacks, just a drama-free series. But let's be honest—that's probably not going to happen. The specter of last season's five act play looms large over the series and it's likely that the intensity factor will rise with each game. Whichever team loses its cool could be the one that loses the series. In a brawl, Texas might have the edge. But on the field, the Blue Jays have better starting pitching and that should be enough for them to move on.
Prediction: Blue Jays in five.