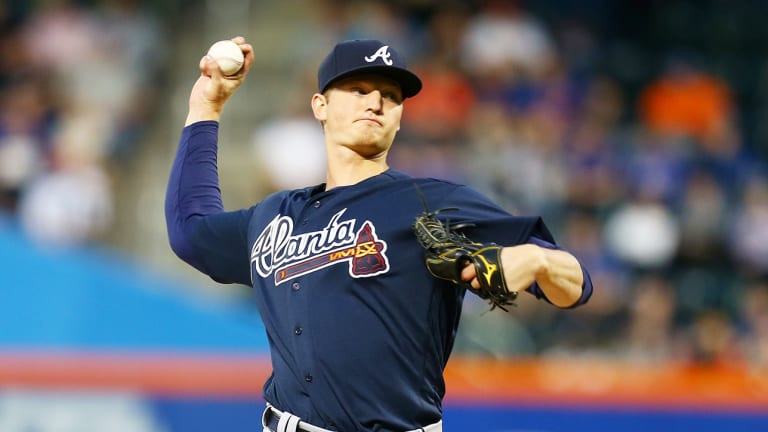 The Braves were always going to face a big prospect decision this season. The imbalanced economics of the game compelled them to follow through with the charade of sending Ronald Acuña to the minors for a few weeks. That wasn't much of a decision, but the careful timing of his eventual promotion was. It was a decision they knew they'd eventually face, likely going all the way back to last November.
One week or so from now, they'll likely be staring down another decision with a big prospect. This one, however, they didn't necessarily think they'd have to make at all, let alone this early in the season. Can the Braves really send Mike Soroka back to the minors?
Soroka entered this season as the Braves' top pitching prospect, as well as a consensus top-35 prospect in all of baseball, reaching a high point of No. 27 in Baseball America's rankings. He dominated in his first four starts at Gwinnett this season, totaling a 1.99 ERA, 09.7 WHIP and 24 strikeouts against five walks in 22 2/3 innings. Still, injuries to Julio Teheran and Anibal Sanchez created an opening in the rotation, and that's why Soroka got the call. Had neither, or even just one, of them been hurt, Soroka likely would have remained at Triple A. Instead, he made his MLB debut on Tuesday. With injury generally comes opportunity, and Soroka ran with his. Now, the front office faces a difficult decision.
Soroka held the Mets to one run on six hits in six innings. He struck out five, walked none, and surrendered the lone run on a solo homer by Yoenis Cespedes in his final inning. He needed just 80 pitches to get through six innings and piled up 13 whiffs. In addition to the five strikeouts, he got eight groundouts and generated plenty of weak contact, keeping Mets hitters off-balance all night, largely by mixing his two-seamer, four-seamer and slider.
Let's take a look at the three main pitches in Soroka's arsenal—he also throws a change, which he offered four times Tuesday, all to Adrian Gonzalez—in a few different situations apiece. We'll start with the two-seamer, which is his foundational pitch. He threw it 38 times in the start against the Mets and got five whiffs with it, including two of his strike threes. The pitch clocks in around 94 mph with sharp movement, both horizontally and vertically. To set the pitch's baseline, we'll check out this first-pitch offering to Jay Bruce.
A pitcher can do a lot with a pitch that moves like that at 94 mph, as Soroka showed on Tuesday. Earlier in that first inning, he induced a weak groundout off the bat of Michael Conforto.
The pitch missed its spot east-west, but the downward movement was so violent that it didn't really matter. Soroka showed further his command of the pitch when he used it to jump ahead of Amed Rosario in the second inning.
Soroka threw the two-seamer as his first pitch to 11 of the 23 batters he faced. He threw it seven more times when the count was even, 11 total times when he was ahead, and nine times when he was behind. In other words, it's a pitch he's comfortable using in any count, to both sides of the plate, and to righties and lefties. We'll wrap up our look at the two-seamer with two of his finest such offerings of the night. The first, to Todd Frazier, is an instance of Soroka out-thinking the hitter. The way Frazier begins his swing indicates that he identified the pitch as a four-seamer. By time he realizes what the pitch actually is, it's too late. He tries to check his swing, gets completely tied up, and fouls the pitch off for strike two.
On the second, Soroka gets Asdrubal Cabrera to flail helplessly at a pitch that ends up well out of the zone for strike three.
Soroka's four-seamer can be just as strong a weapon as is his two-seamer. He threw 22 of them on Tuesday, four of which went for whiffs. It also sits at 94-95 mph and, thanks to the two-seamer, can often appear to hitters like it's in the high-90s. A hitter who's looking for the two-seamer will have no chance at catching up to the four-seamer, and that makes the two pitches an absolute nightmare for hitters to deal with in tandem. For an illustration of that, let's take a look at the final two pitches of Tomas Nido's at-bat in the second inning.
After taking the two-seamer for strike two, Nido swung at a four-seamer comfortably off the outside edge for strike three. Not only was he late, but it's entirely possible he was expecting the pitch to come back to the corner, as it would have were it the two-seamer. Two innings into his MLB career, Soroka was already confounding hitters. He also showed off the pitch's sheer power, blowing one past Conforto right down the middle of the plate.
Finally, we get to the slider. Soroka threw 16 sliders in his debut, generating two swinging strikes with the pitch. He got into a bit of trouble with the pitch, allowing three of his six hits, including the homer to Cespedes. He lost a bit of his feel for it as the night wore on, and that caused it to back up on him with little break in his final three innings. Still, it was easy to see just how effective the pitch can be when Soroka has full command of it.
As is the case with the two-seamer (and the four-seamer, of course, though that's to be expected), the slider is a weapon against both lefties and righties. Soroka allowed consecutive singles after retiring the first two batters in the first inning, then he broke out the slider on a 1–1 offering to Frazier, and the dangerous righty grounded out weakly to shortstop.
In the second, Soroka got Adrian Gonazlez into a 1-2 hole. At that point, he broke off possibly his best slider of the game, using the sharp break to get the pitch to dive beneath the strike zone just as it entered the hitting zone, inducing a swing and miss from Gonzalez.
The filthiness of that pitch speaks for itself. The one thing we didn't see from Soroka with respect to the slider was a willingness to go to it behind in the count. All 16 of his sliders came with him ahead or with the count even. That's not necessarily a surprise for a guy making his MLB debut, especially considering how well he was commanding both of his fastballs. One look at the slider, as well as Soroka's pedigree, should give the viewer all the confidence he or she needs to believe that he'll be able to use it in any count.
One other trait that stands out is Soroka's quiet, repeatable delivery. Whether in the windup or the stretch, there aren't very many moving parts. He's deliberate out of the windup, and while he can't afford that in the stretch, his arm action is just as relaxed. Young pitchers regularly get into trouble with command and control, but Soroka's delivery and mechanics should help him avoid running into those issues in abundance.
The Braves now face a tough decision. Teheran will return to the rotation on Thursday, and Sanchez could be back this weekend. At that point, they won't need Soroka in the majors. However, they may want him there and, just as importantly, Soroka may have already made it impossible for them to send him back to Gwinnett. This may be a tough call, but it's another one that has the Braves among the most exciting young teams in the league.