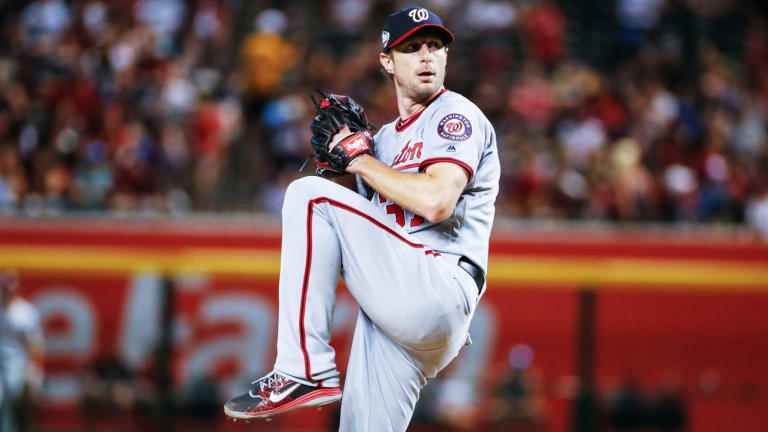 Max Scherzer's New Cutter Makes the Nationals' Ace Even More Dominant
Max Scherzer is a three-time Cy Young Award winner. Somehow, he's only getting better thanks to a new pitch.
The best players always find ways to get better no matter what they've done previously in their careers. Almost any player can make an adjustment here or a tweak there to squeeze out just a little more production. The great ones pursue those adjustments, tweaks and additions with dogged tenacity. And that's how a player who already has three Cy Young awards in his trophy room finds a way to get even better, even filthier, even more unhittable in his age-33 season.
Max Scherzer is unbelievable. He's beyond the point where he should be getting better, both based on his age and his prior success. I mean, how much better can a three-time Cy Young winner get, realistically? Everyone reaches a ceiling at some point, and, generally for a pitcher, three Cy Youngs is it. That's the ceiling. Sure, a pitcher could win a fourth and a fifth Cy. Just ask Greg Maddux or Randy Johnson. Were they really any better in those seasons than they were when they won their second or third, though? No, probably not. More likely, they continued being just as good, which was still better than any other pitcher going at the time. Such is not the case with Scherzer.
Somehow, some way, Scherzer has found another level, even with his 34th birthday coming in July. Somehow, some way, Scherzer has become a better version of the guy who has celebrated the end of three of the last five seasons by placing the most prestigious individual award a pitcher can win on his mantle. Somehow, some way, Scherzer found what only he could deem a flaw in his repertoire and rectified it.
Scherzer, he of the three Cy Youngs and the nearly 34 years on this planet, has dramatically altered his pitch mix this season. He has sacrificed a large number of sliders, increasing the usage of his cutter by nearly 100%. Most pitchers would be terrified to make such a change. The Nationals ace took it on in typical Scherzer-ian fashion, full steam ahead with no doubts. The change is working, and Scherzer is on pace for the best season of his career.
Scherzer will take the ball against the Yankees on Wednesday for his 10th start of the season. He'll go into that start at 7–1 with a 1.69 ERA, 1.74 FIP, 0.81 WHIP and 91 strikeouts in 58 2/3 innings. He hasn't allowed more than two earned runs in a start all season. He has given up one or zero in five of his nine trips to the mound, and has fanned at least 10 batters six times. In his only loss, the Nationals scored one run for him, and an error by Wilmer Difo with two outs resulted in three unearned runs crossing the plate. Scherzer has taken the ball nine times, and nine times he has been the best player on the field.
The move to the cutter is intriguing for a few reasons. First, Scherzer threw the pitch only sparingly before last season. It had a usage rate between 0% and 2% for the first nine years of his career. In 2017, Scherzer threw the cutter about 8% of the time. This year, its usage is up to 14%.
Second, the cutter's increase this season has come entirely at the expense of his slider, which has always been one of his best pitches. The offering has had a whiff rate of at least 21% for seven straight seasons, including this year, and hitters have managed to hit just .182 with a .285 slugging percentage against the pitch. This isn't some terrible pitch Scherzer needed to scrap for his own good. This is one of the best breaking balls in the game.
If there's one area where the slider was deficient, though, it was against lefties. Through the 2016 season, lefties hit .236 with a .398 slugging percentage against the slider. Sure, those might not be gaudy numbers for an individual hitter, but look at the difference compared with the slider's overall performance. On top of that, Scherzer has allowed a .224/.284/.375 slash line for his career. Clearly, by his standards, the slider to lefties was a weakness.
With that in mind, Scherzer did what the great ones do. He went back to the drawing board, and emerged with an answer: the cutter. Over the last two seasons, during which the cutter has appeared in his arsenal in a meaningful way, 238 of the 277 he has thrown have been to lefties. He has ratcheted up that tendency this season, throwing 127 cutters, and just two sliders, to left-handed hitters. On the flip side, he has thrown 116 sliders and four cutters to righties.
The results largely speak for themselves, but before we get to what Scherzer has accomplished with the cutter, know this. For his career, lefties have hit .247/.314/.411 against him. In 2016, the last season in which he didn't really throw the cutter, they hit .242/.315/.442. This year, Scherzer is holding lefties to a .188/.250/.368 slash line.
Scherzer has thrown the cutter 131 times this season, already more than half as many times as he did last year. Not including balls in play, he has gotten some sort of strike—a whiff, called strike or foul ball—61.2% of the time. Twenty-three of those, or 17.6%, have been whiffs. For many pitchers, that would be their highest whiff rate with any pitch. For Scherzer, it's his fourth.
Hitters are 9-for-19 against the cutter when putting it in play, but Scherzer can live with that when he's getting a strike with the pitch on more than three for every five he throws. What's more, he throws it in advantageous counts, especially given the pitch's properties. Scherzer loves going to the cutter in 2-2 and 3-2 counts, times when a hitter would often be looking for a slider. He has thrown it in 22.5% of his 2-2 counts, and 29.6% of his 3-2 counts this season.
A good way to think of a cutter is as a harder, tighter slider. The pitches have the same spin and a similar break, but the cutter travels about 5 mph faster and, if you picture the strike zone as a map, the pitch doesn't have as much southwest break from a righty. A hitter sitting slider and getting cutter would be hopelessly late. Six of the 10 swinging strike threes Scherzer has induced with the cutter came in 2-2 or 3-2 counts.
Now, the word is certainly out that Scherzer is throwing cutters to lefties instead of sliders. If I was able to find it this easily, you can bet that advance scouts and major league teams with the full force of modern-day scouting departments know this. Still, knowing isn't everything against a pitcher like Scherzer. There's reason to believe the cutter is simply a more effective option for him against lefties than the slider ever was.
I want to look at Scherzer's cutter in two different ways. First, we'll simply look at the pitch itself, getting an idea for how he's succeeding with it. Next, we'll examine how he uses it in tandem with his other pitches, most notably the four-seamer.
We don't need to spend too much time at the cutter itself. If you're reading this, you know what a cutter is. Scherzer is an elite pitcher and he throws a good cutter. Enough said.
Scherzer has thrown 124 cutters to lefties this season, 90 of which have not ended the plate appearance. That means there are 90 instances thus far of a lefty seeing a cutter from Scherzer and being in the box for at least one more pitch. Of those 90 follow-ups, 59, just shy of two-thirds, have been four-seamers. Sixteen, or 17.8%, have been changeups. He has doubled up on the cutter 11 times, and has mixed in four curveballs.
Our examination of how Scherzer is using those pitches together will get an assist from the Atlanta Braves, arguably the best offensive team in baseball to date. First, let's look at the cutter/four-seamer combo. Back on April 4, Scherzer faced the Braves for the first time this season. He threw the cutter to Ender Inciarte in a 1–1 count. The target was up, and, more importantly, in. Scherzer hit the more meaningful spot, getting Inciarte to pull the pitch foul for strike two.
He followed it up with a four-seamer spotted perfectly up and in. There's nothing a hitter can do with this pitch, and Inciarte ends up popping out to Anthony Rendon in foul territory.
It's a perfect illustration of how Scherzer can use the cutter to make his four-seamer even better. Inciarte may not have read cutter out of the hand, but Scherzer slowed down his bat with the previous pitch. Last year, that pitch may have been a slider and, judging by the numbers lefties amassed against the slider, Inciarte may have done more with it than simply fouling it off. That got the count to 1–2, where Scherzer is almost always in command.
Next, let's look at how he plays the change off the cutter. This time, his victim is Ozzie Albies. Scherzer gets him to foul off an 0-1 cutter to run the count to 0-2.
It's not the most perfect cutter he has ever thrown, but he gets it in enough that all Albies can do is hit it into the seats on the first base side. From there, he comes back with a filthy changeup to get a helpless whiff for strike three.
This pitch starts out in the middle of the plate before diving sharply down and away from Albies. That he swung at it gives us every indication that he read it as either a four-seamer or a cutter. Either of those pitches would have remained in the hitting zone. This is Scherzer playing with a rookie who already looks like he's going to have a superstar career, and doing so thanks largely to the new pitch in his arsenal.
The next batter was Freddie Freeman. Scherzer fell behind him 1–0, but evened the count up with a cutter that Freeman swung through for strike one.
Scherzer elevated a four-seamer on his next offering, and Freeman was late, running the count to 1–2. He backed that up with another four-seamer, which Freeman popped harmlessly to the left side.
On the final two pitches of this at-bat, Scherzer overpowered one of the best hitters in baseball, who had the platoon advantage, with straight four-seam fastballs. Scherzeris going to be able to do that because his stuff is so good, but the cutter unquestionably aided his efforts here.
Finally, let's see how Scherzer can put all three of these pitches together. Nick Markakis came to the plate with two outs and nobody on in the seventh inning of this game. Scherzer started him out with a fastball, which he took for strike one.
He then came back with a cutter, which Markakis fouled off for strike two. Pay particular attention to the location and Markakis' reaction after he fouls it off.
Clearly, he thought he should have done something with that pitch, but it had just enough movement to travel away from where Markakis threw the barrel of his bat. Not only is Scherzer now in command of the plate appearance, but he has Markakis frustrated and not sure what to expect on 0-2. He breaks out the changeup, which Markakis lays off to stay alive.
The change may have been a ball, but it was a pitcher's pitch. It was off the plate away, and while it was likely higher than Scherzer wanted it, the worst-case scenario off that pitch is Markakis serving it into left for a single. What's more, he has now shown Markakis three different pitches in three different locations. That sets him up for a high fastball, which Scherzer blows past him for strike three.
It has been a long time since Scherzer has had an identifiable weakness in his game, but his performance against lefties occasionally failed to measure up to his standard. He adjusted what no one else saw, closing the admittedly miniscule hole in his game by increasing his cutter usage, eliminating the one relative weakness in his repertoire. Now, he's enjoying what could go down as the best season of his career and result in his fourth Cy Young Award. The best always find ways to get better. Scherzer is proving that axiom true once again.